Gameplay Updates
Hey folks,
This week we're going to continue talking about the gameplay improvements we're bringing to the game. This update is going to be focusing on changes to the Veins of Evil, pacing, and defences.
One quick note before we start: The research changes we're talking about here are focused on multiplayer and skirmish, the single player campaign is going to have its own progression system.
The Problems
Multiplayer starts: The beginning of multiplayer matches were quite slow for various reasons, though the main one was that it took ages to get the gold, territory and Sins required to actually get a basic dungeon (and army) up and running.
The Foundry was too dominant: There were several Aspects outside of Sloth which required the Foundry to use (such as the Underminer). We wanted to clean this up to redouble the focus of the Foundry as a purely defence-centric room. As a result, it's no longer a requirement for everything that doesn't fit in this box.
Defence placement & mechanics: Following on from the above, we wanted to clean up the placement rules and mechanics of defences that could be placed anywhere on the map. Outside of trial and error it was difficult for players to understand the rules associated with all the different types of 'defences'.
The Changes
Unit Spawning: Units will now only require their primary room before spawning. This means you can build a Beast Den or Foundry at the start of a level and units will begin to enter right away, allowing you to get your devious plans off to a flying start. Keep in mind that your minions will eventually get hungry and tired, so you cannot forego a Lair and Slaughterpen for too long.
Constructs: We've split Defences out into two categories – Defences and Constructs – with the latter being buildable anywhere on the map and no longer requiring the Foundry. We'll be talking more about Constructs and the changes to Defences next week. Some examples of Constructs are the Underminer and the Warding Totem (both found in Wrath).
Free Aspects: Several Aspects have been removed from the Veins and are now unlocked for free (along with Lair, Slaughterpen and Vault), including:
Heal
Lightning
Summon Worker
Wooden Door
Bombard
Wooden Bridge
Replacement Earth
Veins of Evil Layout: Based on the above changes, we've adjusted the layout of the Veins a little bit: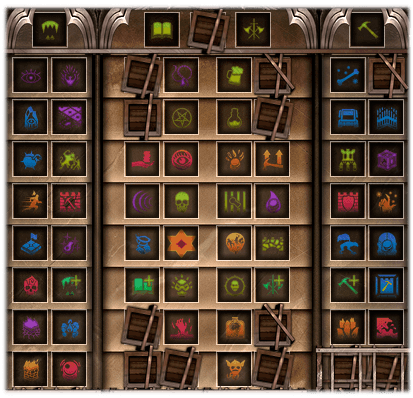 Some notes on the above image: One aspect is missing from the bottom of the neutral vein, two are missing from the bottom of Sloth, the super units are missing, and some icon artwork is placeholder.
The Results
Better starting choices in multiplayer: The combination of the unit spawning modification, free Aspects, and VoE layout changes means that you can get your strategy rolling right off the bat, no matter which direction you are going. Cultists will spawn and research as soon as you have an Archive, Gnarlings will spawn and train right away if you build a Barracks, Chunders will spawn and two defences will be available to build as soon as you have a Foundry, and Beasts will spawn as soon as you build a Beast Den.
Pacing changes in multiplayer: Giving free Aspects to players at the beginning of the game means that we don't need to heavily speed up research in the first few minutes to get things going, as you already have a plethora of tools available (and as explained above, units far sooner than before), meaning we can have a far smoother research curve as you progress through the Veins.
Wrath is better at being Wrath, Sloth is better at being Sloth: The introduction of Constructs and the changes we are making to defence mechanics means that both of these Veins are generally going to be a lot better at what we want them to be doing: enhancing your offensive or defensive capabilities as an Underlord. We'll be discussing these in greater depth next week.
Our whole team is working hard on the next update, but it's still a few weeks away from being released, meanwhile our lovely code team has been working overtime on a heavily requested technical feature (however, it won't be present in the next update, we're saving it for later).
Until next time Underlord,
– WFTO Team