Player Research
Hey folks,
We're going to bombard you with yet another lengthy post today. If you haven't read our year in retrospect or looking forward posts they'll be on the internet forever, but we recommend you read them before the end of time. Today we'll discuss our attempts to rebuild our User Interface and how we went about the redesign.
We Needed Help
When we opened up this thread asking for UI feedback we had a hidden motive. We were going to use the information you gave us, coupled with our own internal understanding of what the UI needed to accomplish and take it to a company called Player Research.
Player Research are a Brighton-based Games User Research and playtesting company that uses their accrued knowledge on player experience to help companies refine their existing design decisions with the goal of making the game intrinsically "more fun" for every player who sits down to play it.
The Problem
Being an Early Access title is a confusing mess for developers and fans alike. We've all experienced broken games, clunky UIs and the myriad other horrors that accompany playing a game during its earliest stages. We're sure that most of you remember how our game was in its first playable state – unfortunately the only thing that hasn't been drastically improved since we first launched is our UI.
We hastily created the UI because our game needed to be moderately playable for Eurogamer and allow users who weren't familiar with the Dungeon Management genre to have a modicum of fun while playing our game. It was not intended to be a final solution, but merely function as a short-term stand-in until our game had more features.
Fast forward four months – we've cobbled new features onto our initial design and nestled varying amounts of gameplay within our shoddy UI – group management is a nightmare and our "placeholder" is beginning to show its age.
Basically – the UI we built is old. Not the venerable kind of old that marks a good wine or classic car, but the kind that smells of death and suggests a past shrouded in endless misery and incomparable pain. It has no form, new players find it difficult to use, and it's impossible to scale as we add new features to the game – as evidenced by the recent addition of unit grouping.
With the rotting corpse of our ramshackle UI casting a dark cloud of dismay over all of us we decided to pack up our design documents coupled with your feedback and send Josh on a train headed south to Brighton
Player Research
He arrived at the Player Research dungeon on a typical English day (see: cold and miserable) and saw the bright-eyed team already sifting through our sizable novel of design notes. They sat him down in front of a whiteboard and began explaining the three goals they hoped to accomplish over our four day session: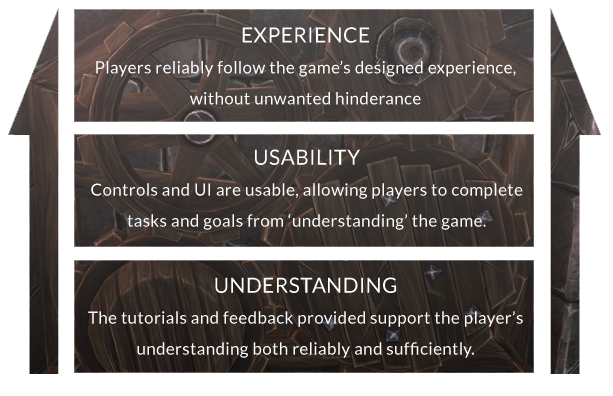 Whiteboards were quackly filled as these three key points were tackled in order. An initial conclusion we came to was that creating a Dungeon Management Game has its downsides — there are very few recent examples of a game that has these particular kinds of controls, mechanics, and features.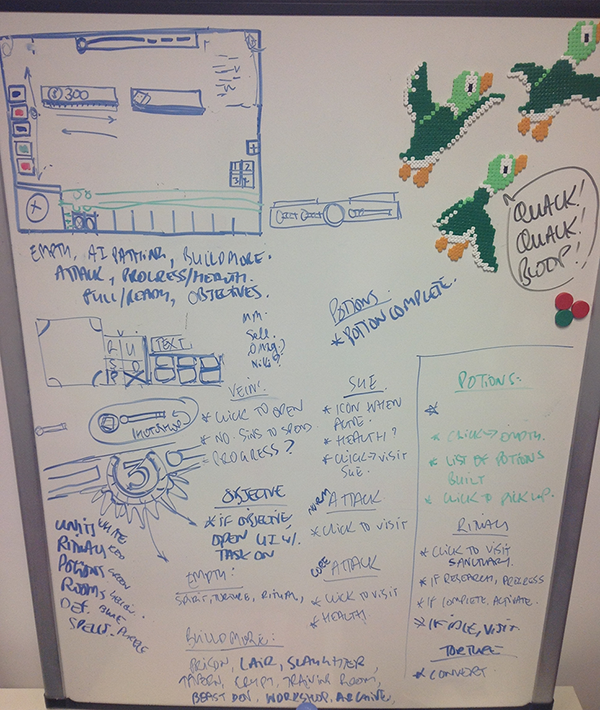 Ducks are essential to the creative process; never trust the dastardly, wingéd beasts without a deployed umbrella in hand.
By the end of the first day they'd tackled a good portion of the problems we faced and had come up with an ingenious improvement to room building that would show markers where props would spawn. This elegant change would make it immediately clear if your room would be functional and we liked the idea so much that we've already built it into the game and should have it included in this week's patch.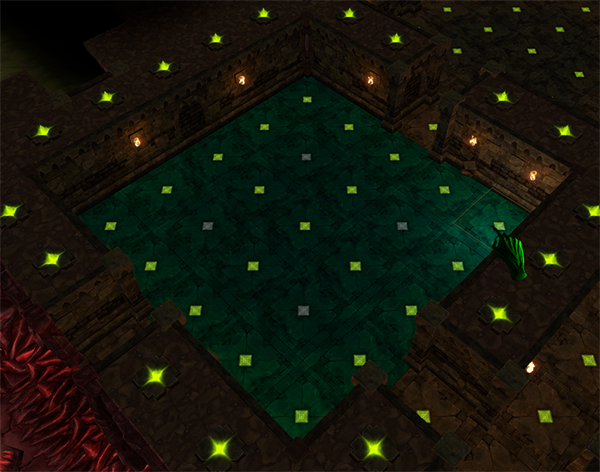 Current implementation shows coloured gems where props spawn, in the future we expect a ghostly outline of the room to appear.
After two days of furious, multicoloured scribbling across various whiteboards we departed their office for the final time – a single tear slid down the cheek of everyone involved as we silently mourned the death of our placeholder UI.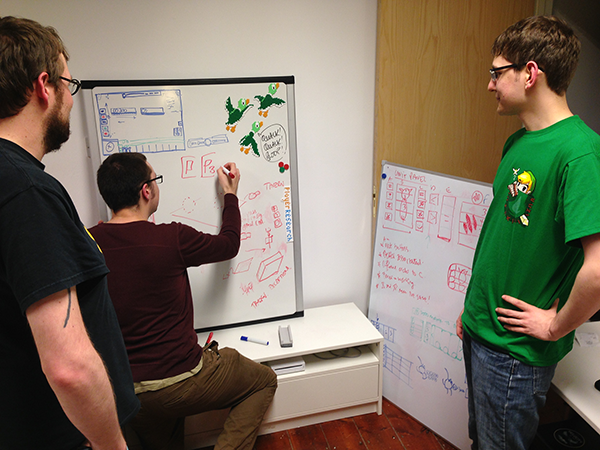 It may not be apparent, but everyone pictured is in mourning. Tears have been photoshopped out.
Once left to their own devices the Player Research team submerged themselves in two days worth of notes and discussion to create our final report. Two days later they sent us a 42 page document that consolidated the two days of discussion in addition to a list of solutions and suggestions to improve our player's experience.
The report also detailed explanations of how to streamline and implement each of the systems that will eventually be present in the final iteration of the War for the Overworld UI.
What We Learned
We went in expecting a few mockups that would help us create the best possible experience for our players, but the gentlemen at Player Research would deliver a whole lot more.
The good news was that we had a few things right, which is always reassuring, but the main problem we were having is that we couldn't view the game with fresh eyes – problems that seemed minor to us were swiftly tackled and solved. The report outlined a plethora of changes and tweaks that would improve the usability and accessibility of our game, all of which would contribute toward a better experience for our players.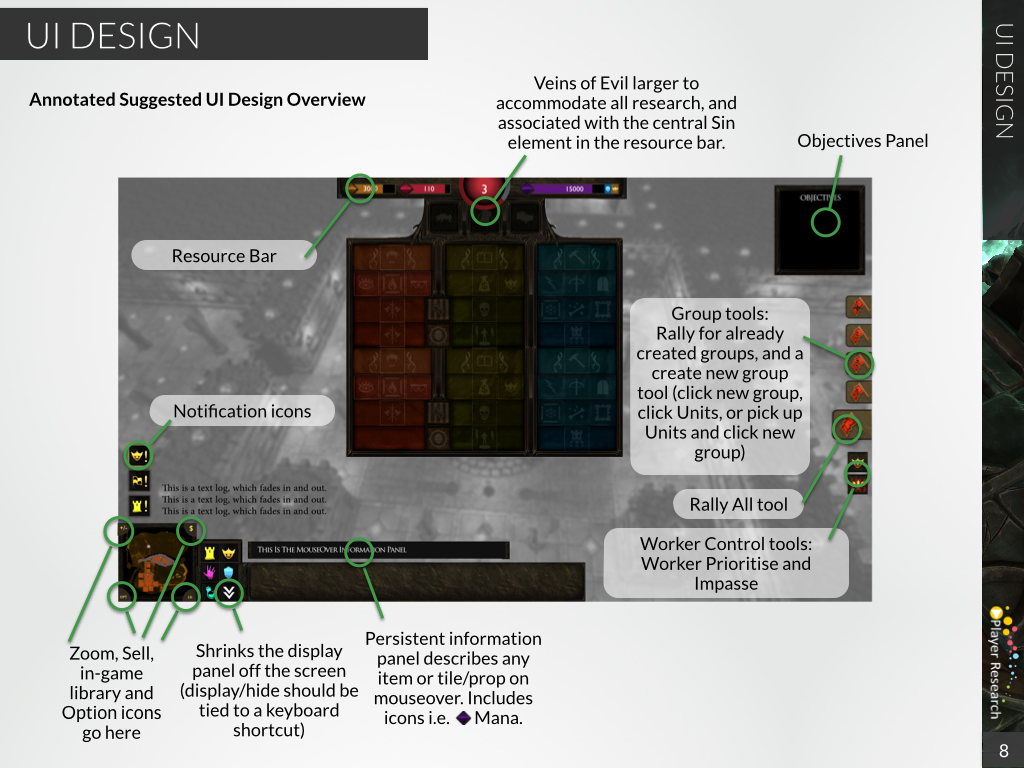 This is a mockup created by Player Research that is in no way representative of final art, assets, or design.
What we learned doesn't just improve the game in the short run. By taking the time to get professional help crafting our game's experience we set ourselves up for a final release that is accessible to players who are not familiar with the Dungeon Management genre – allowing them to quickly learn the unfamiliar controls and immediately begin enjoying the game.
We'd love to hear your feedback on this initial mockup, feel free to leave your suggestions, comments and feedback below this update!
That's it for this week, we'll see you in a few days when we launch our 0.3.2 patch!
Until next time Underlord,
– WFTO Team