Hey folks,
This past year has been quite a ride, so we thought that there'd be no better way to celebrate the triumphs and failures encountered by taking a retrospective look at the the first year of War for the Overworld's development.
We want to start off with a quick thank you to you all, we've encountered our fair share of setbacks and you have all been incredibly supportive as they've cropped up. You've built an amazing community around WFTO and we couldn't imagine or ask for a better group of fans.
In part one of our two part series we'll look at the past year, what we learned, and take a look behind the scenes at a few of the big setbacks that we encountered.
September, 2012
We started out as a group of modders and enthusiasts spread across 20 timezones who had the same desire to create a Spiritual Successor to Dungeon Keeper. We met up through various websites, discussion groups and mutual friends. Our Skype conversation slowly grew until we had a few dozen people who had the skills necessary to begin work on our dream game. With a few exceptions none of us had created a game from scratch, or seen a game throughout an entire developmental cycle – but we did have some industry experience and the unquenchable, burning passion to take what initially began as a hobby to the next level.
Around September a few of us quit our jobs, we organized pipelines, discussed design and learned one another's skillsets. The "full time" group began to set the wheels in motion while those who couldn't afford the risk burned the candle at both ends – staying up late into the night to churn out one more concept or commit a few lines of code. We began to see the threads of our progress weave themselves into what would be our proof of concept.
A few months later we had assembled and populated our Kickstarter page, we confirmed Richard Ridings was available for the project and recorded our trailer. When we clicked Launch Project our hearts skipped a collective beat and we held our breath for what seemed like a lifetime.
Almost immediately our modest expectations were blown away. Thousands of fans began to share our Kickstarter with friends and family, as word spread we saw jumps forward that would place us beyond our goal. We reached out to Peter Molyneux, creator of the genre, who was kind enough to take time out of his own Kickstarter campaign (Godus) to give us his blessing. The very same day TotalBiscuit unexpectedly posted a video about our Kickstarter campaign.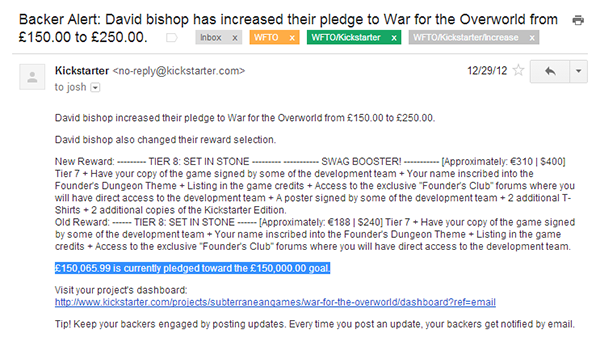 Our collective dream was rapidly being validated by an astonishing number of people while our forums exploded with ideas, questions, and praise. As we tipped over the £150,000 mark we all felt a little lightheaded, our backers had confirmed that making this game wasn't just some kind of fantasy. We quit our jobs and dove headlong into development…
Unfortunately, being told to go ahead full-steam wasn't an entirely positive moment. From a technical and organizational standpoint the project was a complete mess, and being spread across 20 timezones was irksome at best and often caused problems or delays across multiple pipelines. There was the additional problem of us being a bit too enthusiastic with our initial goals, we began to understand that things had been promised, both internally and externally, that should not have been.
The good news was that we started making some real progress in terms of assets and design. The bad news was that our code team began to pour the majority of their time into a modding-focused framework for the game, which would turn out to be a decision that almost ended up destroying the project.
The Elephant in the Room
The idea behind Dungeoneer was to create a toolkit that would allow easy integration of assets with a few simple button clicks. On paper it sounded like a phenomenal tool that would allow the longevity of the game to be nearly endless, granting modders an easy way to generate and merge content into the base game. The problem with the Dungeoneer toolkit is that it would require the entire code base to account for this process. To avoid a lengthy jargon-laced explanation of how this (scrapped) tool wouldn't work: we were attempting to build a square peg and jam it into a round hole.
Due to the disorganized and globally-remote nature of our team it took us a few months to realize that Dungeoneer was going to cripple, if not kill our game. While the decision to cut Dungeoneer was difficult in some respects, we all agreed that our priority was not modding, it was making the game. Our promise to create a powerful modding tool wasn't something we let go of easily, but it proved the only course of action if we wanted the project to succeed.
We found ourselves in the situation that is the greatest fear of any backer or project creator on Kickstarter – a canceled product. We had the funds metered out for a few more months, but even the most generous estimate put us at "bankrupt" long before the game would be done. We had to release something in order to stay afloat, and thanks to Early Access we were able to do just that.
In order to try and get a build out we split our code team in two, leaving three to try and salvage Dungeoneer while the other two began building the game in Unity. A few weeks later, on May 15, we released a haphazardly put together version of the game that imported assets using Dungeoneer whilst other components were running in Unity.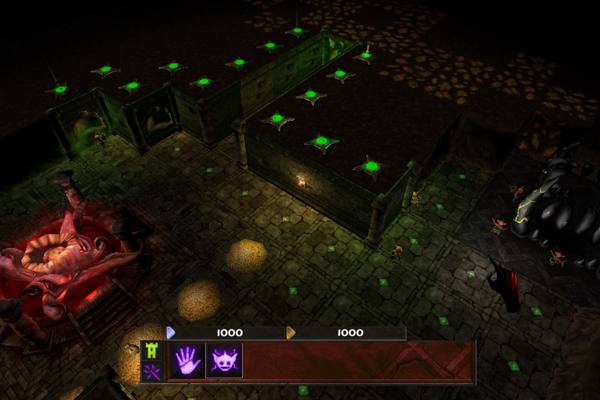 If you're interested in playing our first build we've set up a thread over here that walks you through the process. Be warned: it is not for the faint of heart.
Animations didn't play properly. Textures were invisible or improperly wrapped. Audio failed to trigger. Shaders were missing. Normal maps were nonexistent. Units fell irretrievably into props. In short, Dungeoneer had failed, and a few days later we restructured our code team.
We dropped Dungeoneer and all four members of our code team began working on a non-Dungeoneer version of the game. They started by tearing apart the old codebase and scrapping the majority of the work they had done – we had lost almost half a year's worth of effort attempting to fulfill our modding promises.
After a few months of rolling out patches everything was back on track. Animations worked, models had normal maps and decent shaders, audio was properly synced and we were able to start pumping features into WFTO at a reasonable speed. We continued to update the game at an ever increasing pace as the code team quickly caught up with the rest of development – just in time for Eurogamer.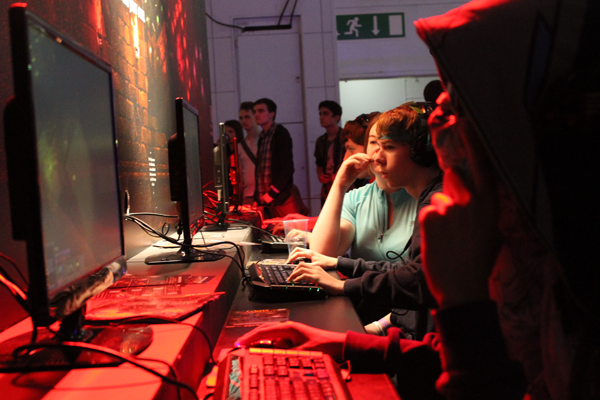 At Eurogamer we finally got to meet each other for the first time. It was a decidedly strange experience to meet your co-workers after nine plus months of waking up in someone elses timezone in order to have a conversation with them. It only took a few hours of working together in person to grasp how much more efficient we would be if we weren't spread quite literally across the globe. After gorging ourselves on pizza and answering questions on our livestream for a few hours we published the massive patch that would be showcased the next day. We fell to bed, anxious and a bit worried about how the game would be received the next day.
Unexpectedly, the feedback we received the next morning turned out to be almost unanimously positive as people began to filter past our booth. It only took a few hours for players to find game-crippling bugs – but our code team, eager to act upon the initial feedback, locked themselves within our booth, laptops in hand, and began hotfixing the problems for the next day.
The hundreds of positive reactions spouted forth by new fans at the event we would galvanize us into a creative frenzy and, by the final day of the event, we were more than ready to return home and bury ourselves in the work once more. Which leads us to…
(Almost) Present Day & Parting Thoughts
The past few months have seen explosive growth. We've released regular patches with large swathes of features, rooms, minions, spells and defences. We've seen thousands of new fans join our community and actively devote themselves to suggesting new ways to improve our game. While we did encounter one small hiccup (multiplayer) we've still managed to hit every major internal deadline since our big turnaround last year.
We set our course over a year ago, our destination remains the same as ever and we can see it just over the horizon. Our ragtag group of a few dozen has blossomed into a close-knit community of thousands. This project was never just ours, it has always belonged to the people who shared in the dream… and pretty soon we're all going to wake up and find that it's come true.
It's been a really bumpy road, but you've been bouncing along in the passenger seat shouting encouragement every time another hump looms ominously in front of us. We've weathered a fork in the road that turned out to be a lengthy detour, stormy weather and a flat tire or two – but with each setback we built a stronger community that was willing to endure whatever hurdle came next. We're not sure we deserve the support and kindness that you constantly bestow upon us, but we can promise you that while there's breath in our bodies we'll continue to do our damndest to try and earn it.
There aren't words that can truly express how grateful we are. We promise to continue being open and honest with you as long as you promise to tell us what we're doing right and wrong.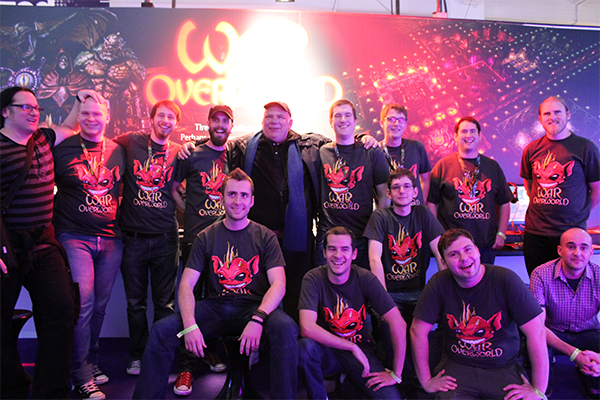 At this point we're going to end this retrospection – tomorrow we'll take a similarly lengthy look at the future of War for the Overworld.
Until next time Underlord,
– WFTO Team