Hey folks,
Yesterday we posted a very long retrospective look the various trials and tribulations that have cropped up during development over the past year. If you haven't read it yet we suggest you tackle the past before the future.
Today we're going to take a look forward at our plans for the upcoming year and what development will look like after we release War for the Overworld.
Final Release
We were extremely naive with our initial estimate during Kickstarter as to how long it would take to release the game and we are truly sorry about that. Since then we've tempered our own expectations and taken a step back to look at the whole picture with a refocused purpose.
"When is the game going to be done?"
We get this question quite a bit – and quite honestly the answer is: we don't know. We do know that we're going to make the best possible game we can, and that we're committed to getting it out the door this year.
We have discussed the idea of setting a release date – but two of the potential results aren't ones we wish to encounter. The problem with setting a release date on a project like this, especially given its current state, is that we might fail to have the game completed on time – which would mean a second delay or an unfinished, unpolished release – and we certainly don't want either of those things to happen.
Fortunately, Steam Early Access has given us the stability to continue developing the game for as long as we need to. We only get to release the game once, and if we don't deliver what we promised we'll have failed you and ourselves. Our goal has always been to create the best possible game that we can – that hasn't changed.
It's been a long time coming and a few extra months (hopefully) won't kill us. It may seem like the end of the world but it's just the beginning of the War for the Overworld. The game, to be released in 2014, will be the best we could make given what we had. It's the idea that brought us all together and it will be the game that you all deserve.
Bedrock Beta v0.3.2 "Enhance!" Coming Very Soon
We're going to push an update in the next few days in preparation for a much larger, content rich patch due out next month. "Enhance!" hosts a large number of texture improvements and updates, a Recall spell that allows you to send a minion back to the safety of your dungeon, and a sizable number of improvements to unit spawning and behaviour.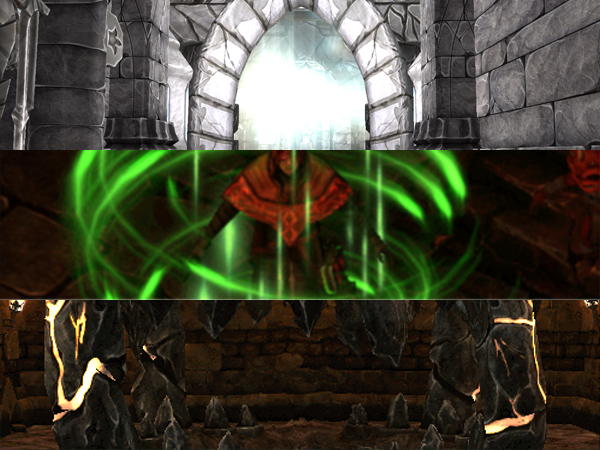 In addition to all that there will be plenty of bug fixes and general "quality of life" improvements. While it's a relatively small patch compared to most, the main reason for its release is to allow us to prepare for…
Multiplayer Testing (Again!)
We've dug through the various issues that have plagued multiplayer and have finally found what we believe is a general solution to the NAT issue that prevented most players from being able to host games. Keep an eye on our updates for more details very soon!
Multiplayer testing will be live a few days after the patch mentioned above goes live.
Bedrock Beta v0.4.0 Coming Next Month
We've been working on a fairly major, massively awesome and content-riddled patch for a while now, and it's all starting to come together! Here's an overview of what to expect:
New Rooms: Alchemy Lab & Sanctuary
New Features: Potions & Rituals
Multiplayer (if testing goes well)
Completely revamped User Interface (more details tomorrow)
A slew of new defences, spells and units
The Next Few Months & Parting Thoughts
While 2014 is still fairly young we have plenty of events that we're excited to experience in the coming months. Since this post and the one that preceded it are already prohibitively long we'll parse these down into a short list to keep your eyes from overexerting themselves.
Rezzed: We're happy to announce that we will be attending Rezzed this March (28th-30th) in Birmingham. If you're interested in meeting some of the team we'd love to thank you in person for your support. Head on over to their website for more details and to buy tickets. We'll have more details regarding our Rezzed attendance as we get closer to the event.
Revamped UI: We began work with an external company to help us nail down our existing UI problems. In fact, we have another detailed post coming tomorrow that describes the challenges and solutions that we've come up with. So far it's been a wonderfully enlightening process and we can't wait to replace our existing, dreadful panels with something a bit more 21st century.
Richard Ridings: We've got another recording session slated with Richard Ridings in the near future – so if you've exhausted yourselves with the dialogue currently in the game you'll be more than pleased to know it will soon receive a massive update.
Flex Goals: Though it's been a year since we reached the crowdfunding goal of a Flex Goal we haven't forgotten about them. In an upcoming WFTO Wednesday we'll take some time to dive into each and explain exactly what each new feature would entail.
If you're tired of hearing "thank you" from us you may want to skip this bit, it's just impossible for us to not constantly express how amazing you've all been. We look forward to this year not because it will mean the end of War for the Overworld, but because together we'll arrive at a new beginning.
At some point you'll no longer be backers, but the blood, sweat and tears wrung from our collective bodies will forever be entombed within the very bedrock of the game. We'll see you back here tomorrow for your regularly scheduled WFTO Wednesday.
Until next time Underlord,
– WFTO Team