Darkest greetings Underlords,
Today the time is upon us once again, the ancient rituals have been enacted and ancient evils called through the aether to assemble here. Take a seat Underlord, or as much of a seat that you can as a gestalt godlike being. open your mind and listen as we weave our tale.
You may remember a few months ago we released an official statement that we dubbed "State of the Game", encapsulating our journey over the past few years and especially in the six months leading to launch. Back then we promised to keep you informed with more State of the Game videos and posts, and we thought it was about time to do just that. This time around we're going to try just a blog post instead of a video as there's quite a lot of information to get through.
Patches, Patches Everywhere!
After releasing the game we knew our focus had to be on bug fixes and improving the experience for our players, we've done our best to address issues as they've been reported to us and over the past few months we've released dozens of patches, each one solving problems that affected both the majority of players and small subsets of players with particular hardware and software configurations.
With the 30 patches we've released since 1.0, including the absolutely massive 1.1, we're now coming to a point in development where we're really happy with the current state of the game, but we're still continuing to act on feedback and bug reports as they are received.
Here's a summary of what we've achieved over the last few months:
4 player skirmish & multiplayer support added
17 new skirmish & multiplayer maps
Overhauled tooltips
Overhauled possession mode
Massively Improved performance (80%~ reduced memory usage, 90%~ faster loading times)
Over 420 bug fixes
Over 360 other changes including balance, visual improvements, audio improvements, UI improvements and various other tweaks
Some Stats
While we were collecting these stats we thought we'd have a look on our average performance when it came to releasing updates:
Mean average gap between patches is 3.7 days (0.9 days pre 1.1, 10.4 after 1.1)
30 total public patches since launch
The shortest gap between patches was approximately 1 hour between 1.1.3 and 1.1.4, the longest was 50 days between 1.0.25 and 1.1, during which 1.1 was available for public testing
The largest patch was 1.1 with 263 changes, the smallest was 1.0.7 and 1.1.4 which only had a single change each
The mean average number of changes/fixes per patch since launch is 26.3 (6 per patch pre 1.1, 30 per patch post 1.1)
Average number of changes and fixes per day since launch is 6.3
We're pleased with our performance on improving the game thus far and we're now in a swing of a somewhat regular release cycle with a few minor patches helping to bridge the way between the more content heavy major patches.
We hope that you also feel our performance is living up to your expectations. We constantly check the forums and listen to your feedback and we're encouraged that the feedback we're receiving is now much more positive than it was on launch. We're headed in the right direction and we can't wait to start rolling out new content to you!
DRM-Free
The DRM-free version has been uploaded to Humble and we're now awaiting for it to go through their approval process. We'll be releasing another news update as soon as we have information from them. In the meantime be sure to double-check your Humble accounts.
If you don't know your account or have only used it previously to download Steam codes for WFTO you can use the Humble key resender to find your account.
As we mentioned previously in WFTO Wednesday #122 the DRM-free version will have a few limitations.This is due to the fact that some game features tied to Steamworks and will not work without Steam.
The changes in the DRM-free version are:
Online multiplayer is not accessible, LAN however is still supported
Achievements are not officially supported but may work, in our tests we found we could unlock most but we do not guarantee them working
Cloud Saving has been removed
DLC will not be supported, including Kickstarter digital rewards, Underlord edition content, Early Access bonuses. etc.
Patches will be less frequent, primarily limited to major patches
Tipping the Scales
With that synopsis of everything that's happened in the past few months, we're eager to start looking towards the future. We're confident that you'll love what's coming in the next few months!
First up; the development of patch 1.2, our second major patch since launch, is underway. With it some major balance overhauls as well as the introduction of a couple of new gameplay systems that you have been requesting since launch!
In the next few weeks our first newsletter will be going out and with it we'll be releasing a number of insights into patch 1.2, shortly thereafter and following extensive testing the patch will be going live!
Here's some of the things you can expect from patch 1.2:
Fortified walls now impact the efficiency of rooms
Explosives deal set amounts of damage to walls instead of instantly destroying them
80%+ of aspects and units have received balance tweaks – varying from minor cost changes to major overhauls
New unlockables screen to track progress towards unlockables (including some new unlocks!)
Updated visual assets, including some that didn't make it into launch
Some long requested quality of life updates
Many, many bug fixes
Remember to sign up to our newsletter to receive updates starting very soon on the upcoming patch and future development!
Looking to the Future
When we released our previous State of the Game post we revealed that prior to launch we were in a rather dire situation, operating in the red and having to push out the game as soon as possible to avoid the nightmare scenario of us having to cease work on the project. We realise that this news could have placed our survival – and commitment to the game – in doubts.
For now all focus is fully on War for the Overworld and we have some awesome things coming to the game in the wake of patch 1.2, here's some of the things you can expect to see in the coming months:
Level editor & Steam Workshop support (free update)
Survival mode revamp (free update)
Mutators
New campaign levels (DLC, free to everyone who purchased before May 2nd)
and more!
We want to assure all our fans that War for the Overworld has been successful enough for us to continue operating and we're beginning to solidify plans for the future. We'll be making some announcements in the coming months on this so be sure to sign up to our newsletter to catch them all!
Kickstarter Physical Rewards Update
We're still approaching fulfilment of physical rewards at a steady pace, though it has taken a lot longer than expected to get our hands on some of the rewards, in particular the blood imp statuette. We're expecting to receive the first prototype prints of our remaining physical rewards within the next few days. Once we've verified the quality of these prints we'll be moving into mass-production.
We do have a new stock of T-Shirts to go along with our physical copies and we're pleased to say that they look and feel great! We're confident that backers at tiers where T-Shirts are among the rewards will love these!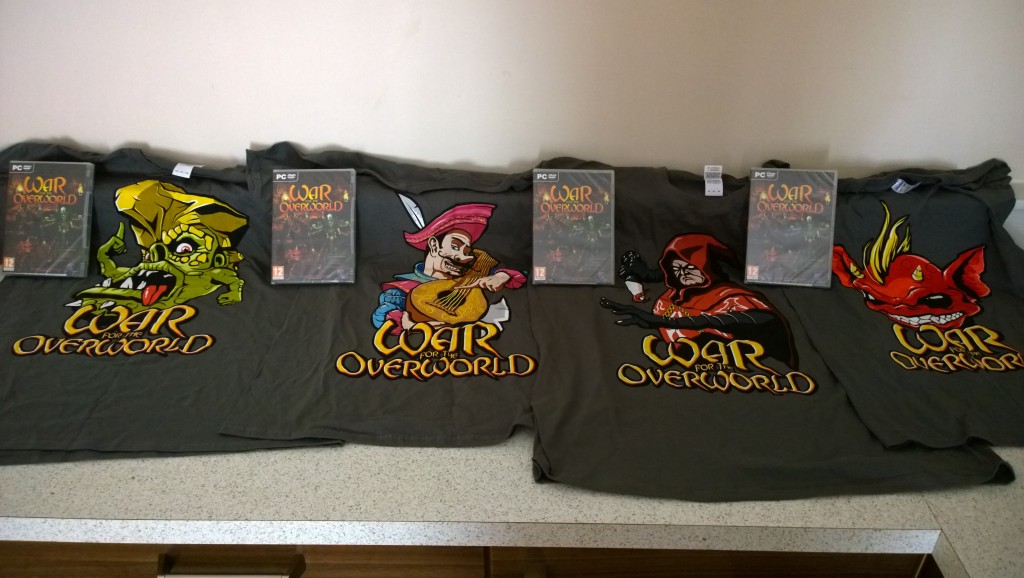 We know that it's been quite some time since the kickstarter concluded and we're eager to fulfil our commitments to you as soon as possible and once we have all the physical goods we'll start shipping! We will provide updates as soon as we have more information for you.
Newsletter Coming Soon!
That about wraps up this State of the Game post, we've got more news coming very soon in the form of our first regular newsletter. Be sure to sign up for more details on 1.2 and other upcoming developments!
Once again we'd like to thank you all for your continued support!
Until next time Underlords,
– WFTO Team