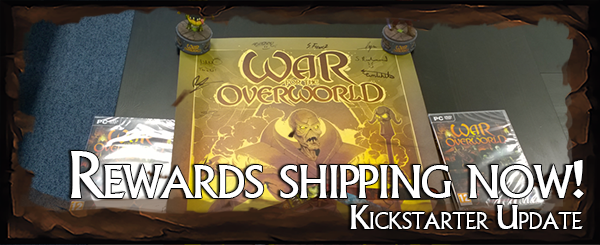 Hello Backers,
It's been a long time coming but it's finally happening. Our fulfillment provider began shipping your physical rewards to you late last week – some of you (in the UK) should have already begun to receive your rewards.
We know that you've had to wait a long time for this and we can only apologise for the regular delays in shipping your rewards. We've learned a lot of lessons from this campaign and if we ever do this again we'll be sure to carry those on!
Regardless, we hope that the end result will have been worth the wait and that you enjoy your physical goodies, whatever they may be.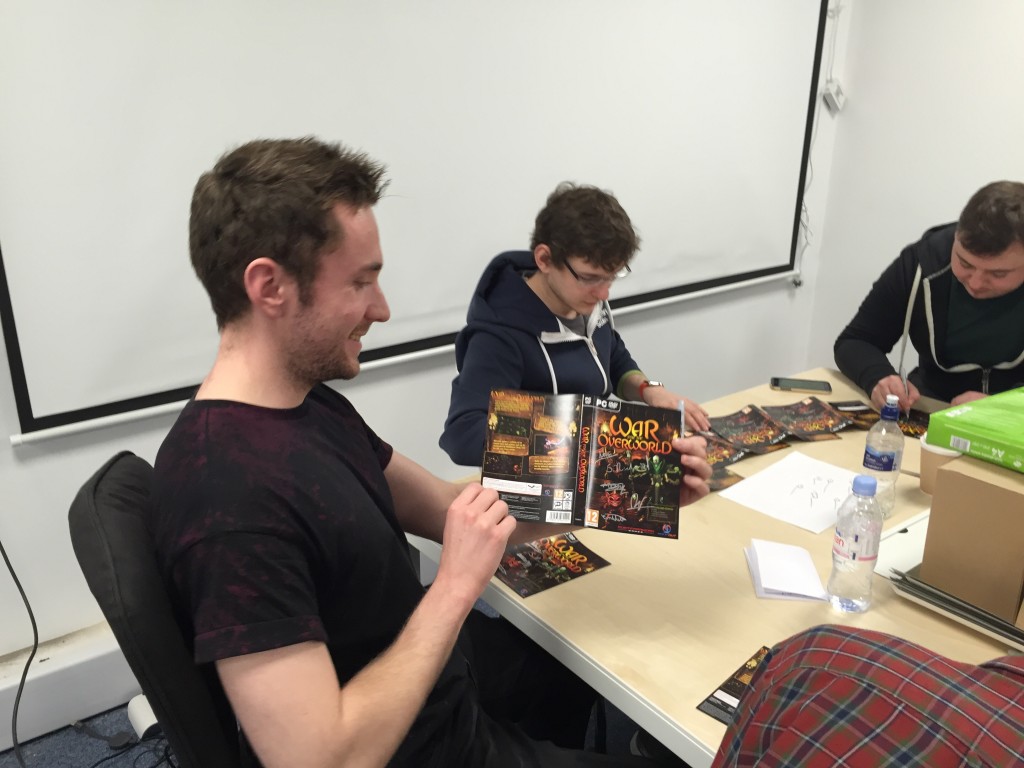 We here at Brightrock Games (yup that's a new name, full announcement soon 😉 ) would like to thank you all for your continued support and patience. Without your backing and dedication we could never have brought War for the Overworld to market, and certainly never continued to support it through dozens of free updates as well as the upcoming expansion Heart of Gold!
Your generosity has helped us to transition our operation from a group of plucky fans distributed across the world into a studio centred in the heart of Brighton, with big plans for both the present and future. Together with you we've celebrated our successes while weathering and learning from our failures. We hope that our commitment to you has shined through during the project and beyond.
A Few Reminders
With all that said the War for the Overworld Kickstarter is now nearly complete, with almost all rewards fulfilled to the best of our capabilities. But there's still a few more things to remind you of and assure you that we've not forgotten:
The Dungeoneer's Guide is still in production and is nearing completion. We hope to have this released and into your Steam folders during the summer.
Just before release you voted on what flex-goal you would like to see. You voted for an enhanced Survival mode, so expect to see that in a free update after Heart of Gold.
The DRM-Free build will be updated sometime after Heart of Gold, though as always with the standard caveats (limited updates, no Steamworks features, no DLC).
We're looking to start community translations post Heart of Gold. If you want to see translations into your language or just want to see better ones, drop by this thread and sign up!

Finally, we'd like to remind you all that Heart of Gold is free to you as backers once it releases, and you should already see it linked to your Steam Account. If you've not played in awhile this will be the perfect time to jump back in!
To close we'd like to issue one last thank you to everyone who has worked with us on War for the Overworld, including contractors and colleagues from across the world, and our team of dedicated volunteers who help to QA the game. Without your hard work this would not have been possible.
Our deepest thanks to you all,
– Brightrock Games