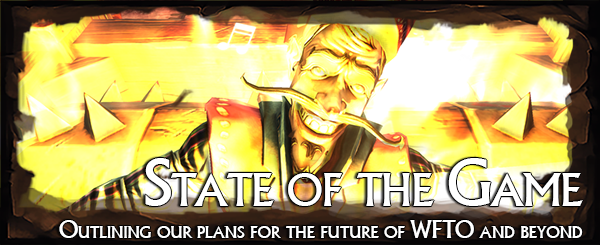 Darkest greetings Underlord,
It has been over a year since we last ran a State of the Game post, in which we look where War for the Overworld is currently and where we plan to take it in the many months to come. With the game creeping up to its two year anniversary we feel it's about time that we layout our plans for the endgame – what you can expect and what's to come after for us.
We've got quite a lot of detail to share with you, so sit back, relax and grab some refreshments because it's going to be a long post.
The Future of WFTO
One of the questions we're often asked regarding WFTO is what our plans are for the future and whether we'll be releasing any further DLC. It's a question that we've not officially answered until now.
Unfortunately Bard Bowl is not a thing.
Getting right to the point we're now preparing to roll out the last few updates that WFTO will receive, and these will come in the form of three major content sets: Patch 1.5, Patch 1.6, and a second DLC. Once this content is out WFTO will be considered content complete.
What this means is that we will no longer be actively developing WFTO once Patch 1.6 and expansion 2 are released. Naturally this doesn't mean we're abandoning it completely, in fact we'll still roll out patches to fix issues as and when they're needed so we'll still be taking an active role there.
However what it does mean is that we will be moving the majority of our development resources onto our upcoming second project.
We understand that this news will no doubt leave some of you saddened as it does us. In a way this will be the end of an era but it has been a great run and not many games can claim to have seen so many new features as WFTO has during its post-release cycle. But all good things must come to an end and it's important that we share with you some perspective on when that is likely to be.
Roadmap to Final Release
As mentioned above there are two more free major patches that we will be releasing for WFTO, and an additional paid DLC. Now to give you an idea of what to expect we're going to do something uncommon for us and that's release something of a roadmap. But please note the dates here are working dates and are not considered final – they're purposefully vague for that reason.
Patch 1.5 – Survival Mode, Mutators & More – Q4 2016

Patch 1.6 – Q1-Q2 2017

Expansion 2 – Alongside Patch 1.6
After Expansion 2 releases next year WFTO will be officially feature complete. At that point we'll transition into long-term maintenance to support the game with bug fixes or small improvements as needed.
Patch 1.5 – Survival Mode & More
Patch 1.5 is the next major update in our pipeline and it's one that has been promised for quite some time. Kickstarter backers should recall that we promised a flex goal as part of our Kickstarter campaign, and through a vote that was held on our backer site it was decided that Survival mode would be getting an overhaul.
The focus of Patch 1.5 is to deliver on that promise to our backers, and as a result the Survival mode will receive a complete pass to take it from the prototype concept stage to a fully-fledged game mode.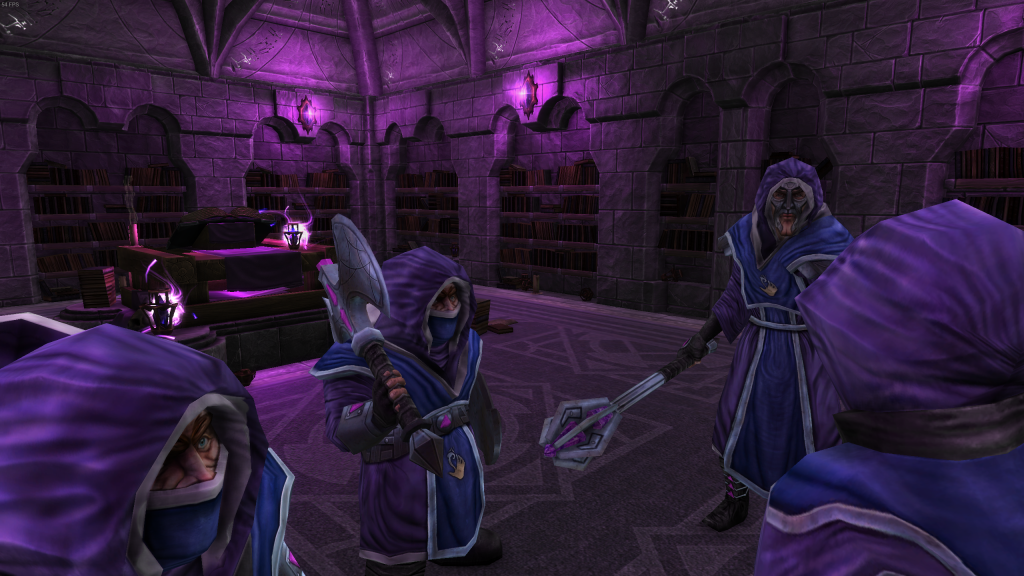 You may remember this image from our Halloween post! Yeah, it's relevant.
Here's some of the things you can expect from the Survival mode overhaul:
New maps

Entirely new waves with new units

New gameplay mechanics

New VO

Leaderboards

More to be revealed
In addition we'll be adding a few long-requested features to the game including mutators and community translation support!
Best of all it's our aim to deliver this to you before the end of the year. Of course given our history with deadlines it may well slip in the name of quality! But things are looking promising right now, so look forward to more news next week!
Patch 1.6 & Expansion 2
Patch 1.6 & Expansion 2 will release alongside one another with complementary goals. We've often wondered how we would end our development of WFTO, after all for the past four years we've done very little but develop it!
We've decided that we want to leave it in the strongest state possible, and we're eager to do what we can to make sure that WFTO continues far beyond the end of our support.
Sadly we can't share too many details at this point but we're confident that what we've got planned will please a great number of people. There are a few things we can share though, so at the very least you can expect:
Completely overhauled Skirmish AI

New maps

Lots of VO for various characters (including some fan favourites)

And more!
We're confident that after Patch 1.6 we'll see WFTO reaching untold depths!
Brightrock Games – Looking Beyond WFTO
Back when we announced the formation of Brightrock Games we mentioned we were looking to the future and that we very much had a new project in the works. That project is currently in a design phase and some of the team are already spending a bit of time on it, while the rest of us focus on polishing off WFTO.
The inevitable question of course is: "What is this secret new project you're working on?" And unfortunately at this time we cannot answer that question in so many words. We want what we're developing next to be very solid before we start showing it in the public space, but we're sure there'll be announcements sometime next year and we'll no doubt be putting out a few teasers as well.
At the very least we can tell you what it isn't: It's not War for the Overworld 2.
While we love WFTO we feel that we've gone as far as we can with it for now. After what is quickly becoming half a decade of work we'd like to take a break. A second game in the WFTO universe is something we might do in the future – it's certainly something we talk about from time to time in the office.
With that said we're sure what we have planned will be an enjoyable romp and it's something that we're looking forward to sharing with our fans when the time is right. We hope that you will choose to join us on our next adventure, and if you're eager to hear more sign up to our newsletter to be sure you won't miss it!
Finally, as the lights dim on WFTO we promise that we won't be leaving it without the appropriate aftercare. We know that many of you love the game and we hope you will continue to love it just as much as we do.
Thank you all for making our dreams come true and thank you for believing in us throughout both good times and hard times. You make everything we do worthwhile.
Cheers!
– Brightrock Games Team
Click here to discuss this update on our forums
Click here to chat about this update on our Discord
Never miss an update! Sign up to our newsletter!