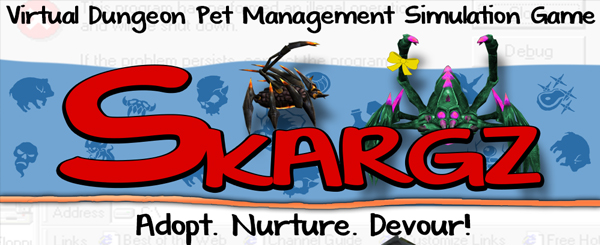 Darkest greetings Underlord,
There has been much speculation over the last year regarding what Brightrock Games title will next grace your PC gaming device. Knowing our passion for 90s and 00s classics you may have supposed such games as "Themed Hospital Manager", "Dark Grey & Light Grey" or even "Populist: The Start", which would all be natural stepping stones for Brightrock in the future.
Fortunately today the speculation will end! In pursuit of our mission to create "genre-twisting simulation games" we've pondered the question, "What can we make that will truly reinvigorate this ailing genre?" While watching a stray dog urinate on a lamp post, the answer came to us like a bolt of lightning! So without further ado we're pleased to announce:
Skargz – A Virtual Dungeon Pet Management Simulation Game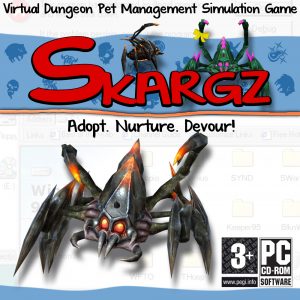 About Skargz
Skargz is a truly genre-busting game inspired by the virtual desktop pet games from the 90s. We're confident there's nothing out there quite like it – riding on a wave of nostalgia while also redefining what it means to be a virtual pet. We're sure we're not exaggerating when we say this is a new frontier for the VDPMSG genre!
Upon installing the game from your CD-ROM drive you'll immediately find a newly laid Skarg egg on your desktop. Then the fun begins:
Adopt

– An adult Skarg might be able to dice a Highguard at fifty yards, but junior's gonna need a little hand being born: slap the egg 1,000 times to help him break free!
Nurture

– Treat your newborn Skarg well and he will soon grow up to be a truly adorable killing machine. When he's done devouring your Recycle Bin, be sure to sate him with plenty of Micropiglets, lest he eat your Start button next.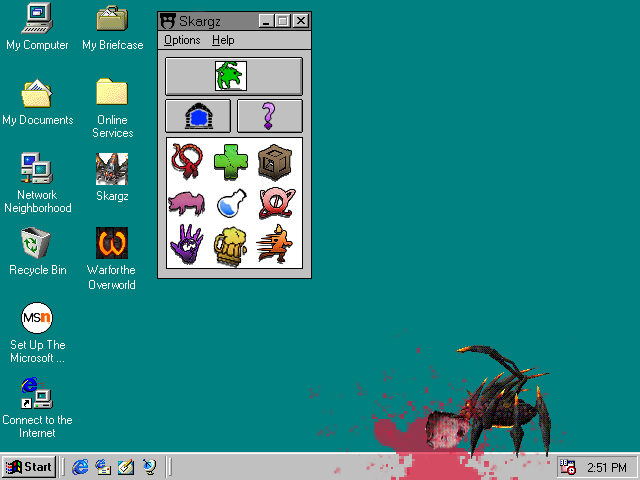 CTRL+Z won't undo that
Play

– Skargz also enjoy hunting their prey, even in the digital domain! On spying your mouse pointer your Skarg will proceed to chase it around the screen, thus serving as an effective screensaver.
Explore

– To your Skarg your computer is like a whole new dungeon full of winding passages. On his quest to find the hallowed underworld known as your hard disk, he will undoubtedly corrupt your essential system files.
Mutual-compatibility

– Your Skarg isn't just for this new game – he's completely compatible with War for the Overworld as well! Export him back to WFTO with the exclusive "Skarg Advisor" DLC; he'll boot Mendechaus back to the Aether and take a prominent position on your user interface, offering helpful tips and tricks.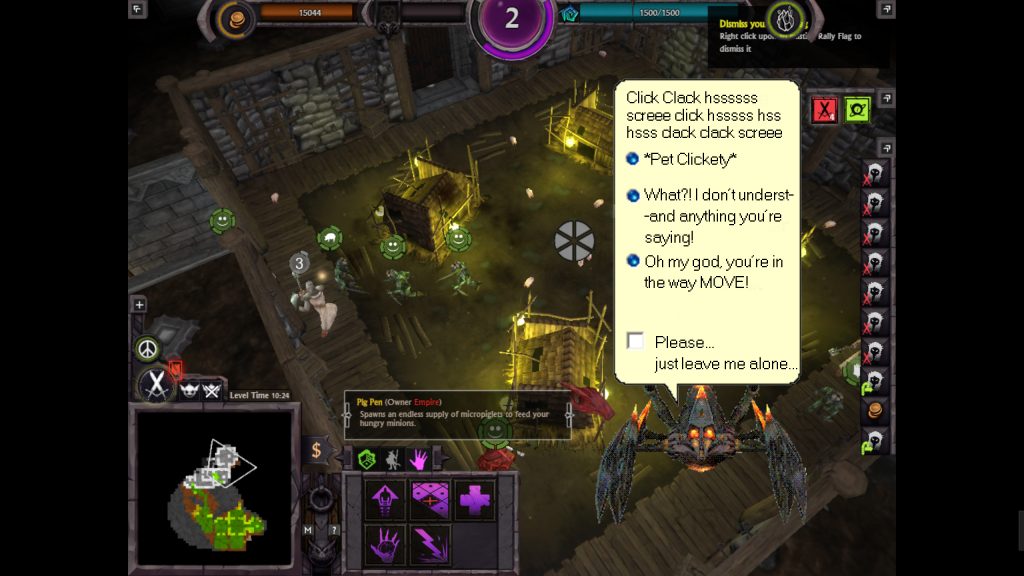 Just call me Clickety!
We know that for many of you this game will bring back memories of a simpler, happier time; but the nostalgia doesn't stop there! As you may have surmised from our screenshots, Skargz is 100% compatible with Windows 95 and Windows 98, so you can authentically relive your childhood! In fact, the game is only compatible with those operating systems.
To ensure cross-compatibility we had to make War for the Overworld run on these operating systems as well. This has been a staggering technical achievement on behalf of our programmers, with the only discernible side effect being that War for the Overworld is no longer compatible with Windows 7, 8 or 10, Mac OS X, or Linux. But we're sure having a Skarg advisor will more than make up for any niggling disappointments.
Speaking of War for the Overworld, the My Pet Dungeon DLC is releasing on Monday! Be sure to mark the date in your calendar and check out our preview posts for the upcoming release.
Skargz can be yours from April 2nd, 2017, all for the low low price of £59.99! Further microtransactions are also available to truly customise your experience. Want a new top hat for your Skarg? A muzzle? The Skargz Shop has all that and then some!
Of course you're eager to know whether or not your rig will run this behemoth game. Here are the all-important recommended system requirements:
Pentium 75 processor

Windows 95

40 MB free hard drive space

16 MB RAM

CD-ROM

Monitor

16 Bit Sound Blaster or compatible sound card

256 colors video card
Cheers,
– Brightrock Games Team
Click here to discuss this update on our forums
Click here to chat about this update on our Discord
Never miss an update! Sign up to our newsletter!