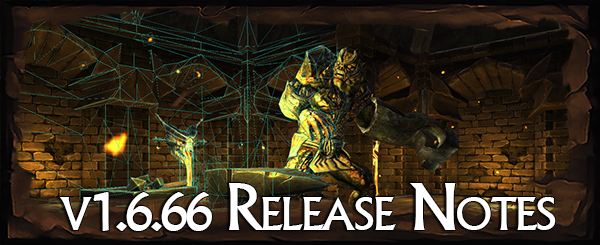 Darkest greetings Underlord,
The patch number of the beast marks an auspicious occasion for our fans in a number of countries over on the continent! At long last we're in a position to update our unsupported but not forgotten European languages, and bring them in line with the English, French, German, and Chinese localisations.
You can read our full announcement post here.
European Languages Return!
As announced in our previous post, and in today's announcement, we're proud to reveal that the discontinued European languages are now updated and back in the game, and we'll be continuing their support into the future! We welcome your feedback!
Updated previously deprecated European Languages to include all the game's text updates since Patch 1.0.1:

Spanish

Italian

Polish

Russian

Added subtitles in various pre-rendered cinematics throughout the game for the above languages
Gameplay Changes
Units
Spirit
Can no longer pass through Possession Doors
Spirit Worker
Can no longer pass through Possession Doors
Constructs
Constructs may no longer be placed inside shrines or Dungeon Cores
Rituals
Assembly
Now has an effect if used twice on the same defence.
AI Improvements
Workers will no longer attack anything except rival Workers, regardless of how high their chances are to win. This is to keep them on task when working near low-threat objects such as doors.
Mutator Changes
Extra Workers granted by increasing the default minimum Worker amount no longer grant mana when sacrificed in the Dungeon Core

Undiggable walls can no longer be tagged

Wall tooltips will now update to correctly reflect if undiggable walls is enabled
Performance Optimisations
Improved the performance of Worker scouting behaviour

Optimised unit behaviour to significantly reduce "garbage" created on unit spawn
Game Text Updates
Visual Changes
Small improvements to Slaughterpen lights

Increased brightness of Slaughterpen slightly
Miscellaneous
Gold Piles will now be placed up to 17 tiles from where they are dropped in the Vault, rather than 5

Achievements for My Pet Dungeon unlockable themes are now listed in level order on the unlocks screen
Bug Fixes
General
Fixed an issue that allowed units to teleport into walls/map border
Gameplay
When a Dungeon Core is claimed, the gold it held now correctly enters the new owner's Vaults

The Garrison buff will no longer incorrectly stack for multiple activated props

Aureate Monoliths now correctly update the minimap after use

Removed Last Stand from Templar abilities list as the ability had been disabled for some time
Levels
Fixed an incorrectly rotated "corridor" on My Pet Dungeon level Ponygrasp
Visuals
Highlight effect on the Dwarven Dungeon Core should no longer present with visual artifacting

Garrison prop range corrected, now more representative of actual range

Corrected a minor clipping VFX in the Spirit Chamber
Audio
Removed duplicate line from War for the Overworld Level 3

Fixed some errors caused by missing audio on War for the Overworld Level 3

Arcane Chunder now correctly uses the Chunder voice

The Arcanist boss should now correctly play her post sleep voice-over

Necromancer, Gnarling, and Chunder all now issue battle cries when in the Arena

Gave Duke and Duchess missing voice-over from their base unit

Vampire now correctly plays his eating voice-over when in the Tavern
Multiplayer
Fixed missing VFX and SFX for Lightning and Shockwave spells for clients

Fixed missing animation and effects on Bombards for clients
Text
Made "fortified wall" a proper noun on tooltips for Siege Shrine, Underminer, and Augrum Wall (consistency issue)

Fixed a tooltip typo for the Ember Demon Rally Flag

Fixed the time limit on the War for the Overworld Level 5 timed achievement, so that it now correctly reads 23 minutes, not 18 (in Simplified and Traditional Chinese)
Cheers,
– Brightrock Games Team
Click here to discuss this update on our forums
Click here to chat about this update on our Discord
Never miss an update! Sign up to our newsletter!