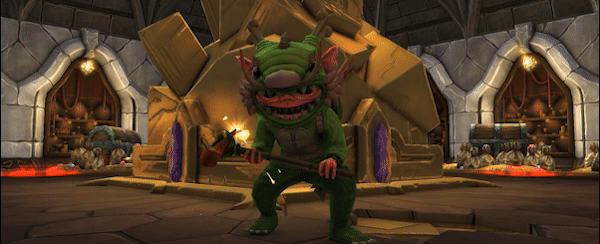 Darkest Greetings Underlord,
As part of the unleashing the huge undertaking of supporting an entirely new language we've developed a large number of fixes and improvements to your game! Want to know more about the aforementioned language? Read here! Otherwise, read on for all the awesome changes that have come in Patch 1.6.4!
Chinese Language Support
As of today War for the Overworld is now available in Traditional and Simplified Chinese, you can read our full announcement here.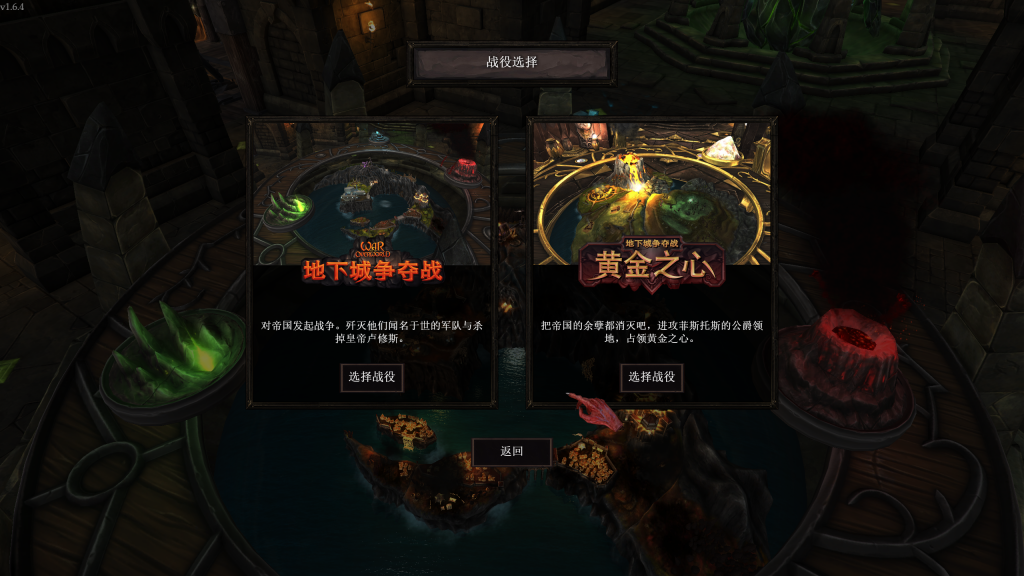 Special Worker Skin – Dragon Worker
To celebrate the Chinese release we've unleashed a special worker skin upon the world.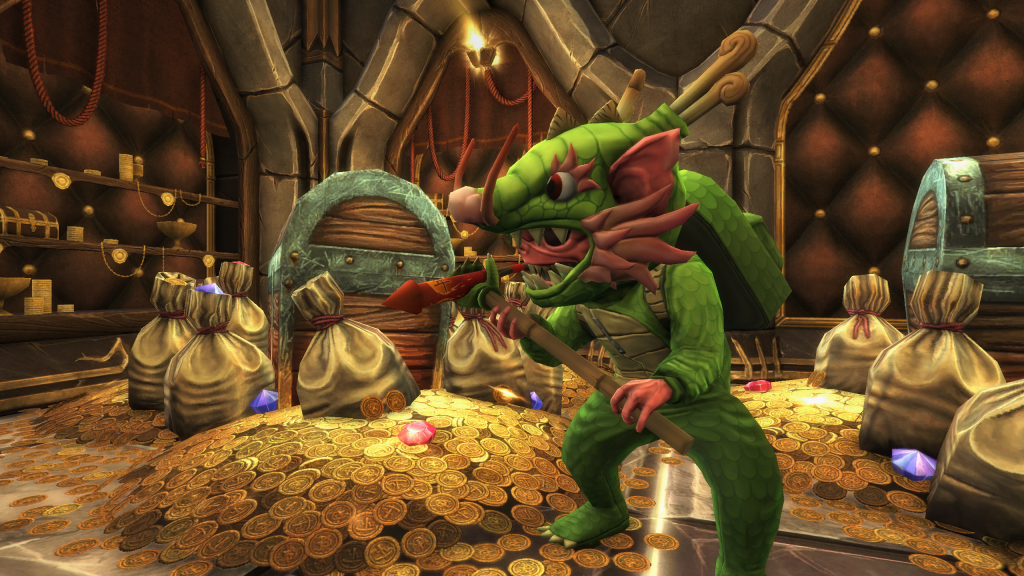 The Dragon Worker has a very special unlock condition, upon logging into the game between now and Chinese New Year (In February) you will be treated to a special achievement and find the new worker already available in game.
Should you miss this window it will be available again every Chinese New Year!
New Maps
Once again we're introducing a number of new maps all loving crafted by our excellent team of volunteer QA members. As always a huge thank you to them for their time and efforts, be sure to give them a pat on the back if you see them.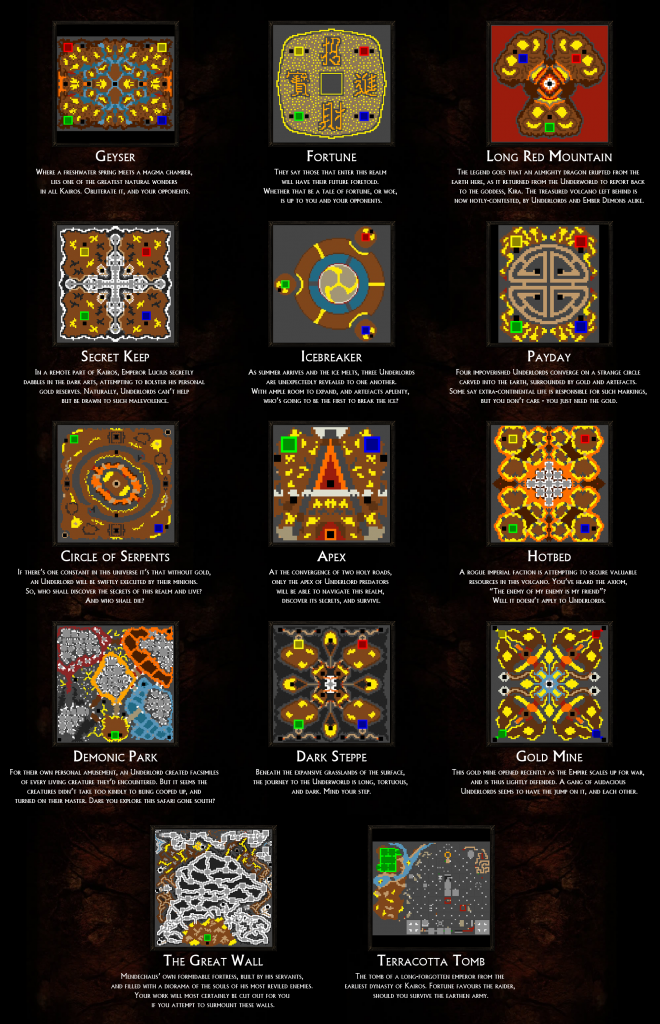 Localisation & Community Translations
Cutscenes now showing subtitles on all cinematics

Improved reliability of game loading into the correct language
Performance Optimisations
We've implemented a number of significant performance optimisations which should greatly enhance game experience, especially on lower end GPUs. We're really pleased with these improvements and of course we'll continue to keep seeking opportunities to further improve the performance of the game.
Numerous Performance Optimisations with up to 25% increased FPS and reduced stutter:

Implemented a new deferred renderer

Optimised Unit Shields

Improved Minimap Performance

Refactored a number of older scripts for to improve performance in newer Unity versions

Improved Animations to reduce memory & rendering load

Improved Floating Emoticon performance

Optimised dynamic battle music performance

General pathfinding performance improvements

Huge vaults now build and destroy much faster
Sound Changes
Vastly improved battle music system to improve reactivity in combat

Sound Effects volume slider now affects more sounds

Spirits now play an appropriate death sound

Added an attack sound to the Archon

Improved Audio Levels during cutscenes
Visual Changes
Piggy Projectiles in the tavern are now appropriately flambeed

Improved image quality of Floating Emoticons and Unit Shields

Improved Animations when units eat piglets in the Slaughterpen

Added a new Kasita Hand and Pickaxe

Improved Cutscene Quality

Added Warden Work Animation

Added VFX on Juggernaut Work

Traing dummys in the Barracks are now more reactive to hits

Improved menu transitions

Improved visuals on the Wormhole potion

Brightened the Walls, Floor and Tiles of the Mira theme to bring them in line with the rest of the theme

Improved Alchemy Lab lights

Updated the main menu

Chunders now play work animation

Skarg plays sleep animation

Fixed brightness of the campaign map

Realigned torture chamber vfx
Multiplayer Changes
The minimum character limit for creating a lobby in Multiplayer has been reduced to 1
Level Changes
Lockshackle (My Pet Dungeon)
Beasts will no longer become angry on this level
Skirmish Maps
Styx

Replaced Artefacts of Greater Sin with Artefacts of Sin

SeasteadII:

Added extra outer defenses for the Empire

Changed inner water areas to use Empire Water tileset

Changed Wooden Bridges to Empire Granite Bridges

Changed Artefacts of Greater Sin back to Artefacts of Sin (unintended change)

Set Destroyable setting of Empire Gateways to True so they can no longer be captured.

Populace updated:

Moved the Core of all players closer to the middle of the continent, distance between players is now equal

Fortified path between players with Augrum Walls

StarDust

Tweaked central area, now with more building space and gold!
Miscellaneous Improvements
Upgraded to Unity 5.4.5p5

Updated game credits

Tutorial videos are now played from a local file rather than streamed

Port Forwarding Advice link now takes players to the updated Userecho Article

Clicking on the Port Forwarding Advice link will no longer revert the player to the main menu upon return

Gold Statues can now be dropped on allied ground and thus transferred into an Ally's control
Bug Fixes
Crashes
Possessing a Piglet that gets placed into an Oven will no longer soft lock the game

Fixed an issue that could cause the game to seize on startup, this only affects the GOG version
UI
Double clicking buttons on the main menu will no longer cause them to disappear
SFX
Fixed an issue which prevented dynamic battle music from playing
Levels
An Empire owned tile will no longer appear next to the player's Dungeon Core on Lagoon (Sandbox)
Ghouls now correctly follow necromancers on Snowhope (MPD)

Rhaskos' Dungoen on Hell's Deep (MPD) is now correctly revealed by Revelation

Optional Objective on Hell's Deep (MPD) now correctly required Rhaskos to be defeated to complete

Home Realm can no longer be restarted as intended

Incorrect number of Democorns will no longer be present after reloading Ponygrasp (MPD)

Volcanic Bridges on Lavafall and Caldera now correctly have lava beneath them instead of Water

Reported Map Size should be consistent in all menus now

Fixed an exploit which allowed access to locked MPD levels without owning the DLC

Fixed map editor placed beast den for a single faction showing black incorrect tooltips
Rooms
Fixed an issue wherre Garrisons in range of a Posession door never activated

Fixed an issue that resulted in defences being buffed multiple times by a garrison

Prevented tavern getting stuck when a table was deleted.

Tavern table now has correct amount of need satisfiers

Fixed an issue where Inhibitor's would no longer be owned by the Empire if the Empire player had a Dungeon Core that was destroyed
Spells
You can no longer cast a number of Warband associated abilities (Such as Add to Warband or Peaceband) on the Warband icons. Preventing such things as accidentally adding all units to the Peaceband
Units
Added handling of units in walls on map load that got there from saving under extreme lag conditions

Fixed workers refusing to mine golden rats and piggies

Fixed up the frostweaver animsation and prevented the passive ability triggering the hit animation

When you mine Walls as a possessed worker, your workers will now correctly claim the tiles

Fixed an issue that prevented workers from collecting gold/defence parts

Neutral Vampires should no longer die in Prisons
Mutators
Titan Sin Summoning cost increase now also increases the excess Sin Cap to allow late-game summoning after all aspects are researched
Environment
Prevented Siege shrine effect persisting after level change
Multiplayer
Alchemy Artefact now correctly works for clients

Improved Forge spell reliability in MP for clients

Fixed an issue that caused some defences and constructs to never build in MP

Fixed Unit mood constantly showing as "Content" for clients
Visual Fixes
Fixed the orientation on the Temple Guard's shield

Corrected an issue that caused some parts of the Archons neck to be split

Evil Arcane Portcullis is no longer incorrectly rotated

Fixed a number of broken team colour instances on Theme ceilings

Possession door projector added

Fixed rotated tile in mira theme water

Fixed founders theme core floating

Fixed projector wall not being the right size when building aureate monolith

Removed red tiles in Empire Sanctuary

Ally & Enemy Titan canceled icon improvements

Fixed golden statues returning to their original after save & load

Fixed Canceling selection of a min. 3×3 room leaves a blue mark in prop place

Prevented an issue which could cause the menu to animate off of the screen

Adjusted team colouring for Dwarf floor tile
Misc
Numerous Text & Translation fixes
Cheers,
– Brightrock Games Team
Click here to discuss this update on our forums
Click here to chat about this update on our Discord
Never miss an update! Sign up to our newsletter!