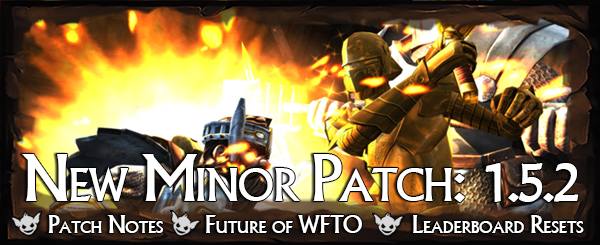 Darkest greetings Underlord,
The eternal work continues unabated within the foundries at Brightrock Games! The hammering of steel and the sound of arcane machines can be heard beyond the doors as our Augres and Cultists mould the shape of things to come.
Speaking of which, in addition to unleashing Patch 1.5.2 on you today we're also announcing a change to our previously revealed plans for War for the Overworld. So pull up a pew and let's delve into the changes both present and future!
The Future of WFTO
In November, slightly before the release of Patch 1.5, we announced our plans for the endgame of WFTO. We also gave you a timeline for our final expansion, as well as the next and final major patch.
As we've often said in the past the nature of videogame development is fluid – circumstances change and so inevitably plans change. We're happy to say that, thanks in part to the success of Patch 1.5 and the Crucible, we're looking to develop more content over 2017 than originally intended.
This changes our original timeline in the following ways:
New content will be introduced throughout the year, including an all-new oft-requested game mode in the first half of the year

The next expansion is no longer releasing in Q1-Q2 but much later in the year, or even early next year – overall quality will be higher

The Skirmish AI update will now release before the next expansion
Much more content overall will be produced for WFTO than originally intended; we're working on a few features we always wanted to do but couldn't fit in before. Unfortunately we're not quite ready to share all the details with you yet – as always we want to ensure we're confident in all the new features before we start building hopes. But we will certainly be sharing more news with you in the coming months.
Upcoming Crucible Leaderboard Reset
Since the Crucible launched we've seen a number of you asking if we plan to reset the leaderboards in the event that exploits are discovered, or clear cheating is occurring on the board. This is an issue we've been considering for some time and not one with an easy answer.
For the most part we're happy with a number of strategies that are seeing use in Crucible mode and we're pleased to witness some neglected Aspects supporting these strategies. In a few cases we've seen some clever use of game mechanics that even we did not expect and we're usually happy to let these continue.
However in some cases there are times where an Aspect can be used to completely break the mode, such as the "Prison and Arena" exploit fixed in this patch. These are issues we want to address as soon as possible to help maintain the balance and intended play of the Crucible.
We have decided not to reset the leaderboard for this patch as we don't wish to have legitimate scores removed due to a small number of exploitative scores. However we are planning a leaderboard reset in the future, namely with Patch 1.6. This patch is likely to see some major balance changes that will ultimately change how the game is played and how effective some strategies are. To maintain a fair playing field on the leaderboard we plan to reset it at this time due to the scope of the incoming changes. We may also reset the leaderboard to coincide with other major patches with balance changes.
Patch 1.5.2 Release Notes
Gameplay Changes
Potions
Quick Freeze
Now creates a patch of frost when it expires, preventing further Quick Freeze potions from being used in that area for a short time
Level Changes
War for the Overworld
Level 3
Improved the robustness of several scripts in this level to prevent players from becoming stuck at certain objectives, specifically placing the first Blade Lotus
Heart of Gold
Level 4
Small improvements to the ending sequence, making it easier to trigger the final cutscene
UI Changes
Players will now be informed if their Steam Cloud storage is full when attempting to save games or maps – in the event that Steam Cloud storage is full the process will complete locally
Map Editor Changes
Added an edit button to the Finished maps menu which will open the selected map in the editor
Crucible Changes
Improvements to the Earthquake feature's detection of path blocking via Prison and Arena tiles, which should address a serious exploit
AI Improvements
Fixed a rare case where units would endlessly run into a closed enemy door without attacking it

Made a number of improvements to Worker AI to prevent them looping in and out of combat if they have no specific tasks to perform

Cultists are now able to attack doors

Threat map now immediately updates when a defence is built and takes into account the DPS of a defence
Visual Improvements
Performed a pass on and added new VFX for a number of Survival units
Miscellaneous Changes
Improvements to corrupt save handling so that the loading process fails more gracefully, preventing an issue where it would be impossible to load other levels after attempting to load a corrupted save file
Bug Fixes
Units
The Duke and Sir Roussimoff should now correctly receive their wages

Necromancers will no longer try to raise Ghouls from destroyed Empire gateways, preventing an endless loop of abject failure

Possessed Matriarchs can now move as intended after using their Crusade ability
Map Editor
Crucible maps can no longer be imported as they are not supported by the Map Editor

Fixed an issue where importing a map and reducing the number of factions on it would cause issues at publishing

Fixed an issue where the Artefact of Sin was not placeable in the Map Editor
Levels
Fixed an issue where pre-placed props on Level 12 were rotated 90 degrees into the ground

The vault door in Heart of Gold Level 4 can no longer be destroyed by normal units

Fixed an issue in Level 10 where revealing the Inhibitor on the west side of the map could cause all units on the west side to engage your forces immediately

Fixed a long-standing issue in Level 5 where some units could be assigned an Empire patrol path which would appear on their tooltips as "activity: other"
UI
Fixed a localisation error where the Spanish and Polish translations for community translation advice were switched

Minor text corrections for some Possession ability tooltips

Changing the visibility state of unit shields via the hotkey will now correctly reflect the state change in the menu

Increased the height of the unit shields for Wooden Doors and Portcullises for increased visibility
Visual
Fixed a long-standing visual issue where some tile tops would have visible seams between tiles

Artefacts will no longer show a box highlighted beneath them when hovered with the Hand of Evil

Fixed an issue with the walk animation of the Duke

Fixed the highlighting issues with the Kasita theme Dungeon Core

Fixed an issue where the Fog of War could become incorrectly revealed on specific maps

Fixed an issue with the torture corruption VFX that caused it too look incredibly garish

Small corrections to the Arcane Chunder Nova ability animation and VFX
Multiplayer
Map names will correctly update for clients searching for a game in the lobby if the map is changed by the host after the client started searching for a game

Fixed an issue where clients could not load a multiplayer game immediately after playing a Crucible match

Multiplayer lobbies will once again correctly close if the host disconnects

Closing a slot that contains a hard AI will now correctly be reflected on clients' screens
That's all for now Underlord – keep your eyes peeled for more announcements in the coming months!
Cheers!
– Brightrock Games Team
Click here to discuss this update on our forums
Click here to chat about this update on our Discord
Never miss an update! Sign up to our newsletter!