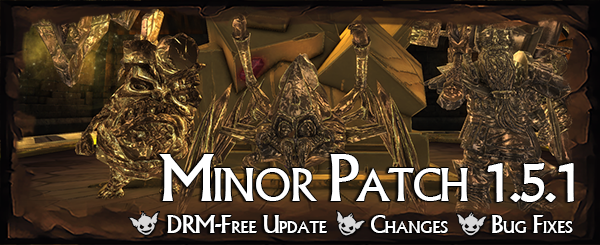 Darkest greetings Underlord,
As we step out of the darkest times that will forever be remembered as the year 2016 we look forward to the bright future that is 2017. We're already hard at work on our new year's resolutions to bring you even more quality content for War for the Overworld and hopefully to make great strides on our next title.
We're pleased to say that the release of Patch 1.5 and the Crucible DLC has gone down incredibly well and we're looking forward to what your response will be to the exciting new content we have planned! We can't share any details yet but as soon as we can we'll be posting up a storm, so keep your eyes peeled.
DRM-Free Build Update coming soon and GOG
What we can share however is that we have just unleashed Patch 1.5.1, and with it we're finally updating the DRM-Free build to include all the wonderful content that we've added since Heart of Gold (with the same usual restrictions). You'll be able to get your grubby mitts on it next week! 
Even the Crucible is stopping by, so if you can't stand those pesky DRM services at the very least you'll be getting some mass slaughter in Mendechaus' terrifying Crucible challenge.
We also have some cautiously good news for those interested in a GOG release. We've been talking with the chaps over at GOG.com and we're hoping to potentially release a "complete" edition after all upcoming features are done. More on that as it develops.
Patch 1.5.1 Release Notes
Anyway, we're sure you're eager to hear what's changed in Patch 1.5.1. Feature-wise we're a little light on the ground but that's because we're hard at work on much bigger things for WFTO. We're sure you'll certainly appreciate all the fixes and minor changes we've made though!
Gameplay Changes
Units
Workers
Can now collect items from unclaimed ground
Environment
Artefact of Sin
Now grants the user 1 Sin (down from 3)
Artefact of Greater Sin (New)
Community Translation
Added a number of missing translation keys including map names and descriptions for Skirmish and Sandbox modes
Map Editor
Disabled "quadrant pivot" mirror tools on non-square maps as they do not work
Crucible
Gateways are now numbered in a more intuitive manner
Mutators
Mutator mode in the lobby is now coloured based on its state:

Mode Default – White

Map Default – Yellow

Custom – Orange
Veins of Evil
Unavailable Aspects now grant access to the next tier of Aspects as if they had been researched, to prevent players becoming trapped in the Veins
UI
Increased text size in some areas of the UI such as the debrief screen and Achievements menu

Added a message when changing maps with custom mutators, warning that they won't carry over to the new map unless saved as a preset
Bug Fixes
Crashes
Fixed a crash that could occur when loading a custom map

Fixed a number of exceptions that could lead to very rare crashes
Units
Dwarven Arcanists no longer punch books to learn their secrets (but Arcane Chunders still learn via cranial impact)

Fixed an issue where the Kasita and Silver Kasita Workers had incorrect Possession camera positions

The Democorn now has fancy ability icons as intended

Extremely powerful units such as Titans will no longer live even after their owner has died
Defences
Blueprints for Midas Doors will correctly take damage rather than draining your gold reserves

Blueprints for Glacial Doors will no longer create Permafrost blocks upon receiving their first construction part

It is no longer possible to attack blueprints with no parts by rallying units on top of them
Rooms
Fixed a collision issue in the Slaughterpen that would cause Workers to get stuck
Environment
Workers will no longer bring an infinite number of Artefacts to Research Shrines under certain conditions

Improved the selection box for loose gold and gold stored in the Vault
Crucible
Fixed an issue where the "Goldstone under attack" alert could play before the first wave starts

Large versions of units will now be tortured at the correct height on the Torture Rack

Fixed an issue where the wave's survived on the final scoreboard would not match the in-game value (this did not affect the leaderboard)

Achievements will now show as earned immediately on the debrief screen if they have recently been earned
Map Editor
Corrected an issue where importing a map and increasing the number of factions would cause all faction-owned objects to be deleted

Claimed tiles of the same faction can now once again replace room tiles

Fixed an issue where changing the owner of a Titan in the Map Editor context menu would cause the original owner's Titans to be locked in the Veins of Evil upon game start

Fixed an issue where holding the Escape key on the Public menu would cause the menu to exit and the game to appear frozen

Baby Democorns will no longer die over time in the Map Editor
Levels
Fixed an issue on Level 5 of the WFTO Campaign where saving and loading before converting Rhaskos' Core would cause the Sanctuary reveal cutscene to trigger without revealing the Sanctuary

Fixed an issue in Level 3 of Heart of Gold whereby continuously clicking the forge at 1,000,000 gold before you are told to would cause an infinite number of Colossi to spawn, rendering the level incompletable

WFTO Level 7 should now complete under all circumstances

Fixed an issue where the Dungeon Core was damaged from the start of some Campaign levels

Several improvements to Underlord voice lines in Level 12

Fixed the Artefacts of Sin in Campaign mode to ensure they grant only one Sin

Fixed an issue in the Home Realm where gold piles would spontaneously appear at the Empire gateway

Fixed the "This is my time" voice line from Rhaskos in Level 7 being played at the wrong time. Get it right Rhaskos!
UI
Fixed an issue where loading a game could cause the creature UI to disappear at certain UI scaling options

The "My Score" tab on the Crucible leaderboard can now correctly display rankings higher than the player's

The "Replay" button on the narration window on the summary screen now reads as "Repeat Narration" for the sake of clarity

Objectives are now correctly visible in non-campaign modes

Fixed a number of areas where text would overlap in certain languages

Fixed an issue where selection would not complete if the cursor moved over the UI

Fixed an issue with the debrief screen scrollbars which would appear in some languages
Visual
Fixed a bug where the placement colour for rooms could remain on the floor after releasing the mouse when the player does not have enough gold

Fixed an issue where highlighting Blood tiles would cause them to permanently change colour

Silver Kasita Theme now uses the correct ceiling

Fixed a small visual fault with the Spirit Chamber podium

Parts of the Perception Shrine should no longer be visible through the Fog of War

Corrected the ceiling height for Lava Chasms

Research VFX should correctly play on pre-placed Archive lecterns

Fixed some visual artefacts which would occur when Mandalf was on screen

Fixed a number of issues where tiles would appear incorrectly rotated in some pre-placed rooms
Multiplayer
Fixed an issue where units could spontaneously start "dancing" at a player's Core

Made some improvements to try and ensure the client always receives a map debrief screen when the host leaves

Improvements to downloading maps on the client
Audio
Corrected some errant voice-over in Crucible
Mutators
Mutator changes should now always be correctly applied when changing tabs on the mutator menu
Miscellaneous
Restarting a Skirmish level will now once again maintain your settings such as player colour, theme, etc.

Fixed a number of unit names so they display properly

Corrected a number of translation keys on code side
That's all for now Underlord, but keep your baleful eyes peeled because there's more news coming soon!
Cheers!
– Brightrock Games Team
Click here to discuss this update on our forums
Click here to chat about this update on our Discord
Never miss an update! Sign up to our newsletter!