Updates to Terrain
Hey folks,
Today we're going to start looking at some of the design changes that we're making as we begin refining gameplay in preparation for release. This first post will focus on the improvements we're making to the mechanics of various terrain types.
We have two caveats before you read further:
These changes aren't coming until the next patch
Everything you see in this post has placeholder artwork (visual updates to terrain are coming later on)
To start off, let's take a look at the issues we had a with terrain:
Permafrost was trying to be both the safe terrain type and the obstacle terrain type
Permafrost required Cauterize (a Wrath spell) to use properly, which didn't make any sense
Once Cauterize was used, Permafrost lost its use
Brimstone (which is meant to be the unsafe terrain type) similarly lost its unique mechanic once Chill had been used
The non reversible nature of both of these meant that the interaction you had with these tiles was simply removing their unique mechanics, which wasn't very fun
Boiled down, both of these terrain types weren't achieving what we wanted, so we went back to the drawing board with them
These problems led us to make the following changes:
Permafrost is now the safe terrain type, and no longer has a removable component
Brimstone is now the obstacle terrain type and has an awesome new mechanic
Sand (new) is now the unsafe terrain type and has no removable component
The Chill and Cauterize spells are being removed from the game
To illustrate this better we've created a few videos that can be found below. In these videos you'll also see some other changes, including an update to tile tagging and worker task speeds.
Permafrost & Sand: Permafrost's old mechanic has been removed and instead now has largely increased health compared to a normal tile, your workers arms ache just thinking about it. Conversely, Sand is a new terrain type that has significantly less health than a normal earth tile.
Brimstone: The Brimstone of the Underworld has become impossible to dig! While your workers are no use here, certain explosives can fracture this crystalline rock and ignite the gasses trapped within – destroying all nearby tiles. This can create a chain reaction with adjacent Brimstone tiles as seen below.
In addition, we still have all the following terrain types which remain unchanged:
Sacred Earth: Cannot be claimed, once dug out it will leave behind Sacred Ground
Sacred Ground: Cannot be claimed
Water: Allows most units to pass through (at a reduced rate) but cannot be claimed, players must build bridges to claim through it
Lava: Most units cannot pass through it, players must build stone bridges to claim through it
Chasm: Only flying units can pass through it, players cannot build bridges to claim past it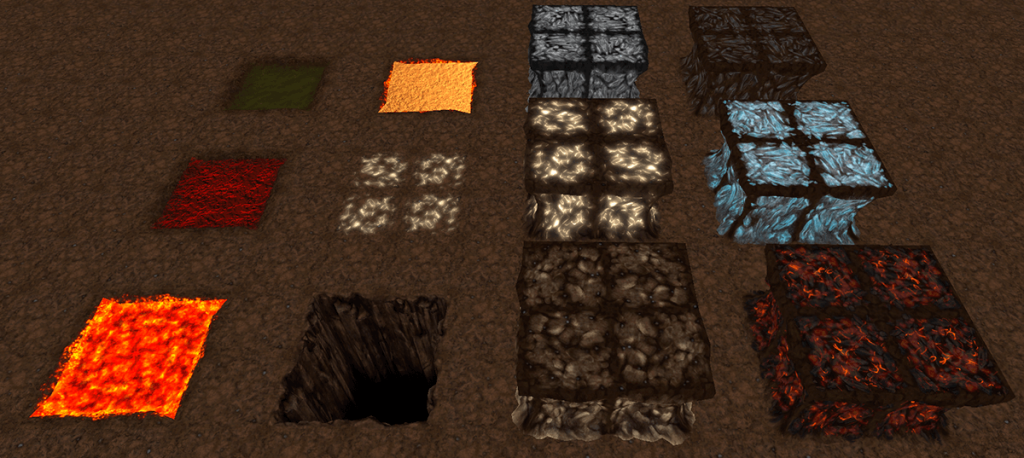 Let us know how you like these changes! Before we head off we want to thank everyone who dropped by for our Extra Life charity stream, while we didn't manage the whole 24 hours we did succeed in reaching our goal!
See you next week.
Until next time Underlord,
– WFTO Team