Grab Bag
Hey folks,
We've got a grab bag of various goodies for your eye-holes this week. Stare at them for a little while and then let us know what you think!
Bombard
The explosive power of the Bombard will quickly send your weak-willed enemies packing as their allies are turned into a giblet geyser.

Build these if you want to paint your hallways the "chunky red" of enemy intestines.
Foundry Upgrade Props
For the defensively-minded Underlord the upgraded Foundry is a must-have as it allows you to stockpile a huge number of reserve defence parts to quickly reinforce your trap-filled halls.

Some Chunders have been known to place these atop their heads as festive decorations.
Archive Upgrade Props
The upgraded Archive increases the available workspace for your industrious Cultists — allowing them to pair up in their efforts towards researching ancient texts — which will further increase the speed at which you earn Sins.

Adept as most Cultists are at reading, they are also secretly masters (and addicts) of table-tennis and will regularly practice their skills (when you're not looking) across the top of their new work station.
Unit Beds
In our ongoing attempts to bring a little bit of "home" to our minion's Lairs we've allowed a few additional units to customize their beds.

From left to right: Witch Doctor, Firebreather, Bard, Inquisitor, Augre.
Alchemy Lab VFX
A few industrious Chunders have managed to unclog the pipes within the Alchemy and, as a result, the viscous goo that flows within the tubes of this room is now, once again, free-flowing.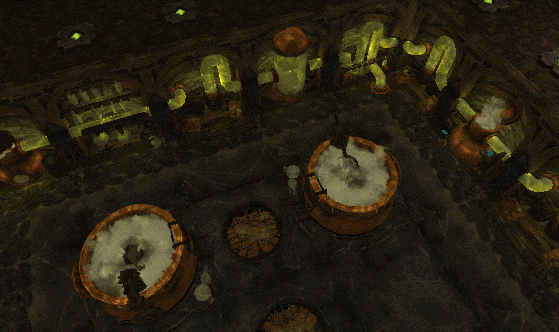 We highly recommend that you and your minions do not ingest Alchemy Lab goo.
Side effects include: nausea, transmutation, irradiation, spontaneous combustion & death.
That's it for this update. If we all manage to purge the Alchemy lab goop that we accidentally swallowed we'll be back in another week ready to inject you with a few CCs of WFTO Wednesday.
Until next time Underlord,
– WFTO Team