Hey folks,
It's everyone's favourite day of the week. Following another segment of the (un)holy treat that WFTO Wednesday is we will be hosting a livestream event where we field questions, talk about life, and play a neat prototype of another game that is currently on Kickstarter.
The Priestess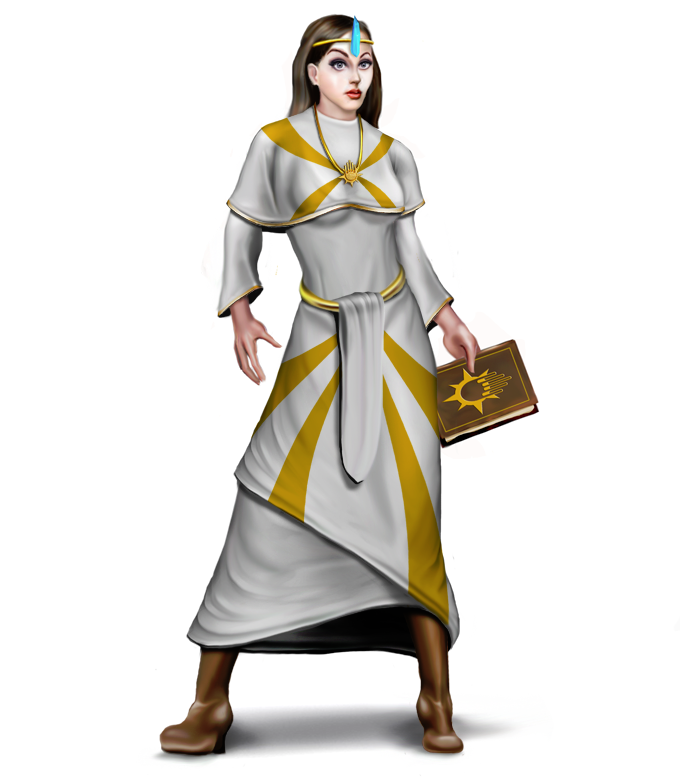 The Priestess is a formidable opponent when backed by powerful allies, however on her own she is fairly weak in combat. Unable to speak, due to her oath to the Church, she is immune to silence effects and can pray for the miracles she needs in battle to serve her allies. Treat her with caution, Underlord, for if she is left untended she shall certainly cause problems for your bloodthirsty horde.
Following the [redacted] wherein Kira the Pure fought her final battle against [redacted], The Church was created to pay homage to her unyielding faith and perseverance over the evil that challenged her lands. The Church's followers strive to create a realm free of violence and vice and their most devout followers attain the rank of Priestess. Upon attaining this position they are sworn to silence, which must remain unbroken until death in order to ascend to a plane of peaceful existence ruled by the benevolent Goddess.
It may seem counterintuitive that there's audio associated with a silent unit. We suggest you ignore your brain and treat your eyes to her sounds.

A thing we like: Death Inc.
The writers at Ambient do a much better job explaining the game than we ever could, treat yourself to their words and we think you'll find it's a project that's worth backing.
"Play as Grim T. Livingstone, freelance Reaper, and unleash the plague on 17th century England. Ransack farms, ports and cities, topple knights and noblemen as you battle to increase your pestilential horde.
Back in the Nether, use your harvested souls as currency and expand Death Inc's base of operations. Hire underlings, build new rooms and refresh the decor. Use all of these to unlock new units, upgrades and special abilities.
Take these back to the surface and continue your fight against the healthy as you spreads fear, loathing and most importantly, the bubonic plague."
We recently got to play their Kickstarter demo (we're not saying we started the trend) and found it thoroughly enjoyable. In fact, James will probably be playing it while we livestream because he's a loose cannon who doesn't play by the rules.
Click here to check out their campaign, and their playable demo is available here!
Live Stream at 10PM GMT
We just figured we should title this one to make sure you didn't miss it. Come join us at www.twitch.tv/wftogame! James will be playing Death Inc and we'll all be talking about / answering questions regarding WFTO (naturally).
Kickstarter Surveys
All Kickstarter backers have 7 days left to fill out the survey we sent last week. If you haven't filled it out please do so soon.
You must complete the survey for us to be able to deliver all of your rewards on time
If you have no physical rewards you may simply enter "not required" in the address field
If we need to post (mail) you anything or if you aren't sure you must enter your address in the address field.
We will be in contact at a later date regarding rewards & add-ons.
If you entered something in incorrectly please email: [email protected] and he'll fix it all up for you!
Thanks for catching up with us this week, now hurry up and jump on our livestream!
Until next time Underlord,
-WFTO Team