The Frost Weaver
Hey folks,
Due to some scheduling issues we've had to postpone some of the Big Backer Update until next week. Instead we're going to do some housekeeping and take a look at the frigid Frost Weaver!
Important Note for Kickstarter Backers
When we locked your information on Kickstarter (a step necessary prior to importing the data into our system), they sent an automated email asking you to update your address (in addition to stating that you would receive your physical rewards soon). Please disregard this email.
You do not need to finalize your shipping information via Kickstarter as we'll be handling it with our own Backer Portal. Once it's all set up you'll receive an email from us with information on how to log in to the portal where you can update your address, select T-Shirt sizes, vote on Flex Goals and various other bits.
Unit Spotlight: The Frost Weaver
Distilled from the perpetually frozen wastes of an inhospitable realm, the Frost Weaver is a being that channels its ice-bound fury through space and time. Its touch will chill the very bones of your enemies to make them sluggish in battle and, when vanquished, it will unleash a final volley of gelid fury across the battlefield as it is returned to the primal state from whence it came.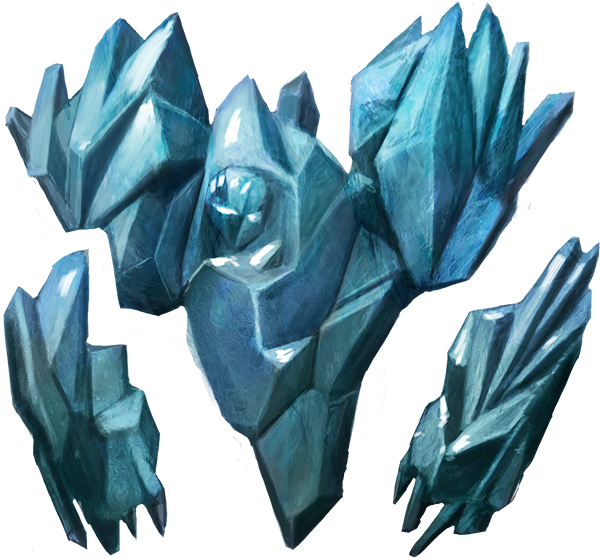 These chilling, arcane creatures will mindlessly follow your orders to march into battle, and, though they are unable to learn from the trials of combat, they will require neither sustenance nor sleep during their short, icy stay within your dungeon.
Abilities:
Tempus Frigid (Passive): The Frost Weaver is only a temporary construct, and will slowly lose health over time and receive no benefit from healing effects.
Deep Freeze (Passive): When the Frost Weaver dies it will freeze the nearby area solid, causing all nearby units to be unable to take action for a short period. All frozen units will find their resistances dramatically increased for the duration of this effect.
Chilling Embrace (Passive): The Frost Weaver passively slows the movement and attack speeds of all nearby enemy units.
Frost Nova (Active): The Frost Weaver unleashes an ice nova that temporarily immobilizes all nearby enemy units.
EGX Rezzed
From March 28th to March 30th we're going to be attending EGX Rezzed, an indie-focused gaming expo in Birmingham, UK. If you live nearby (or can make the trip) then we'd love to see you. More details and tickets are available on their website.
If you're going be sure to drop by our booth and let us know that you're a backer! Backers get free hugs and tasty snacks*. We are also going to hold a very special contest each day where the best players will have the opportunity to win fantastic, limited-edition prizes. More details on this soon.
*There will be no tasty snacks due to arbitrary health and safety laws
We're (finally) going to host another livestream just before we head off to Rezzed to celebrate the release of our 0.4.0 update! During the stream we'll also hold our normal Q&A session, discuss various other bits and bobs related to development, and perhaps even a give a brief glimpse of some upcoming content.
That's it for this week. If all goes well we'll be back next Wednesday with the final half of our Big Backer Update and, perhaps, a few new teaser images from the upcoming 0.4.0 patch.
Until next time Underlord,
– WFTO Team