The Crackpot & The Cook
Hey folks,
Today we venture into the fizzing, disorderly world of the Crackpot and his untold number of unstable – yet occasionally genius – concoctions.
Unit Spotlight: The Crackpot
Whilst many Gnarlings avoid the countless strange reagents that can be scavenged from the depths of the Underworld, there are a scant few that accidentally, or from misguided judgement, begin to experiment with the various effects these peculiar fungi, liquids and other ingredients have upon themselves. After generations of oft-lethal and regularly explosive experimentation a small sect of these creatures have come together to create a kind of sect that idolizes the maven genius of the Crackpots who have managed to twist and bend simple reagents into potions of immense power.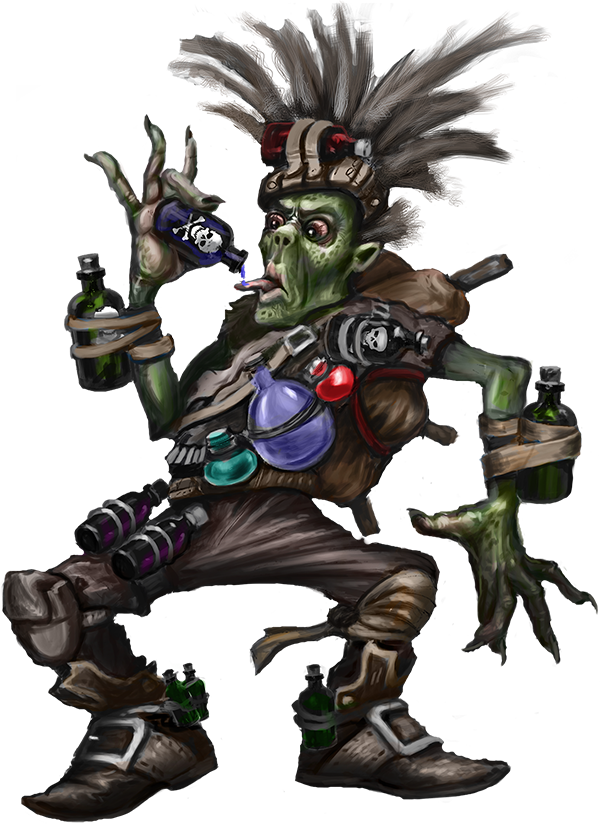 With the true mark of a visionary, the Crackpot mixes viscous with acrid, fetid with acerbic, and occasionally the living with the inanimate in order to innovate within his chosen line of work. And while a multitude potions have been perfected over countless years to be passed down through the many generations – each Crackpot quietly hopes to unlock the hidden mysteries yet to discovered within their trade. As a result the Crackpot will constantly ingest strange and unpredictable brews as they test their latest alchemical blends.
Potion Spotlight
Bottled Ice: This malty, glacial ooze flash freezes all units and defences in its area of effect, leaving them locked into icy sarcophagi for a brief period of uselessness.
Wisdom Juice: This genius draught is infused with the memories of its unfortunate reagents; packed full with the collective knowledge of a bunch of deceased critters, the Wisdom Juice potion transfers that experience directly to your own minions. The boost to your beasties' expertise is well worth the occasional episode of gender confusion.
Spirit Workers: Some of the more advanced alchemical tonics can involve subtle notes of necromancy. Packed full of expired Imp viscera, the Spirit Workers potion plucks a squad of workers from the greedy claws of Death. These invincible and impetuous workers can only be summoned temporarily, but they'll see to the needs of your dungeon with a frantic, unholy fervour.
We hope that this little teaser of upcoming content has piqued your interest, but alas, that concludes what we have to share this week. We'll see you back here next Wednesday for an update on various Kickstarter-reward related things!
Until next time Underlord,
– WFTO Team