WFTO Wednesday #2

Hey folks,
Another week of development has passed by all too quickly and there's many things to discuss, so let's get started.
WFTO Has Been Greenlit
As we mentioned yesterday War for the Overworld has been approved to be distributed through Steam. We are now in the process of working with Valve in order to move towards a release on Steam. Thanks for all of your help!

T-Shirt Poll Results
We've concluded the T-Shirt design poll and have the results:
Stumpy's Face — Everyone's favorite Blood Imp is now on your chest.
Diggy 2012 (backup plan: 2016) — In hindsight we should have known that the voting public would naturally gravitate toward a cool new candidate.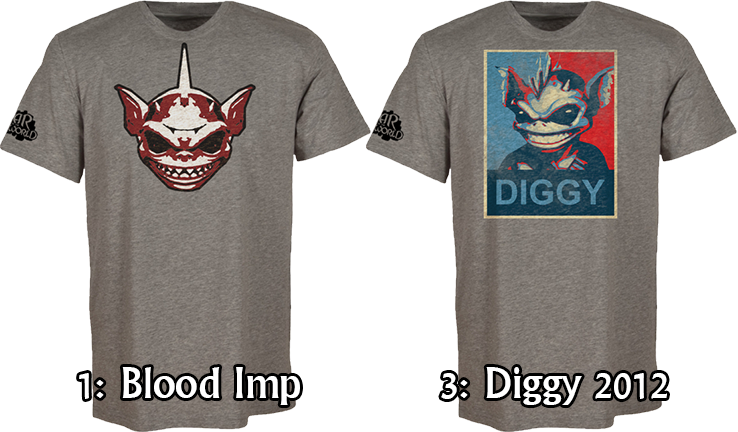 These two shirts will be available as choices to all backers who opted to receive a T-Shirt in their pledge. Backers who pledged above £250 will be able to select additional designs when the time comes.
The Foundry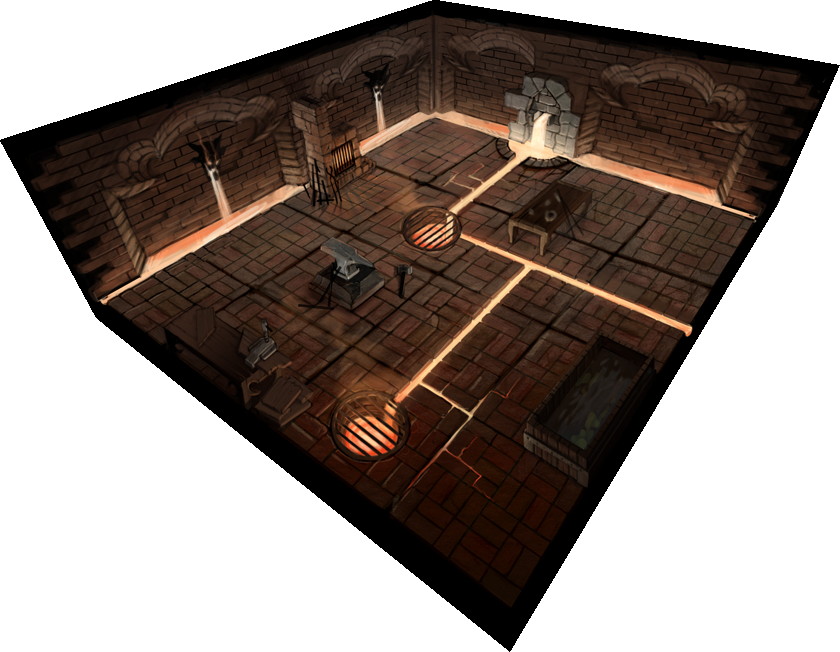 Today we're proud to show off the concept where your various minions will eventually work to craft defences and… other things. The minions that are well suited to use a hammer and bellows will spend countless hours in this room as they follow the blueprints of the questionably-lucid and devilishly destructive designers to create all kinds of violent (or simply vexing) machines of war.
As with the Cultist in the Archive, these minions will naturally gain battle experience as they work to do your bidding within the torrid depths of the Foundry.
Vote On The Future of WFTO Wednesday!
There are many, many things that we want to include in WFTO Wednesdays, so we'd like to know which kind of updates you would like us to prioritize. Let us know know in the poll on our forums!
Locked in the Foundry — these updates will focus upon a particular aspect of the core mechanics in War for the Overworld.
Flex Goal Design Preview — these updates will take an in-depth look at a specific Flex Goal.
Lore & History — learn more about a historic moment, hero, or minion in the War for the Overworld universe.
Unit Spotlight — these updates will focus upon a specific unit, art and story will generally accompany these updates.
Pretty Pictures — these updates will be chock full of art and maybe even new wallpapers.
Room Spotlight — these updates will focus upon a specific room, art and mechanics/design will generally accompany these updates.
Q&A — we'll either set a main topic of discussion or have a general Q&A session over IRC on WFTO Wednesday.
Developer Profile — these updates will focus on a specific member of the team and how they work, as well as giving you the opportunity to ask them questions.
Forum Titles & Data Import from Kickstarter
We've had many questions regarding forum titles and access to the backer forums, so we wanted to clarify the situation:
If you backed through Kickstarter, you will be receiving a survey in the near future asking for some information that will allow us to link your Subterranean Games account to your pledge (or create an account automatically if you do not already have one).
Currently, only backers who paid through our website have special forum titles (such as "Backer").
This is because we cannot complete the data import from Kickstarter until February.
Once this has happened, all of our Kickstarter backers will automatically get their titles.
As part of a test period, Founders Club backers (£115 and above) may message us (as detailed here) to early receive access to the Founders Club forums by sending us a message on Kickstarter.
All backers will receive access to the relevant forums once the data import has happened regardless of whether they have gone through this process or not.
We hope this clears everything up, please let us know if you have any further questions!
Changes To The Forum & Community
Throughout the next week we will be making some changes to the structure of our forum, as well as starting to introduce some new community initiatives, such as The Underworld Council. We will go into more detail about these during the next WFTO Wednesday.
Until next time Underlord,
-WFTO Team
Click here to discuss this update on our forums