Continue Testing
Hey folks,
As you probably already know we launched our Public Test Branch last week and the response has been fantastic, while we've done our best to ensure that the patch was as bug free as possible you've still found plenty for us to work on.
Each time a bug is reported it puts is that much closer to providing a completely polished patch for you all, so we can only thank those select few who have dedicated time to try out the 1.1 beta patch!
This week we've got some more news on the PTB and another upcoming patch headed there!
Patch 1.1 PTB v8(or later) due soon
We'll soon be pushing a new update to the Public Test Branch, as soon as we've verified that some of the issues we've found during internal testing have been fixed. v8 will represent a significant step up from the current PTB Patch.
PTBv8 will include fixes for the majority of major remaining identified issues within the patch including:
Second player on teams not owning a Dungeon
Players sometimes sharing Dungeon Cores with AIs or other players when switching positions
Fixed Win conditions in Skirmish & Multiplayer games where you're on a team with allies
Fixed win conditions on several of the newer maps
Several issues with Rally flags when placed on objects
Another attempt at fixing the "Too many threads" crash that some users experience
That and so much more in PTB v8, you can read the full patch notes as they're updated in the PTB Patch Notes!
Patch 1.1: More maps!
A few weeks ago we highlighted some of the new maps coming in Patch 1.1, since then there's been an additional 5 maps added into the Public Test Branch. That's 2 additional 2 player maps, a second 3 player map and a couple more 4 player maps!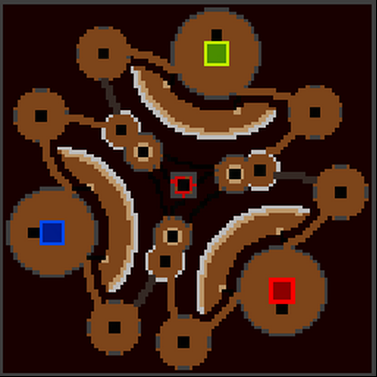 You can view all of these maps in the same Imgur album alongside a short description of what's in them!
That about covers our update this week Underlords, keep your eyes peeled for Patch 1.1v8 on the PTB and for more news on when patch
Until next time Underlord,
– WFTO Team
Click here to discuss this update on our forums!