Brave New World
Hey folks,
This week we have been busy cracking away on the campaign and at all the areas of the game still awaiting polish. In this edition of WFTO Wednesday we'll be talking a little about Saturday's livestream and having a small highlight into the ongoing development of sounds.
Livestream Recap
On Saturday four members of our development team participated in a three hour long livestream, placed completely at your mercy we were bombarded with your questions and we made sure to answer as many of these as possible while still showing off a whole bunch of new things.
We covered a whole bunch of topics during the livestream including:
Our plans running up to release
Unit Sounds & More Sounds in other areas of the game
Plans post-release
Support for community-created content
and more!
If you missed the livestream then you can catch the video on demand over on Youtube and embedded just below! It's a fairly long one so be sure you have plenty of time!
Game Sounds
Over the past few weeks we have been asked where development stands regarding sounds as not many are currently implemented on the public branch. We're pleased to report that we actually have a huge collection of audio assets awaiting implementation into the game and we expect that most of these will be headed in for 0.7.0.
The integration of Audio assets has always fallen by the wayside as we've focused on developing and implementing new features, it's within these last few weeks prior to release that we'll finally be hooking them all in! This short video demonstrates some of the new sound hooks for units using a few of our placeholder sounds.
We still have a few more sounds to finish up alongside new VFX and we're to start recording individual lines for our units extremely soon, every unit's personality will shine through in their audio, we can't wait for you to hear them!
Campaign Preview
The campaign rolls ever forward and with it the realm of Kairos is finally taking shape, as per our covenant we are pleased to present another very special preview of the campaign this week.
Below you can see an almost final piece of concept art for the campaign map, in the release version this map will be a 3D model seen through a looking glass, this looking glass will enable us to easily expand the game with more campaigns in the future.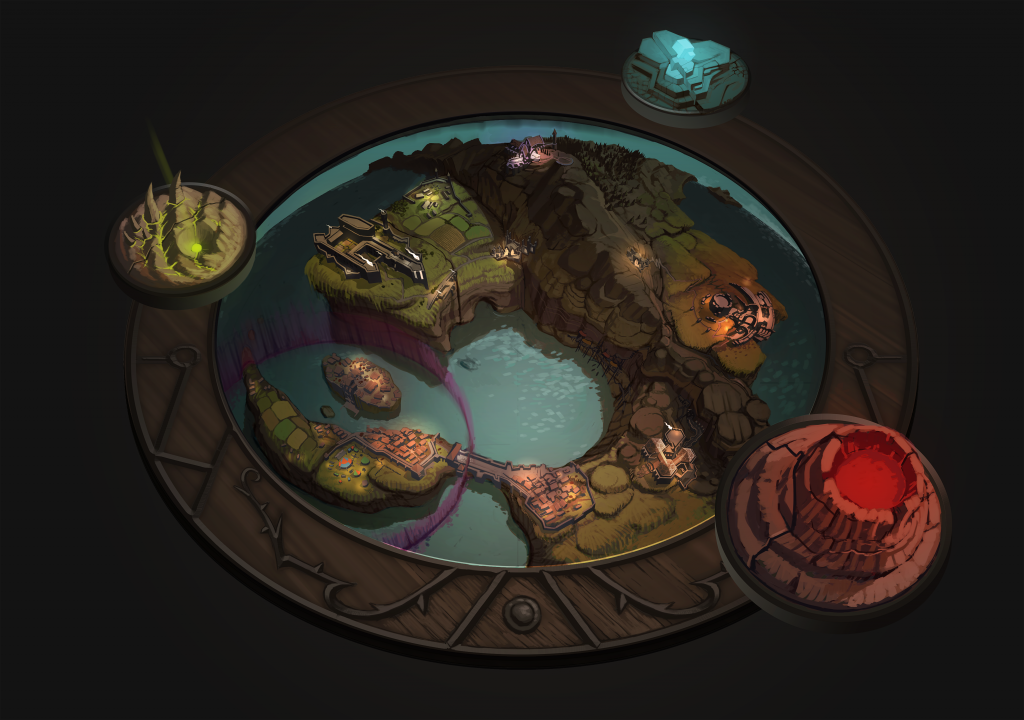 Your conquests in the realm of Kairos will be reflected as your forces swarm and scorch the surface of the overworld! Chart your progress and the course of the war on the map and witness the fall of an Empire as you bring it to it's knees!
That about wraps it up for this week, be sure to drop by next Wednesday for news on some long awaited changes!

Until next time Underlord,

– WFTO Team