UI Updates, Unit Shields & More
Hey folks,
We have just over a month left until the release! With such a short period of time left we're knuckling down and focusing on the last few components of the game. As always everything you see here is WIP and does not necessarily represent final content.
Patch 0.7.0 will be our final major patch before 1.0.0 and we'll be pouring over every aspect of the game with our eyes set on polishing it all up for you. Over the next few wednesdays we'll be talking about the areas we're working on, the blanks that still need to be filled in and more. This week we're going to be taking a look at the final UI pass and what you can expect in February's patch.
UI Layout and Design Update
Pragmatically minded Underlords will appreciate the need for a solid and cohesive UI that will permit them the greatest levels of control over their fiendish minions and ever-expanding dungeons. To this end we sent a scouting party up to the surface to acquire an expert UI developer to implement the final form of our interface, he's currently working hard under the watchful eyes of our Augres.
Based on the feedback we've received on the current iteration of the UI we'll be tweaking the layout of the UI ever so slightly. Firstly we've moved the rituals tab to join it's kin on the bottom bar, meaning that all the important actions you can take regarding dungeon control are now in the bottom portion of the screen.
The top bar still contains all the pertinent information regarding the status of your dungeon, the only major change here is that the mana bar is always the same length, showing how much of it is yet to be unlocked via sins. We'll also be adding tooltips to the top bar with information on pay day, ritual progress, and locked mana.
Keen-eyed Underlords will notice that the UI has also undergone a significant reskin, the warm and familiar brickwork has now been replaced with a simpler more muted stone. The aim of this change is to make the screen a little less busy, to draw the eye less while still conveying the important information.
Finally we'll be adding a notification panel onto the right hand side of the screen, next to the objectives. This panel will keep you informed of all the happenings occurring within your Dungeon.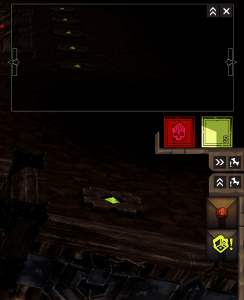 Unit Shields
Our original Unit shields have now been in the game since 0.2.0 and they're really showing their age. Fortunately we'll be completely replacing these ancient artefacts with brand new, versatile and comprehensible shields.
Not only will the new shields will be able to convey much more information to you more intelligibly, they'll also no longer have an ugly black border around them, finally fixing the long-standing bug that caused all too many screenshots to be deemed unusable.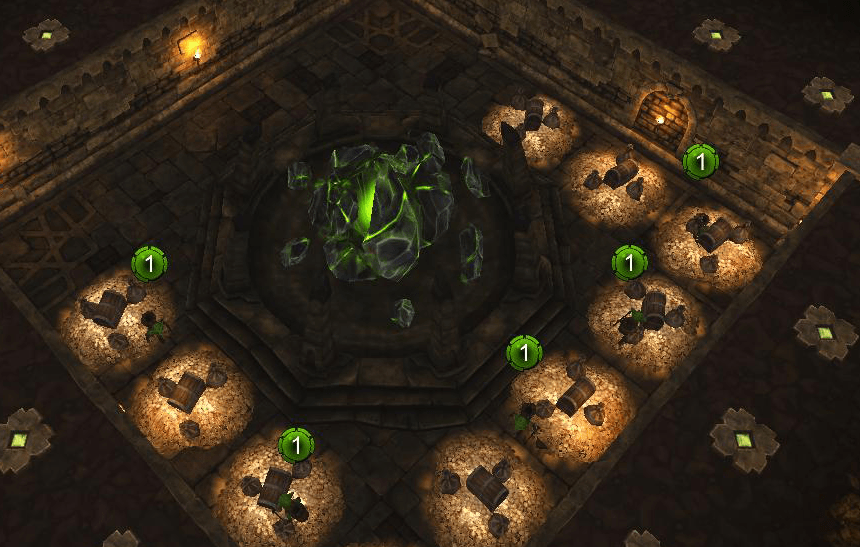 Warbands (Formerly known as Unit Groups)
0.7.0 will also see significant overhauls to the unit grouping mechanic, now known as Warbands. Firstly the UI is being moved to the left hand side of the screen, this will put them in easy reach when you're working rooms, spells and minimap at the bottom of the screen.
The Warband UI itself will be receiving a complete redesign that will make it much more versatile and friendly to use. While custom warbands can still be created you can now see what is in each group at a simple click as well as add units from the unit tab.
In addition context sensitive Warbands are automatically created for beasts, ember demons and wraiths, such Warbands only appear in this UI when the player owns the appropriate units.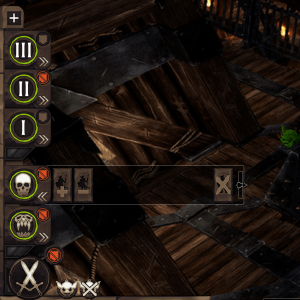 Veins of Evil Visual Update
The veins are perhaps the single-most core mechanic within the game. Simply put if you want to do anything you have to use the veins at some point.
One of the most major problems with the current veins interface is that it can't reflect the mechanics behind unlocking additional aspects. Our new veins UI, seen below, will provide additional feedback to the user showing how each aspect unlocked literally fills the veins and unlocks further tiers.
We've also colour coded it by vein and overall the veins now appear more practical and prettier.
Campaign Preview
As promised in last week's WFTO Wednesday we'll be continuing to tease screenshots from other campaign levels. This week's shows the dungeon of another as yet unrevealed Underlord, whether he's a friend or foe is yet unknown, but one thing's for sure, he sure has a taste for bones.

As a reminder, we'll be hosting a livestream over on our Twitch channel this Saturday, to show off some of the content from the upcoming patch and answering any of your questions regarding it. Be sure to drop by with your questions, or just to listen in as we're always a little more forthcoming with information when our faces are on screen!
Don't forget to stop by next week for more news as we drive headlong towards release!

Until next time Underlord,

– WFTO Team