Most malevolent greetings Underlord!
Today we have a very brief but exciting update for those of you awaiting physical kickstarter rewards and a short recap on everything else that has happened in the last week!
The latest news beckons underlord, read on to discover it's secrets.
Patch 1.2: Tipping the Scales is now available, 1.2.1 coming soon
If it's somehow escaped your notice you'll be pleased to know that Patch 1.2 is now available on Steam.It's one of our most extensive patches yet with over 390 unique changes – check out the full patch notes here.

Reception to the patch thus far has been great; we're listening intently to your feedback so keep it coming! We've also received a few bug reports already and we're rolling fixes for many of these into the upcoming patch 1.2.1 which will be releasing very soon!
DRM-Free Update
We're wanting to ensure all immediate bugs are fixed before pushing an update to the DRM-Free version, so it will likely be coming shortly after 1.2.1 or 1.2.2. But rest assured an update is coming, so keep your eyes peeled for more news in the near future.
Kickstarter Rewards: Statues
We're still working on getting the rewards for fulfillment, things are slowly coming together and we're pleased with much of what we're seeing come through. In fact we've just received the first prototype print of our much awaited blood imp statuettes from the states.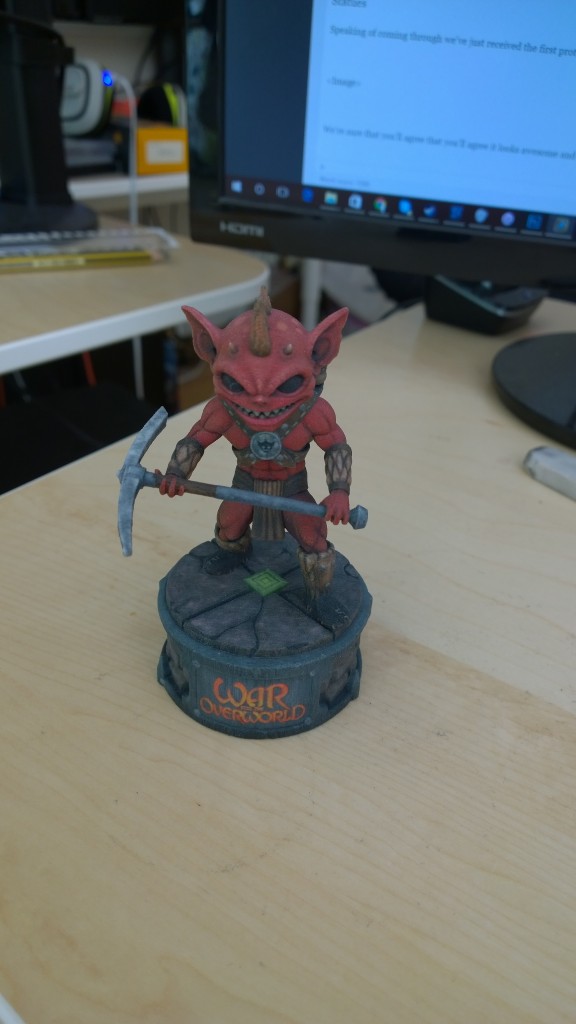 We're sure that you'll agree that you'll agree it looks awesome and we can only say that it looks better in real life.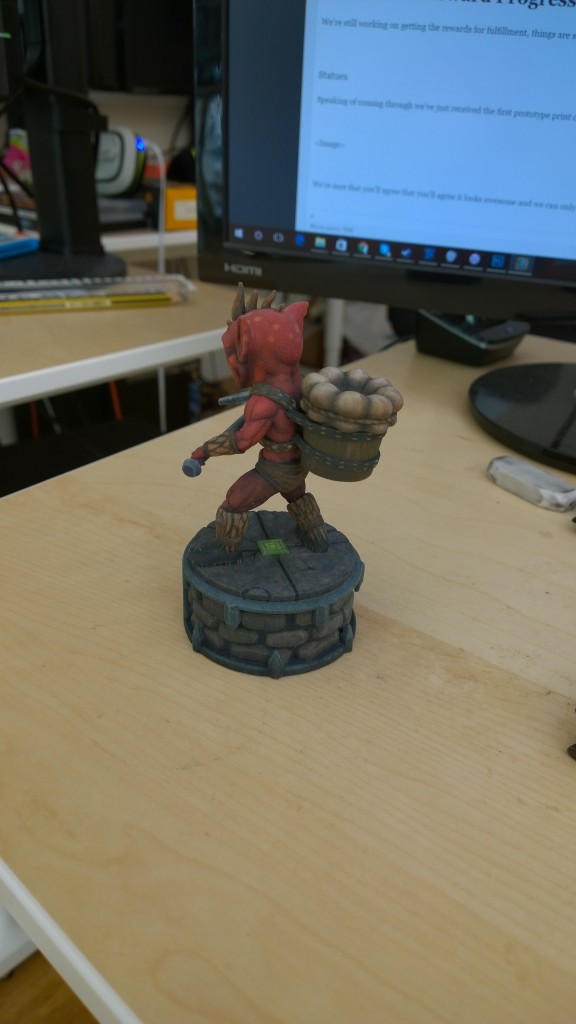 We've sent an updated asset off to the manufacturer so that they can make a couple more changes before we start mass production but we're confident that we'll soon be able to start fulfilling our reward commitments to you all soon!
As such we're pleased to announced that we have officially partnered with Eucl3D to deliver these statuettes to you and with that partnership comes even more good news. We're extending the number of designs available for the statuette reward, we're not quite ready to reveal the alternatives but we're sure they'll be music to your ears.
Not only that but the Blood Imp statuettes along with a couple of others will be available to purchase via the Eucl3D store once all the kickstarter pledges have been fulfilled. So if you missed out on your chance to grab one of these awesome figures in the kickstarter now you have an opportunity to add one or more to your collection.
All statues will be dispatched by Eucl3D once they're ready and kickstarter rewards will take priority. As such they will be shipping separately from other Kickstarter rewards which will be dispatched by ourselves!
Kickstarter Rewards: Everything Else
As many of you know by now we've already received our shipments of shirts and physical copies of the game for Kickstarter backers and these are now sitting in our storeroom. There are a few more rewards we have to source but the process for that has been underway for quite some time. The major hurdle was the statue, and now that's mostly out of the way we're focusing on getting everything else prepared.
Here's a full list of rewards and the progress we've made on each of them:
Physical copies of the Underlord Edition: stocked and ready

T-Shirts: 4 variations, 8 sizes stocked and ready

Statues: Prototype received, updated assets sent to manufacturer, new models commissioned

Soundtrack CDs: Sourcing manufacturer

Posters: Sourcing manufacturer

Fulfillment: Provider lined up
All rewards with the possible exception of the statues as explained above should be shipping before the end of the year.
Map Editor coming in 1.3: Workshop
With the release of Patch 1.2, we're rejigging our release schedule a little. As we've alluded to over the past few weeks the map editor will be coming as one of the major features in Patch 1.3: Workshop. Please note the below image is a mock-up and not representative of the final UI.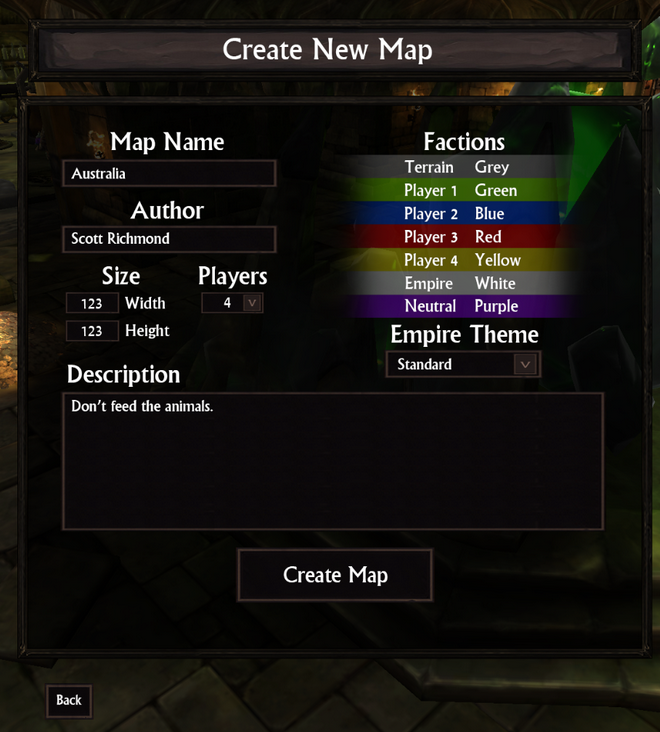 As mentioned before the map editor will be able to create Skirmish and multiplayer maps, there is currently no support for single player levels due to the complexity of supporting our scripting environment outside the game engine.
Here's what the map editor will be capable of in Patch 1.3:
Creating Skirmish and multiplayer maps of a size up to 128×128

Support for up to four players, empire forces and a neutral faction

Placement of Terrain, Rooms, Shrines, Units, Defences, Constructs and Artefacts

Saving and loading of in-progress editor maps

Importing of completed maps from any source (local, built in, and Steam Workshop)

Publishing finished maps to the Steam workshop
Naturally this update will also bring  the ability to download new maps from Steam Workshop for use in Skirmish and multiplayer.
Updated Survival Mode
The design for the enhanced survival mode has taken a backseat in the past few months to the development of patches 1.1 and 1.2. We originally intended survival mode to appear sometime around patch 1.3 but based on player feedback and our own schedules we felt that the map editor would make a better fit around this time.
There's no need to fear though, the survivalists amongst you will certainly be seeing this feature in the coming months, but we felt it important to let you know it's not on the immediate agenda.
That covers all the small updates we have for you today, our first newsletter will be going out next week, so be sure to sign up if you haven't already done so. The inaugural edition of the newsletter  will include an exclusive preview the first WFTO DLC!
Until next time Underlord,
– WFTO Team