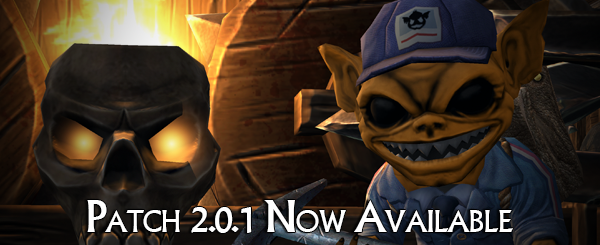 Darkest greetings Underlord,
As promised in our most dark and sacred oath to you, Patch 2.0.1 has arrived in War for the Overworld and it's probably our largest "Minor" patch yet! Here's what lurks within:
Expanded Mighty Script functionality

Skirmish speech for Underlord opponents

Further improvements to Underlord AI

LOTS of balance changes

Hundreds of fixes and other changes
War for the Overworld is also on sale right now as part of the Steam Summer Sale, with up to 75% discount across the base game and DLC. Grab it while the weather's hot!
---
Patch 2.0.1 Now Available
---
Mighty Script Becomes Mightier
Mighty Script has been a hugely ambitious undertaking and has already seen incredible use with hundreds of mappers already getting to grips with the new tools on the Workshop.
We've been taking feedback on Mighty Script from the community on what you'd like to see implemented and there's a handful of really cool features in the new patch as well as some improvements and optimisations to make existing scripts more powerful. Here's a quick summary:
10 New Triggers such as detecting when a spell is cast, a unit imprisoned or when a unit is attacked

2 New conditions including checking if players have a particular success key from the custom campaign features

24 New Actions with new AI commands, Dynamic Party configuration, Dialog Boxes, Tile Flashing or unit customisation actions

Parties are now easier to setup and support additional unit configuration such as setting the speed and scale of the unit

Numbers can now be Decimals as well as Integers

Lists can now contain more types of variables and most values can accept input from variables or actions output to lists

Other flow improvements and optimisations

Various fixes
With all of these improvements Mighty Script has undergone quite a few changes but fear not your previous maps should be completely compatible and rest assured now that Patch 2.0.1 is in your hands and Mighty Script even more expansive we're now looking to get those tutorials to you asap!
Skirmish Smack Chat
We've livened up Skirmish audio with speech from ALL the Underlord opponents! They will now taunt you and react to various events as the battle progresses. You'll hear Oberon gallantly face defeat as his health dwindles; Kasita celebrate her victory by welcoming you into her treasure trove; Korvek proclaim that he is greater than the sum of his parts!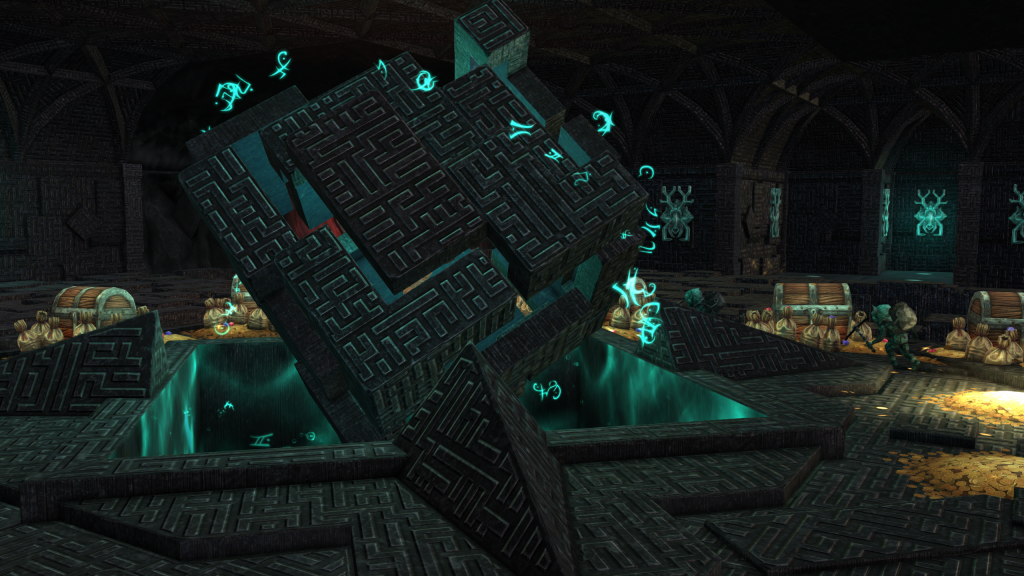 Now Mira can tell you herself that you are nothing but an earthworm to be squashed beneath her metaphysical boot
We got all the original actors back to reprise their roles, and added over 400 new lines of speech! This also includes the trio of Underlords introduced in The Under Games – Shale, Lamash, and Volta!
We hope this feature adds an extra layer of character and charm; but if you do want to turn the voices off you can do so from the Sound Options.
AI Advancements
Stefan, our artificial intelligence wizard, made huge renovations to the Underlord AI for Patch 2.0. But he hasn't stopped there, and has continued to conjure and tinker with the goal of giving you the ultimate challenge. And judging by the feedback from our loyal Foundry tester imps, he may well have succeeded!
AI improvements include:
More entertaining gameplay, and more challenge for highly-skilled players

The AI will play the Sloth tree in the Veins of Evil much more effectively

Significant increase in the number of Aspects the AI can use and more build order variety per personality

Optimised to work with the 2.0.1 balance changes

Substantial AI performance improvements
Everything Else and Release Notes
The entire game has undergone a substantial balancing pass, along with tweaks to certain modes and levels, and fixes to a number of bugs. All can be garnered from our full release notes. Warning, it's very long!
---
WFTO & Chrono.gg raise $32,905 for Totalbiscuit's family
---
At the start of this month we outlined our thoughts and feelings in the wake of John "Totalbiscuit" Bain's tragic passing, and how his work had helped to ensure our success with War for the Overworld. In that same post we announced our partnership with our friends at Chrono.gg to place War for the Overworld on a 24-hour sale with 100% of our proceeds going to John's family as a small way of repaying him and honouring his memory.
We're pleased to announce that the campaign was a huge success and together with Chrono.gg we raised a staggering $32,905 for John's wife Genna and their son Orion. This amount was so much more than we could ever have dreamed of raising and we can only be thankful for everyone who bought the game in support of this cause.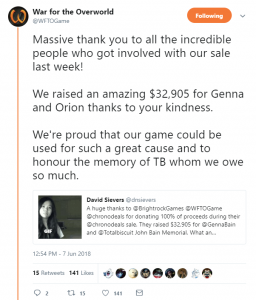 This money was donated to the John Bain Memorial GoFundMe on the 7th of June contribuuting to the $338,411 raised so far that will go towards ensuring the security of John's family in these difficult times.
Genna has posted her personal thank you and talked more about the challenges ahead in a recent Reddit post which you can read here.
We'd like to thank all the incredible support offered by the WFTO community in helping us to honour the memory of a man who is hugely responsible for the success of this project.
---
Brightrock Steam Developer Page
---
As you may have heard Valve have recently deployed new developer and publisher profile pages for the Steam Store these new pages provide a central location to hear from your favourite developers about their latest games.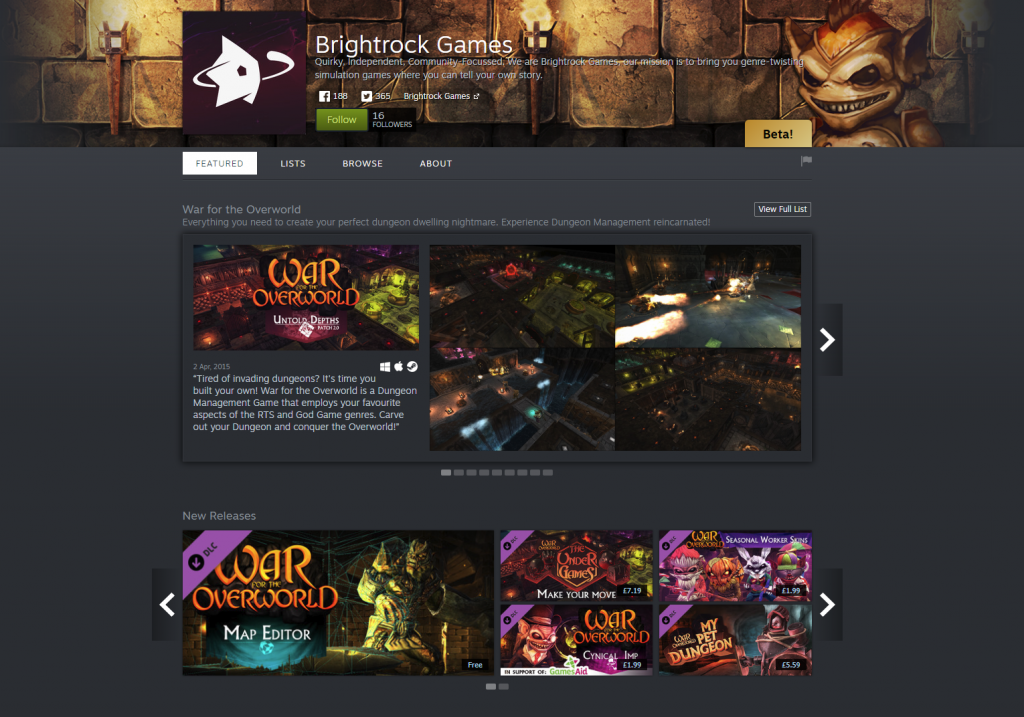 We're pleased to be amongst the first to adopt this new development and we'd like to invite all our fans to drop by and follow us on Steam to ensure you get notified as we move into the future of Brightrock Games!
---
What's Next?
---
As we said last time, Patch 2.0.1 is probably going to be the last content update for WFTO. However, we'll still be listening out for your bug tickets and triaging them accordingly, so please still send them our way.
We're still working on improvements to the Mighty Script Editor as well, and are in the process of locking down the text ready for translation. However, we've made the decision to only translate into French, German, and Russian for now, because these are our most active communities; since there is a large amount of text to translate, we feel this will strike a good balance between cost and benefit.
We're also going to add new banks of speech and sound effects to certain units, to help improve the atmosphere. We'll of course let you know when all these updates are added to the game.
We hope you enjoy Patch 2.0.1, which is free to download now from Steam and GOG.com!
And don't forget the Steam Summer Sale, with huge discounts to be had across all War for the Overworld products. Bring the heat!
Cheers,
– Brightrock Games Team
Click here to discuss this update on our forums
Click here to chat about this update on our Discord
Never miss an update! Sign up to our newsletter!