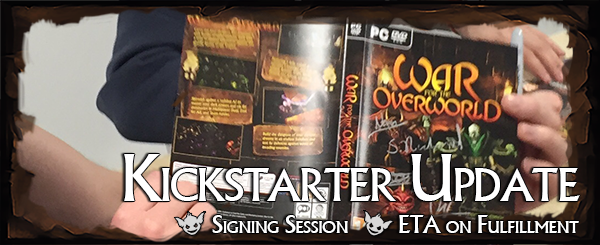 Darkest greetings Underlord,
With the new year upon us it's time to once more update those of you among our Kickstarter backers who are still awaiting their physical rewards. As always we apologise for the continued delay and we appreciate your patience.
As you may remember from our previous update, we've recently been rehousing ourselves in a new office which has meant most of the physical rewards we'd acquired have been stored away. Since we moved into our new office we've unpacked them and started on the last few steps to fulfillment. This includes signing the boxes and posters for those that requested it.
The Tale of Cramped Hands
As part of our commitment to our Kickstarter backers we offered to sign the posters and physical copies of the game. We had quite a few replies from those of you who wanted to make your copies just that little bit extra special.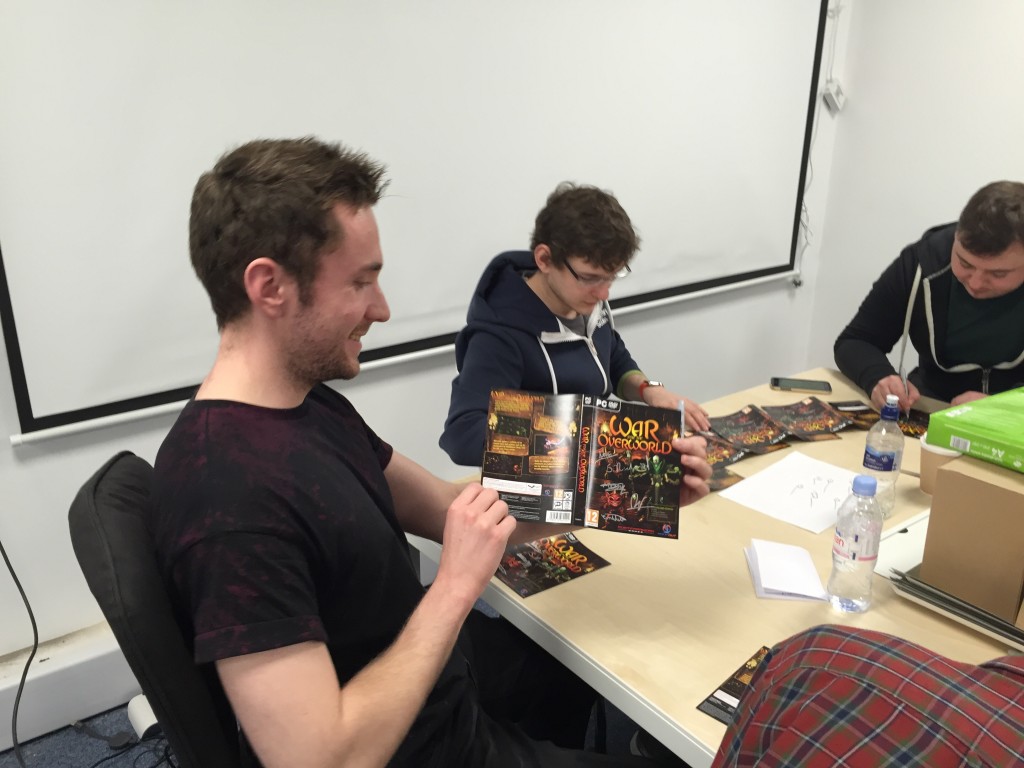 So when we gathered as many of our team members as it was feasible to gather in one place, we got to the long task of signing eighty copies and eighty posters! It was a telling experience for those on our team who were used to signing!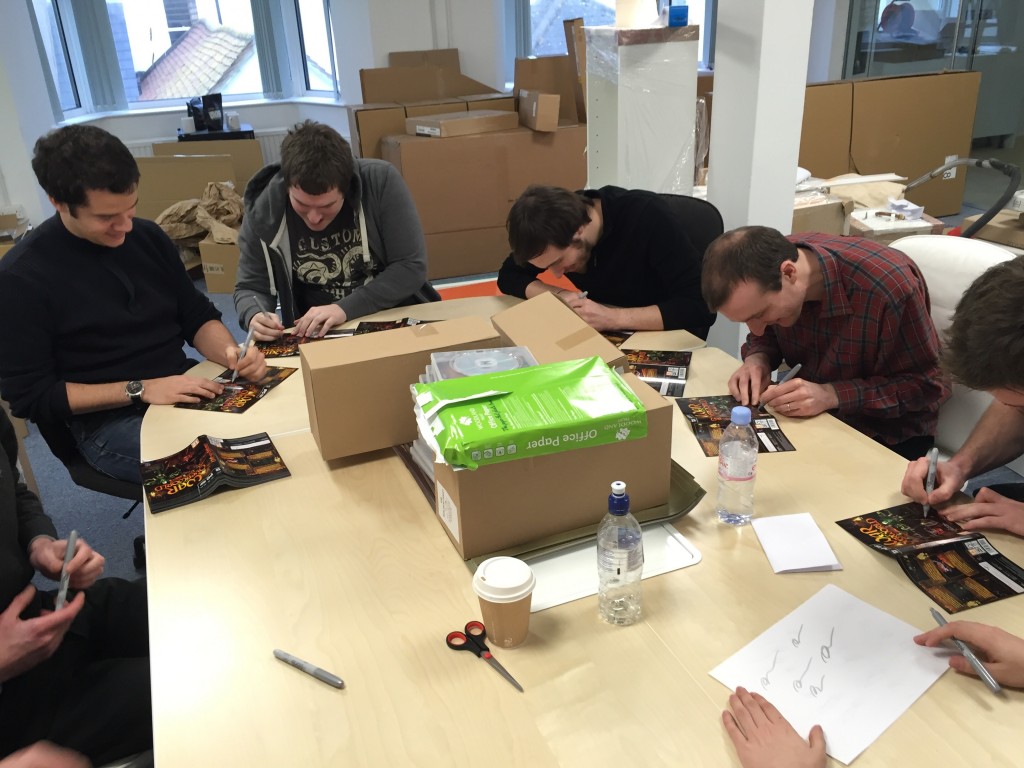 Every one of these excellent rewards has turned out great, and we've even added a few unique messages, and maybe a nice secret or hint hidden here or there … Perhaps you can find them as a collective?
By the way, the posters, shown in our previous update, look absolutely astounding. We expect you'll be pleased with them!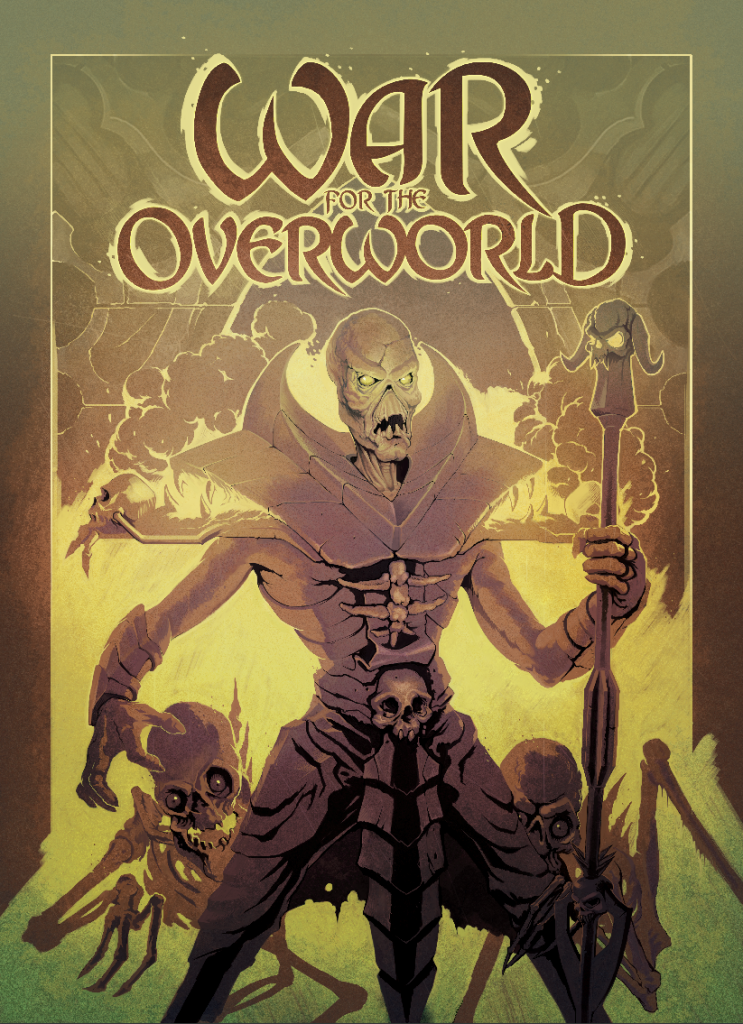 ETA for Fulfillment?
Now as many of you will no doubt be wondering: how long until we fulfill our commitments to our Kickstarter backers and finally deliver all of your physical rewards? The good news is that we're nearly ready; we have practically all of your physical rewards in the office now and are preparing them for shipping.
Naturally there's quite a lot of you to get through and we have to box each and every backer's rewards personally, so we'll be getting in a few extra hands to help us with that so it doesn't hold back work on Heart of Gold too much. (More news on Heart of Gold in this months newsletter, keep your eyes peeled!)
We're also working on sourcing a courier to carry your rewards to you. In the coming weeks we'll have secured one and once everything is packed we'll be shipping them off straight to you. If all goes well we should begin shipping within a months time!
Reminder: Statuettes
As a quick final reminder, the statuettes that are available at Tier 7 and above are now available for you to get your hands on from Eucl3D. If you're a Tier 7 or above backer you'll find a voucher in your email that entitles you to a single statuette, of any type, for free!

As for the rest of our valued backers, you'll also find that you have a discount code to get a mighty 25% off any of the statuettes as a thank you for your support!
Not a kickstarter backer but still want to get your hands on a very special item for your mantlepiece? Then head on over to Eucl3D's website – you won't be disappointed!
That covers our update today, Underlord. If you have any question feel free to drop us a line in the comments, either here or on our forums!
Until next time Underlord,
– WFTO Team