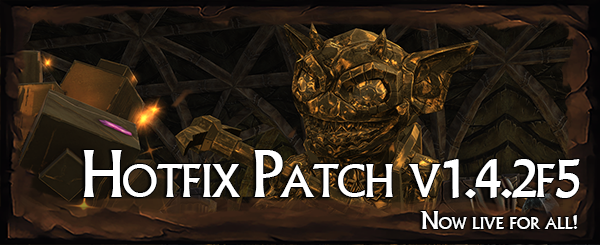 Darkest greetings Underlord,
Last week we launched the v1.4.2f5 hotfix to the public test branch. This hotfix corrects a critical issue in patch v1.4.2 which would cause some saved games to crash on load with the "R6025" error. We have now launched this hotfix for the general public.
This issue was caused due to a fault in the Unity version used to build v1.4.2 of the game and has been solved through an update to the Unity Engine in this hotfix as well as a few minor corrections to fix a few issues caused by that change. You can read the full details of this issue on our Knowledgebase.
As with all Engine Updates unusual issues may occur and we decided to keep this in testing for an extended period in order to root out most of these issues but if you do encounter new issues please let us know via User Echo.
V1.4.2f5 Release Notes
Miscellaneous Changes
Minor tweaks to how Lava and Water ambience sounds are managed
Bug Fixes
Fixed a critical issue where the game would crash for some players when loading save games on specific levels or loading specific multiplayer maps

Corrected a few instances where certain audio files would not be played correctly

Fixed an issue where the loading screen wouldn't correctly block user input

Temporary Spirit Workers should now once again take damage over time

Corrected some minor typos on campaign levels 5-12
We're sure you're eager to hear what's next on the agenda, but don't worry we'll be sharing all in an upcoming State of the Game post! So keep your eyes peeled, or better yet, sign up to our newsletter and make sure you don't miss it!
Cheers!
– Brightrock Games Team
Click here to discuss this update on our forums
Click here to chat about this update on our Discord
Never miss an update! Sign up to our newsletter!