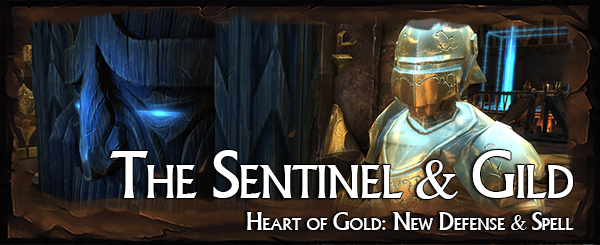 Darkest greetings Underlord,
Another few weeks have passed and it's time to look once more into the murky primordial depths that is Heart of Gold. This time we're going to investigate the new spell, Gild, and take another  look at the Sentinel, the new defence.
We've also got the continuation of our previous short story, as well as the announcement you've all been waiting for! So be prepared to delve once more into the land of Phaestus!
Heart of Gold Release Date
Let's not dilly-dally around! We're happy to announce that Heart of Gold will be joining your Steam libraries on the 27th of May – that's just a week from now!
We know the delay last month was disappointing for many of you, but it has proven to be very fruitful, with more features and polish being poured into the bubbling cauldron of creation. We hope you'll all enjoy the expansion when it releases!
The Sentinel
If you remember back to our very first Heart of Gold preview those many months ago, we introduced the Sentinel, a new defence that will be gracing your Veins of Evil in the Heart of Gold expansion.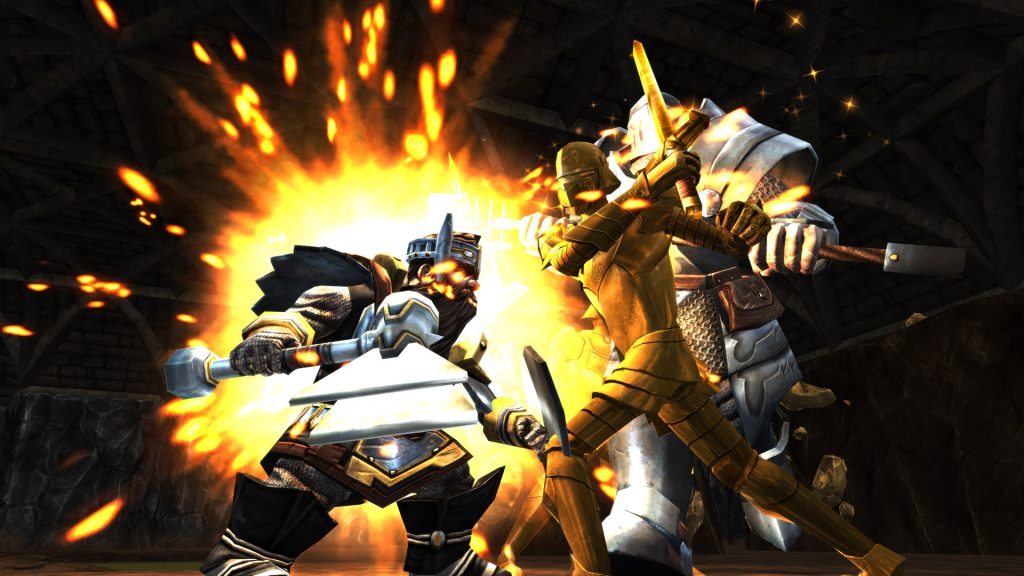 These golden statues will emerge from their sarcophagi once triggered by your Hand of Evil, or by a nearby enemy, ready to stand toe to toe with your foes. Their forms makes them immune to the common necessities of living minions, such as food and sleep, but they do demand a hefty sum at payday. Let's hope your coffers are brimming! Being non-fleshy, they also can't be healed by conventional magic – only by gold itself, which is where the Gild spell comes in!
New Spell: Gild
Weaving arcane magics is of course a doddle for one as powerful as you. So it's no surprise that you already have a new trick up your sleeve: Gild is a brand new spell that will automatically become available once you've unlocked the Sentinel, or the as yet unannounced Colossus.
Gild will serve you well in supporting your Sentinels, as it will expedite the process of healing them. Unlike normal spells it doesn't cost any mana, but instead requires gold from your Vault.
Gild will take 500 gold directly from your Vault and drop it on the highlighted unit. For those wealth-focussed minions, this will simply serve as an extra bonus to their payday, and make them very happy. However, for Sentinels and the Colossus, it will patch up the broken plates of their armour, and heal them for a significant amount. (They can also be healed simply by dropping piles of gold onto them.)
Gild is certainly a must-have ability for supporting your front-line golden warriors, but it'll also serve as an excellent way to make those particularly sensitive minions in your army happy with your rulership. Simply find one who's unhappy via the Creature tab, and cast Gild on them!
Short Story: The Aureate Artisan
It seems you've been enjoying our short stories thus far, and are eager to devour more of our delicious lore surrounding Heart of Gold. We're certainly not going to disappoint this week, as we continue the story of the stalwart artisan, Gidro Brunnsen, as he journeys deeper into the land of Phaestus.
Delve into his precious little mind and explore his backstory, before you ruin his future in Heart of Gold! Here's a brief excerpt – if you want to read the whole thing, check out its thread on our forums.
Gidro waited. And waited. And began to wonder if he was the victim of yet another prank. A twinkle caught his eye, then the rock face in front of him began to glow. It glowed brighter and brighter, until Gidro swore the sun itself was rising inside the cavern. He shielded his eyes. There was a metallic ring, and the light receded.
Read the full story on our forums!
Until next time Underlord,
– WFTO Team
Click here to discuss this update on our forums
Click here to chat about this update on our Discord