Darkest greetings Underlord,
It's been just a couple of weeks since we unleashed the gargantuan Patch 2.0 and The Under Games expansion; the reception has been incredible! We can't thank all our fans enough for making this release our best yet!
In the wake of release the momentum hasn't yet stopped carrying us forward, and today we're going to expand upon on our plans for War for the Overworld beyond 2.0. We'll be addressing a few elephants which have made a home in our lair and answering your lingering questions. So join us as we unveil our plans!
Upcoming Patch 2.0.1
Following Patch 2.0 we've unleashed a number of smaller hotfixes to address the most critical issues. You can read the compiled notes for these here. However, we've also been working on a larger update not only to pile in some content which missed the boat, but also to address some excellent feedback from all of you.
Over the next few weeks, we'll be hard at work on this patch which we aim to release in mid-June, if not sooner. As you might expect it won't be as all-encompassing as 2.0, but it should still be quite a significant update nonetheless.
Here's a taste of what's to come:
Mighty Script expansion – we'll continue to enhance the tools with some key improvements like:

Using Variables (Numbers, Switches, Lists) as an input in many cases

Most Events will be usable as an output, where you can set one of the above variables

More flexible Parties that can be dynamically adjusted while the map is running, or even randomised using Lists

More Events, Conditions and Actions to further enhance your scripts

Skirmish AI voice-overs – the enemy AI Underlords will now taunt you, giving you more reason to wipe the floor with them

Adjustments to The Under Games – in particular the playable Underlords will receive some rebalancing

Further balancing across the whole game, following up from the huge balance pass in 2.0

Fixes for many issues not yet addressed by our hotfixes
Community Content
Moving beyond the release of 2.0, we've already stated that we'd like to focus more on community-driven content as part of our long-term support of WFTO. But what does that mean for you?
Well, first of all, we've started planning a structure for more regular Community Spotlights, which we'll use to highlight the most creative, interesting and fun maps from our community. Each spotlight will focus on the varied game modes now within WFTO – expect to see spotlights for Deathmatch, King of the Underhill and Core Shards, alongside Scenarios, Custom maps, My Pet Dungeon and of course Custom Campaigns!
We'll be looking to work with our content creators to package all our spotlights up into easily downloadable formats, such as Steam Workshop collections and single files on our forums (for those players not on Steam). We may also look towards integrating some maps directly into the game so that everyone can enjoy them without needing to explore our spotlights!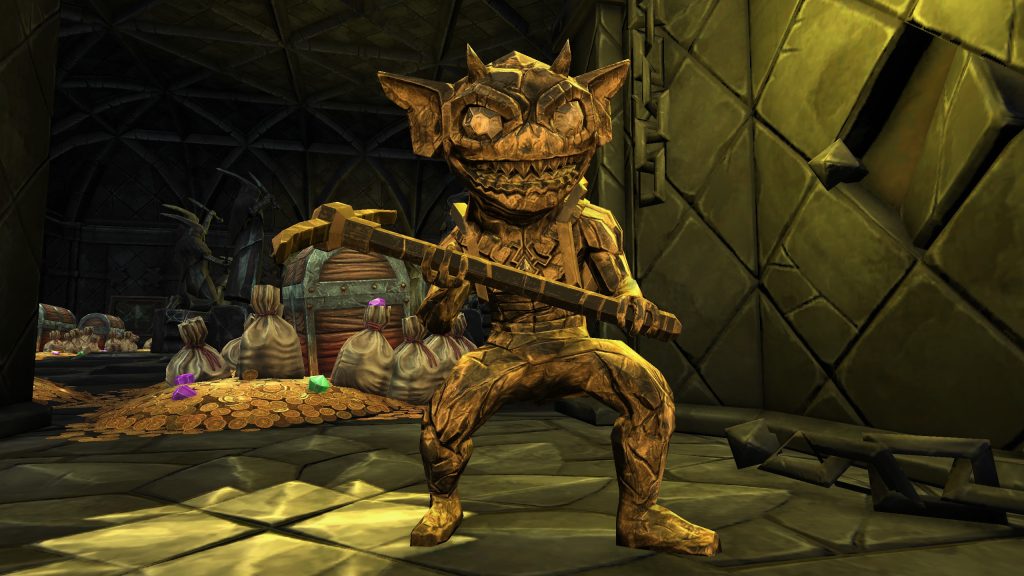 The Golden Worker and more awaits the most dedicated and talented creators!
Naturally, we'll always be on the lookout for awesome creations, and we'll be announcing our full plans for this in the comings weeks and months – so keep your eyes peeled!
We're also planning to make getting into map creation as easy as possible, with new tutorials on the use of the Map Editor and Mighty Script, as well as more expansive documentation for creators to reference.
The Future of War for the Overworld
Over the past few months as we worked towards Patch 2.0 and The Under Games release, we discussed briefly what our plans are moving forward.
We've already announced that following this huge release we will start to transition our development team onto the upcoming Project Aftercare, and away from WFTO. Though we've yet to make this transition we will be doing so after the release of Patch 2.0.1.
What this means is that 2.0.1 will likely be our last patch to have new official features or content; and though there are still some things in the pipeline beyond it, we won't be working on anything new for WFTO which isn't already in that pipeline.
This doesn't mean the end of support, however, and for the foreseeable future we're going to focus some members of our team on supporting community content and maintaining the game's longevity. They'll occasionally patch in community-made levels, and provide important bug fixes as necessary.
We should be clear that this means we will now be more particular with how we approach developing and releasing fixes. In most cases, due to work on Project Aftercare, our team won't have time to work on expansive patches – rather we'll be putting out smaller patches and fixes as they are needed.
We'd still recommend that you submit any issue you have to our bug tracker following the release of 2.0.1 – but be aware this will go into our long-term maintenance triage process, where we determine the scope of work required versus the value of the overall fix.
Ultimately whilst this is the end of a great chapter for War for the Overworld and Brightrock Games, it's far from the end of the story. There's so much more we want to do with not just this universe but many more to come. So please keep an eye out for us in the next few years – we can't wait to share our full plans with you!
And as always we must humbly thank you, and all our backers, supporters, fans and customers for your support. This magical journey has only been possible thanks to your constant devotion, and we hope to repay that back a thousand-fold for years to come!
Cheers,
– Brightrock Games Team
Click here to discuss this update on our forums
Click here to chat about this update on our Discord
Never miss an update! Sign up to our newsletter!