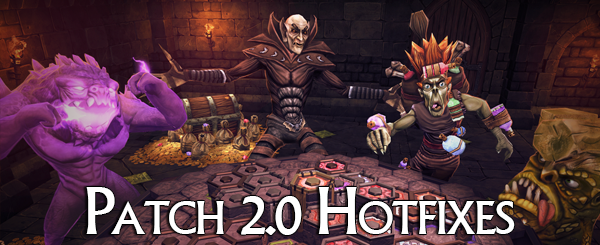 Darkest greetings Underlord,
It's been nearly three weeks since wew unleashed the massive Patch 2.0 and The Under Games expansion. Since that time we've been hard at work trying to address any problems our players have encountered the slipped through the cracks of our testing.
Through the incredible efforts of our stalwart volunteers as well as our programmers and of course the ever-patient community we've squashed a whole swathe of bugs in our recent hotfixes and there's more fixes to come in the upcoming Patch 2.0.1!
In case you haven't been following our efforts thus far we've compiled together the results of the 2.0 hotfixes here for your convenience. The following patches are all included in these notes:
2.0f2 – April 20th

2.0f3 – April 20th

2.0f4 – April 21st

2.0f6 – April 21st

2.0f8 – April 24th

2.0f9 – April 25th
We're now shifting our efforts entirely onto the not-insignificant Patch 2.0.1 which you can read more about in our latest announcement alongside our future plans for WFTO.
Compiled Patch 2.0 Hotfixes
Bug Fixes
Crashes & Gamestoppers
Fixed some users not being able to load into The Under Games if they did not also own Heart of Gold

Fixed an issue related to a corrupted options file that caused some users to not be able to load into certain campaigns
Units
Resolved an issue that caused Banshees to be immune to projectile attacks
Defences
Fixed an issue that sometimes caused Blade Lotuses to not deal damage
Spells
Fixed being able to accidentally add all units to the Peaceband

Resolved an issue that caused the Heal spell to sometimes fail to cast
Levels
Fixed some issues with several Blade Lotuses in the first level of Heart of Gold
Map Editor, Custom Campaigns & Community Translations
Fixed custom campaigns not uploading

Fixed the community translation upload screen not functioning
AI
Fixed a pathfinding issue that would cause units to attempt to talk through Dungeon Cores and Gateways

Some minor AI-related fixes
UI
Further fixes to the minimap-going-black issue – this is still not entirely resolved but should now occur far less often

Resolved most instances of flickering in the UI

Fixed an issue that caused the Skirmish menu to not load correctly
Audio
Empowered Banshee tutorial VO is now correctly hooked up
Visual
Fixed animation issues with The Duke and various Chunders

Fixed some animations issues with the Emperor, Priestess and Matriarch
Localisation
All languages should now display correctly in all parts of the game & the editor – including the Japanese community translation

Fixed Chinese subtitles in Kasita's Under Games intro

Fixed a font-related issue caused by an earlier hotfix

Fixed an issue causing the Chinese localisation to not display properly under certain circumstances
Miscellaneous
Minor error fixes & performance improvements

Fixed several errors that related to poor performance

Fixed Skirmish achievements not awarding correctly

Fixed a minor issue with cutscenes

Further fixes to corrupted options files
That covers all the work our dedicated Chunders have put in over the last few weeks! Keep your ear to the ground for further news on Patch 2.0.1 in the coming weeks!
We'll see you underground.
Cheers,
– Brightrock Games Team
Click here to discuss this update on our forums
Click here to chat about this update on our Discord
Never miss an update! Sign up to our newsletter!