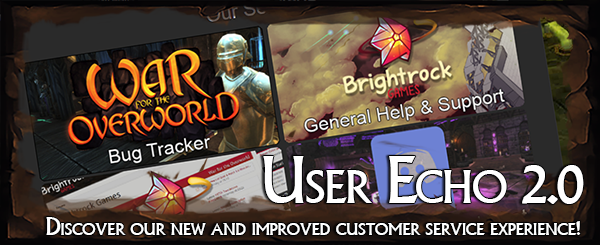 Darkest greetings Underlord,
The team here at Brightrock Games is always looking for ways to make everyone's lives just a little bit easier. To that end we've taken the User Echo bug tracker, we launched a few months ago, and given it a complete overhaul. We're calling it User Echo 2.0!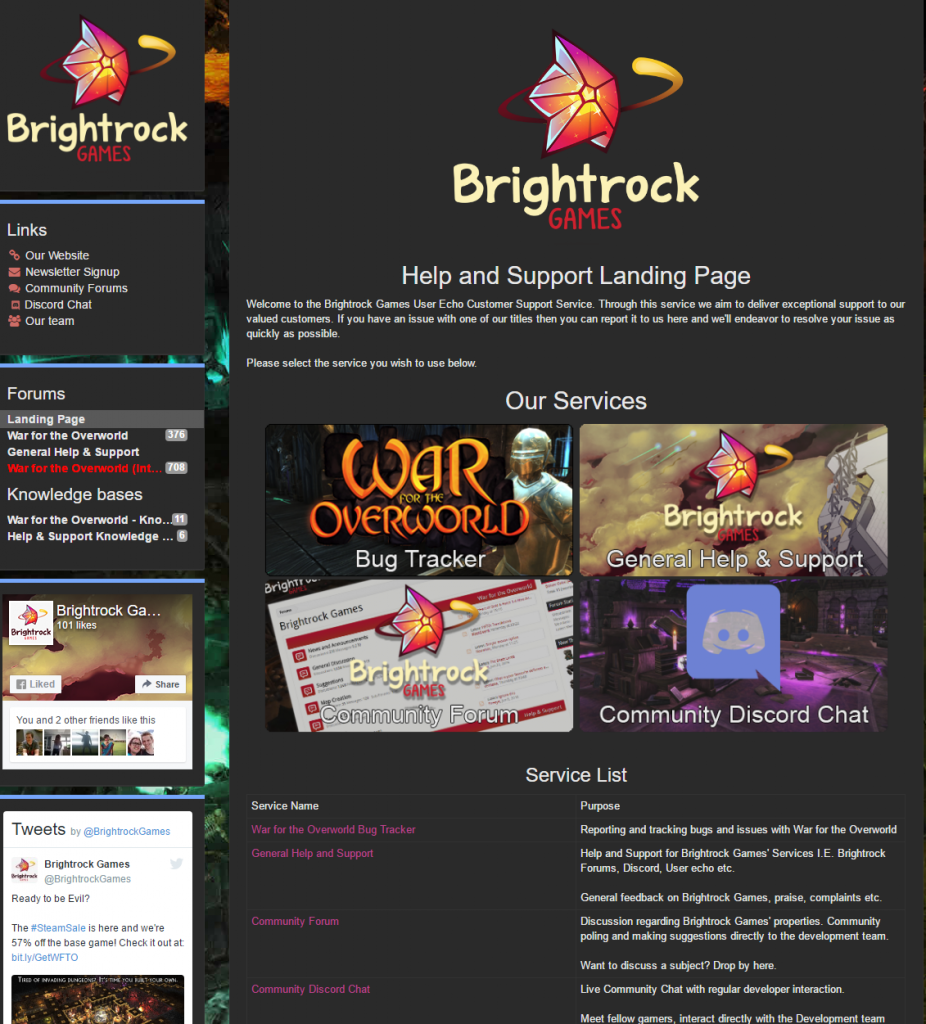 Our goal is to make it so that the process of reporting a bug and keeping track of it is simple and clear to all of our fans. We've also taken all the information that was previously strewn across our forums and compiled it into a pair of incredibly useful knowledge bases – one for War for the Overworld and one for our other services.
Click here to discover User Echo 2.0.
Here's a full list of changes:
Introduced a new landing page so we can support multiple services and expand in the future

Added two knowledge bases, one for War for the Overworld and one for other services – these will contain answers to common issues

Overhauled the statuses and processes behind bug tickets to make them clearer to reporters and thus easier to track

Changed "Needs more information" to "Pending customer" – because there's more than one reason we might be waiting for you

Added "Completed – Next Patch" – All tickets will automatically be marked as this when completed internally, and will change to complete when a patch is rolled out

Added "Pending Third Party" – If we can't fix your issue we might need to approach a third party (such as Unity or Coherent UI), so we will set tickets to this while we await their response/fix

Rejigged colours – because the colours needed a new jig

Moved "General help and support" from the community forum to User Echo

Added links to various other services such as the community forum and Discord

Tidied up all the text and images – we're sure you'll notice the improvement!
It's our aim to deliver excellent turnaround times on bug reports to ensure you get the best experience from our game. We're gradually getting better at it too! To underline that here are some stats on User Echo's first six and a bit months of use:
295 users registered

390 reports opened

8,149 unique visits; 31,420 page views; 2,137 comments

Average time until first reply: 25.5 hours ( Down to 6.2 hours since UE 2.0)

Average time until issue completed: 15.7 days (Down to 10 days since UE 2.0)

86% user satisfaction rating Overall
Cheers!
– Brightrock Games Team
Click here to discuss this update on our forums
Click here to chat about this update on our Discord
Never miss an update! Sign up to our newsletter!