Update #9: Build-A-Room Part 2 and Kicking it Forward
Hey folks,
Today we'll go over our first vote for the Archive, the beginnings of our second vote (also Archive related), and Kicking it Forward. Dig in Underlord.
Build-A-Room
Click here to go directly to the poll!
Part 1: The Floor: The vote has ended with the creepy-carpet in a commanding lead. Since the cerulean stone stole second spot in the contest to determine all (see: part of all) that is Archivic (it'll be a real word soon) we'll put it below the carpet… those spots that are more worn than others will peep through the little holes that your researching minions slowly wear into the 600 thread-count beauty that is #3.
Part 2 – The Wall: No, this isn't Berlin and it certainly isn't 1979, in this vote we'll test your colour-matching skills (or lack thereof) and have you vote on the wall design! There's no prize for second place here, so weigh your options carefully and vote on the absolute best one (hint: there is a right answer). Voting will continue until 12/18 — feel free to take your time.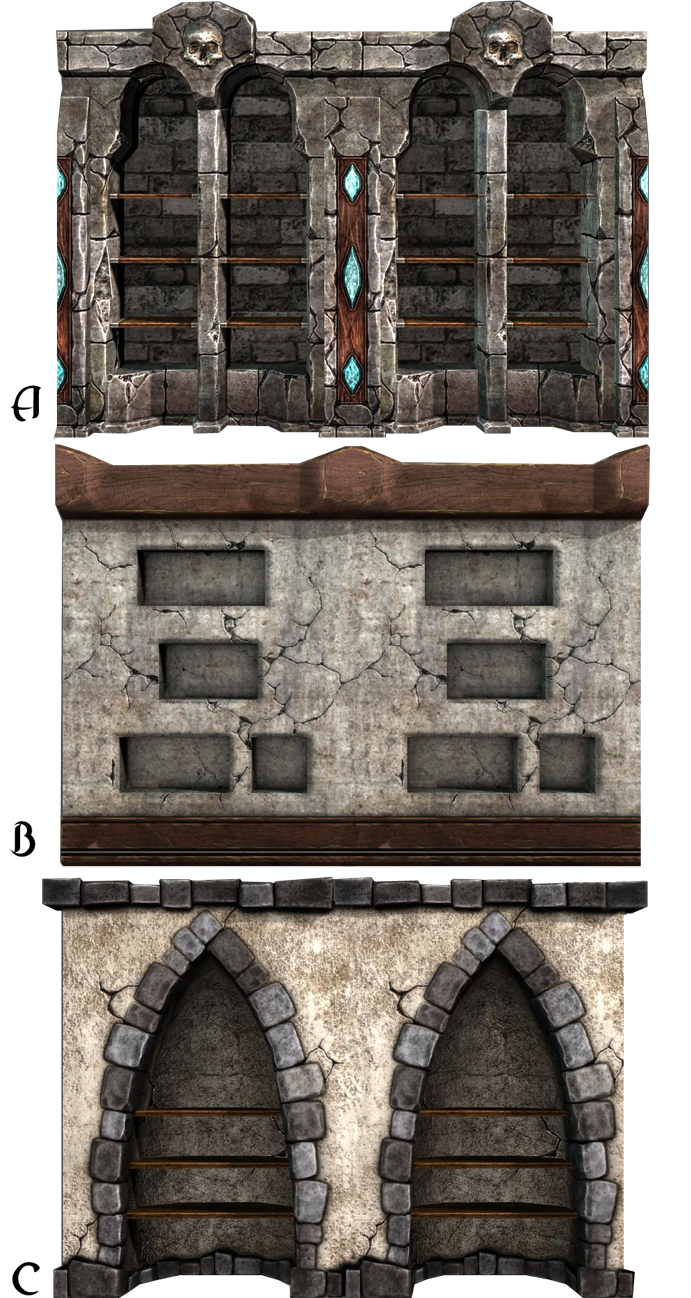 Kicking It Forward
You may have noticed the Kicking it Forward graphic on our page. After noticing it you may have commented on it (you didn't, we read all of your comments and you never mentioned it), but we're really excited about it so we've decided to talk about it a little. The way it works is that 5% of the profit from War for the Overworld (made after we release the game) will be put directly into the Kicking it Forward project. The team there then distributes that 5% to other projects on Kickstarter to help them achieve their goals. It's a great program that supports independent developers like us!
Since we're on the subject of independent projects — we wanted to point out a few projects that we like on Kickstarter because these projects would benefit directly from Kicking it Forward, which, if you haven't been paying attention, is a marvelous idea.
Maia: Most of you are probably already familiar with Maia, the god game that combines Dungeon Keeper with Dwarf Fortress after throwing the whole lot into space. If for some reason the previous sentence didn't cause you to throw your wallet and firstborn child at the screen then we're confused, however we have a second explanation: it's a god game set in space that combines DK & Dwarf Fortress. If you're still confused just head over to the page and check it out. Maia is still accepting pledges on IndieGoGo if you missed their Kickstarter.
Forsaken Fortress: Forsaken Fortress takes the beloved Post-Apoc setting and adds depth in spades. Their approach to team-based survival is something that stands out to us, and the features that they want to implement fulfil all of our desires for a strategy based post apocalyptic survival game. Does it give us unique relationships and desires that change, hinder, or help you survive? Yes. Static and variable base defense? You bet! Add all that to strategy that forces you to think about the way you interact with other survivors and assign their roles and we're salivating. Check it out, they look awesome!
The History of Ocean Software: We're getting to the age where it's actually possible to look and write retrospectively about the people and companies that shaped the gaming industry as we know it today. This project wants to immortalise one of the most influential independent British developers of the 90's — the kicker (pun most certainly intended) is that the project aims to create a 300 page book filled with interviews, art, and a whole lot more. If you're wondering "who was Ocean Software" we have three words for you: they published Worms.
These three projects are but a minute subset of the plethora of amazing developers, creators, and innovators on Kickstarter that remind us why we're here — not only do we help actualize something that we believe in… but we get to be a part of the process. It's humanizing and we think that in many cases the final product shows the love and care of not just the developers, but the hundreds or thousands of voices that all shouted "yes" to that initial pitch. We'd like to take this time to thank you once again for your support and, just as importantly, thank you for putting your mouth where your money is in your continued efforts to spread the word about WFTO. We are incredibly lucky to have backers like you.
And a quick note regarding the evil laugh contest: We are no longer accepting submissions. Thank you for all your entries! We'll announce the three finalists soon.
Until next time Underlord,
-WFTO Team