Update #25: Build-A-Room & 36 Hours
Hey folks,
We're just entering the last two days of funding and wanted to thank you all for your steady increase in pledges and enthusiasm for add-ons! Today we'll discuss the development of our Flex Goals, the finalized Archive, and our AMA later this evening!
The Archive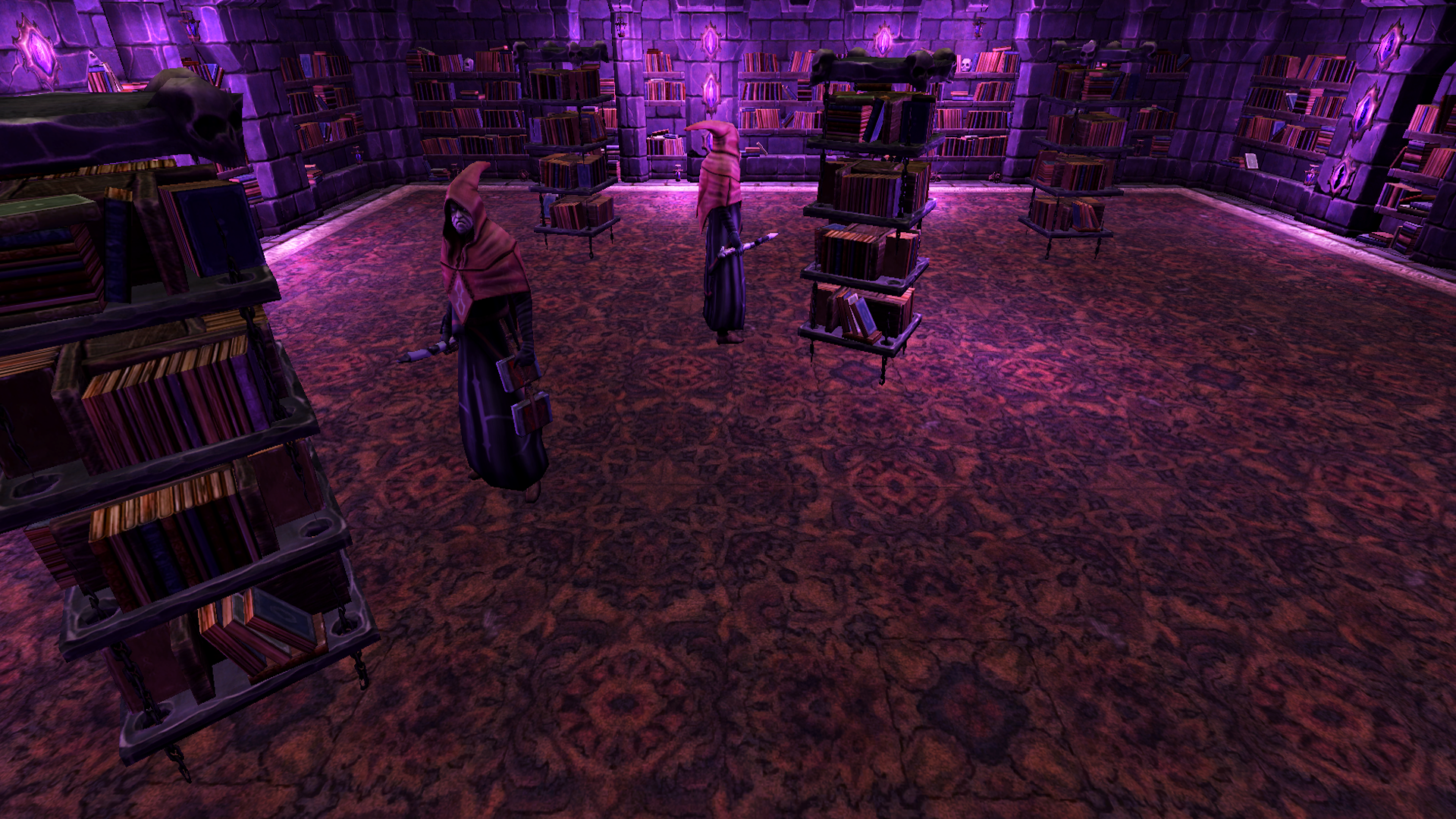 We've finished our series of community votes on the Archive. Based on your pick our Blood Imps have been working overtime through the holidays to put together the final odds and ends of the room. Today the chains come off of the door in our Kickstarter Demo and the Cultist is ready to get to work!
Flex Goals
We've had a bunch of questions regarding what flex goals we are able to deliver based on how much extra money we raise on Kickstarter (and continued funding afterwards). To be more transparent about this process we wanted to rank our Flex Goals for you based on "costliness."
For example adding controller support will be relatively easier to do as it will only tie down a few members of the team and is a relatively simple challenge to overcome, the level we are currently at above our goal would allow us to develop controller support, and half-complete any one of the middle level Flex Goals.
Once we reach additional campaign chapters the cost and time goes up dramatically as there are far more people involved working to create the content for these goals. The highest tier of Flex Goals will require significantly more resources and time as they are completely new modes and complex systems — Or, of course, Richard Ridings.
Cheaper to implement (£25,000 and below)
Controller Interface
Arcade Campaign
More costly to implement (around £50,000)
The Adventures of Stumpy the Imp
Extended Underlord Campaign
Empire Campaign
2 Lords 1 Dungeon
Competitive Campaign
Co-op Campaign
Very costly to implement (£75,000 and up)
Richard Ridings
Survival Mode
Underworld MOBA
Hero Mode
Matchmaking & Ranking
No matter how much we raise, every penny will go back into the game, and we will listen to our backers every step of the way in how they want this money spent.
How You Can Help
As you can see, we have quite a way to go to be able to deliver on any of the higher flex goals based on our present funding — so please remind your friends to check out our previous update for a dozen different ways to help us make this final push!
AMA — January 2nd
If you didn't get a chance to participate in our first AMA you can find the transcript here. We'll be hosting a second AMA later today (January 2) at 5:00 pm EST / 10:00pm UTC. If you haven't had time to jump on the IRC or if you have any questions that have managed to slip through the cracks of our comments section over the past month feel free to join us tomorrow and ask any questions you still have!
Until next time Underlord,
-WFTO Team