Update #15: The Augre, Totalbiscuit, Team Page Update, and more!
Hey folks,
Since we have over a thousand new backers since our last update — we'd like to welcome you all to War for the Overworld. Today our update will focus on the Augre, Totalbiscuit's video for WFTO, a team page update and more!
The Augre
The Augres are descended from an ancient sect of Ogres who revered the unparalleled Dwarven mastery over metalwork so much that they began to worship Torag, Dwarven God of the forge. They then began to reshape their lives around metallurgy and the creation of intricately designed machines — after some time these creatures became so enamoured with expertly crafted metalwork that they began to augment themselves with their creations by physically grafting metal and machines to their bodies to improve their skills in battle and at the forges where they work.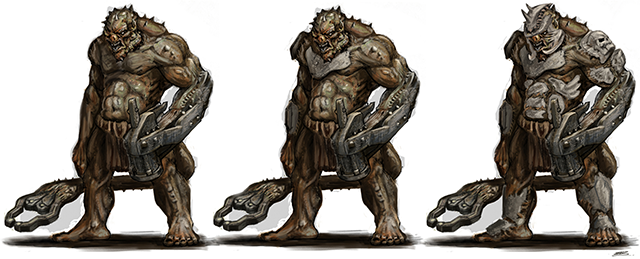 (Click here for a high resolution version)
These creatures will scavenge metal from their fallen foes and use it to improve the modifications they have made upon their own bodies — increasing their survivability and adding to their already vicious arsenal of weaponry.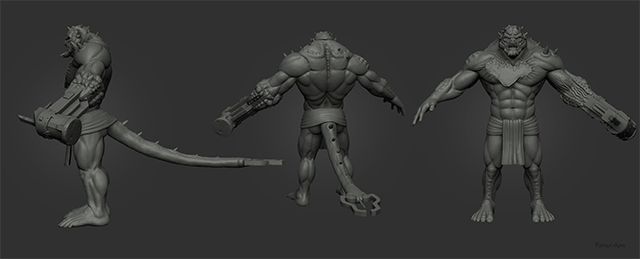 (Click here for a high resolution version)
The Totalbiscuit Video
We'd like to convey our heartfelt thanks to Totalbiscuit for giving our demo a try and making a video about us!
While Totalbiscuit was distracted making that video Stumpy the Blood Imp managed to steal his top hat and is wearing it proudly as he continues to dig towards our Kickstarter goal.
We would like to express our thanks and welcome to all you backers who learned about our project because of him and remind them to check out our previous update while there's still time to vote on the design for our Archive.
Other Bits & Bobs
Spread The Word!
Word of mouth is incredibly important to our success — if you haven't already please take a moment to put your mouth where your money is by telling your friends about WFTO! Click here to send out a Tweet, or you could post a link to our page on Facebook. Don't forget to point your friends to our Steam Greenlight page as well!
Update Schedule
And finally, here's a sneak peek at the next few updates:
Monday: Locked in the Foundry Episode #3 — Beasts
Tuesday: ???
Wednesday: Locked in the Foundry Episode #4 — Veins of Evil
And plenty more to come after that!
Click here to discuss this update with us in the WFTO IRC
Until next time Underlord,
-WFTO Team