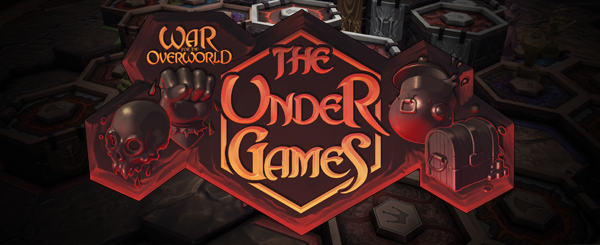 Darkest greetings Underlord,
At long last the veil has been pierced and through the aetherial gap comes the news you've been waiting for: the final expansion and accompanying major update for War for the Overworld are slated for release this month! The Under Games awaits!
Check out our announcement trailer below to get a heads-up on what is rising from the depths!
Before we dive right into the devil's details, let us just reiterate what you may have noticed in the trailer: The Under Games expansion and free Patch 2.0 will launch on April 20th, 2018 on Steam, GOG and our own store. The Under Games will be priced at £7.19 / $9.99 / €9.99, and you can wishlist it on Steam now!
Expansion 4: Enter the Under Games!
First up we have a brand new expansion pack in the form of The Under Games. This is our biggest content drop since release, featuring a whole new campaign designed around extensive replayability, as well as new minions, defences, spells and potions. And that's not to mention new game modes for Skirmish, Multiplayer and the Map Editor!
In this new single-player campaign you'll pick from one of three new Underlords (with Kasita also available if you own the Heart of Gold expansion!) to participate in the deadly combat arenas of The Under Games. This is a cut-throat Underlord-versus-Underlord tournament, hosted by your bloodthirsty mentor, Mendechaus, as he prepares for his assault on the mortal realm of Kairos.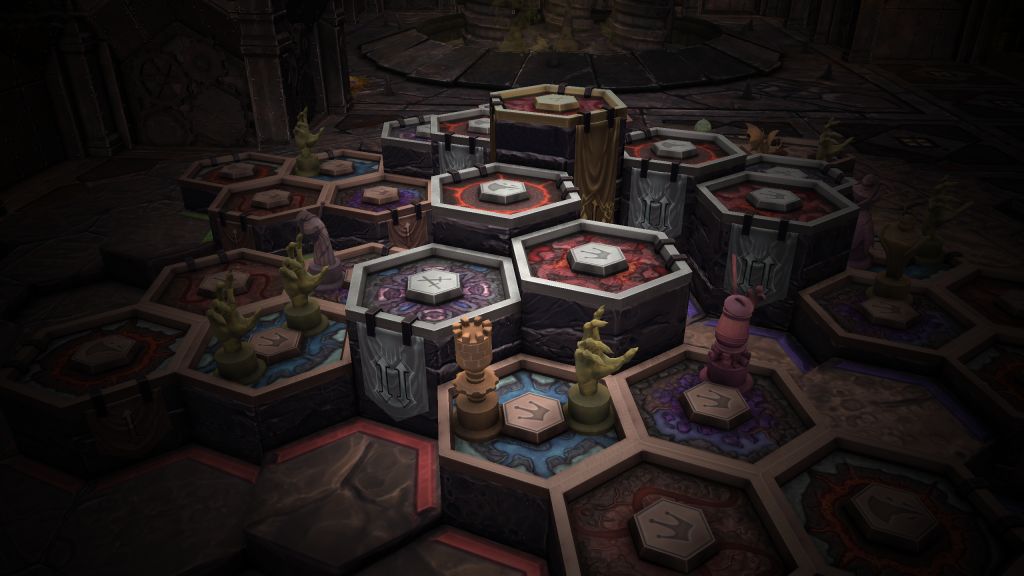 Are you ready to make your move?
You'll face off against a completely overhauled Underlord AI system, across a series of levels whose gameplay harks back to the very origins of the Dungeon Management genre. Only one can win The Under Games and lead the charge into the coming war; so it would be wise to learn your Underlord's talents well.

The New Thunderling is a deadly combatant, especially when transported near instantly to the enemy via Moongates
Each playable Underlord is designed to be a unique gameplay experience, empowered by passive traits and equipped with exclusive minions and Aspects. These all-new tools fundamentally alter their core gameplay, so you'll find that each Underlord playthrough is a very different experience. On top of that, each Underlord will face different opponents on their journey through the tournament, and you'll also be able to select from 5 different difficulty levels.
So in short, The Under Games includes:
An all-new 7-level campaign

Choose your Underlord and participate in a deadly tournament, set across a series of scenarios that call back to classic Dungeon Management gameplay!

Each of the 4 playable Underlords has a unique playstyle, driven by their powerful traits and exclusive minions and Aspects.

A completely overhauled AI awaits with 5 difficulty levels and a multitude of personalities to put you through your paces.

Conquer arenas with distinctive layouts and a variety of visual themes, including the new blood-soaked Sanguine theme.

2 new games modes

Race to capture and hold key positions in

King of the Underhill

, which will then blast your opponent's Dungeon Core from distance.

Mount a multipronged attack against your opponent's

Core Shards

, then watch as their dungeon crumbles.

3 new Underlords

with their own unique unlockable Dungeon Themes.

9 new Aspects

expand your Veins of Evil, with new defences, constructs, potions and spells!

New terrain features and shrines

await in

the Underworld, such as the ultra-hard Quartz and Moongate teleportation shrine.
Over the coming weeks we'll be covering the features of The Under Games in more depth, including each of the new Underlords and their Aspects in turn. We'll be bringing Underlord Shale to you on Friday so be sure to pop back to see what she has to say for herself!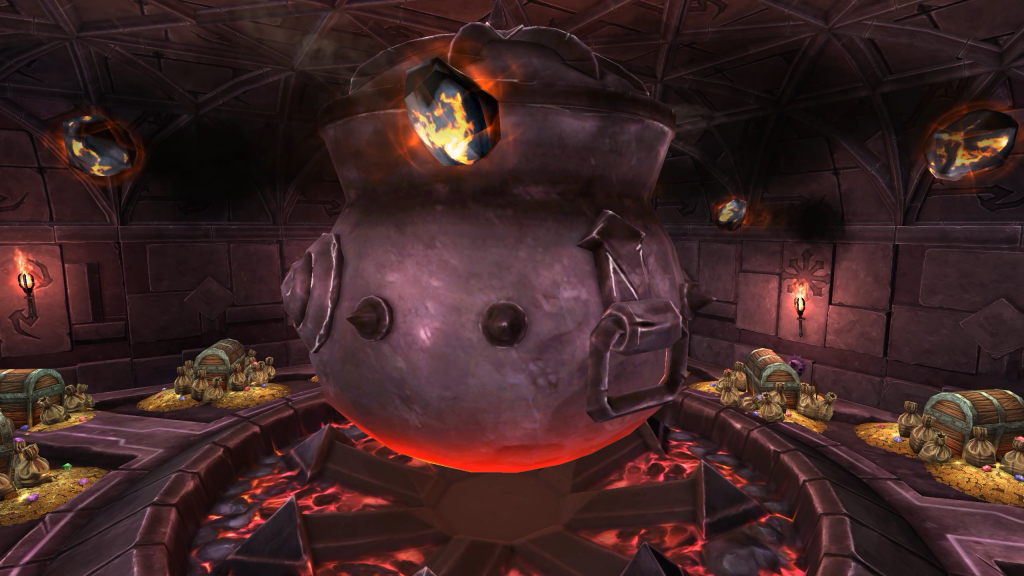 The Devious and Chaotic Shale is up first!
Patch 2.0: Explore the Untold Depths
After all that expansion content, you may be wondering what's left for us to bring you as part of the free Patch 2.0. But you should know by now that we don't like to skimp on features. Needless to say, Patch 2.0: Untold Depths will be the most extensive free patch we have ever released!
Rather than overloading you with all the details, for now we'll just highlight the most important parts:
Remastered Main Campaign

including new cinematic cutscenes, new terrain themes, rebalanced levels, and improved tutorials.

Vastly expanded Map Editor features

as long-requested by our fans: build maps for nearly any mode, including My Pet Dungeon, and use the new

Mighty Script Editor

to trigger complex events. Now you can truly create the levels you've always wanted to, and even chain them together to make narrative campaigns!

More types of content on the Steam Workshop

, with scripted custom scenarios and campaigns arriving when our industrious community get their hands on the new tools. The best will be curated by us, so you won't miss a beat.

New game modes to use in Skirmish, Multiplayer and the Map Editor: claim key positions in King of the Underhill, or destroy fragments of your opponents in Core Shards.
Devastating New Underlord AI

,

rebuilt from the foundations to challenge even the most scheming players. Our new AI can use all the tools and tricks you've come to rely on – can you rise to the challenge?

Sanguine and Snowy terrain themes

now available in the enhanced Map Editor,

which recast levels in either blood red or ice white.

New Sacrifice ritual

calls back to the origins of the Dungeon Management genre: drop different combinations of minions onto your Sanctuary Altar, and if the dark god Mendechaus is feeling generous, you might get something exciting in return!

Polish, polish and more polish!

You'll find countless new animations, gameplay improvements, balance adjustments, significant performance optimisations, and other changes and fixes – as you've come to expect from us in our quest to create the ultimate Dungeon Management experience.
With all these major changes coming to the game we're truly scratching the untold depths, which we could never have imagined when we first released War for the Overworld three years ago.
The Future
These updates are intended to give War for the Overworld the best chance to live on as we look towards the future and new projects. We think that expanded tools for the community to make their own content, a new highly-replayable campaign, new game modes, and as much polish as we can muster are good ways to achieve this.
We're proud to have brought the game so far together with all of our community, and we hope that this final major update will draw an emphatic line under this incredible chapter in our team's journey.
That about covers our announcement today, but be sure to check back on Friday for our first deep dive into The Under Games with Underlord Shale!
And remember, The Under Games and free Patch 2.0 will be available on Steam & GOG. Etch the date in stone. Wishlist it on Steam now.
Cheers,
– Brightrock Games Team
Click here to discuss this update on our forums
Click here to chat about this update on our Discord
Never miss an update! Sign up to our newsletter!