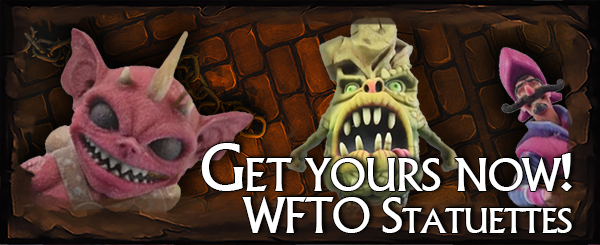 Welcome most loyal Underlord,
In honour of your service in War for the Overworld, we'd like to offer you a tribute to your ceaseless minions … or a condemnation of your most loathsome enemies!
The statuettes have been long in their chiselling from Impenetrable Rock, but now they are ready to emerge into the flickering torchlight!

Backers of our original Kickstarter campaign, at Tier 7 or above, will be emailed a coupon code for a free statuette (This counts as your free-blood imp statuette as part of your reward tier). Backers at other levels will receive a coupon code for a 25% discount!
Emails will be sent starting from Friday 18 December, and will arrive over the following days. The email will contain instructions on how to redeem your coupon.
While you wait, why not visit the store page and get acquainted with these lovable, immovable miniatures. Just don't try slapping them – you might hurt your hand.
Until next time Underlord,
– WFTO Team