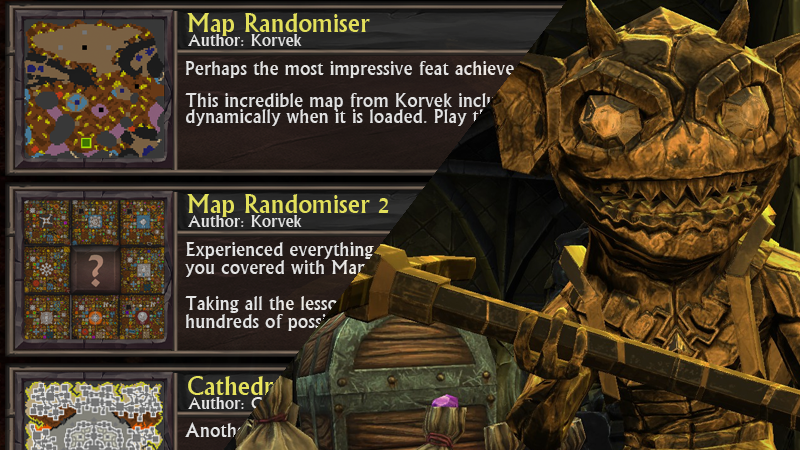 Studio Updates & Community Spotlight Q3 2020
Darkest greetings Underlords,
As the world above battles with the seemingly cursed year that is 2020. The crash of steel on reverberates through the long-dormant halls of the Underworld. Hushed whispers on cultists lips carry words of great works undertaken by skilled artificers; and that something greater still is being forged in the furnaces of the deep.
It is time once more Underlord to delve into the untold depths to uncover the deeper dungeons and shimmering gems, crafted by your fellow Underlords.
But before you do let us first regale you with what news returns from those pesky development imps, shuttered away as they are in the darkest levels of the dungeon.
---
Updates from the Studio Floor(s) 
---
We know it's been some time since we provided you with updates on the state of affairs at Brightrock and we know many of you are curious and even worried about us at the studio, especially with the challenges that many are facing in the current climate.
We honestly appreciate the messages of concern we've received and we'd first like to assure everyone that we are all well and working hard on Project Aftercare. On the state of our studio here are the highlights:
Given the ongoing Covid-19 Pandemic, we're all continuing to work at home and expect this will continue for the foreseeable future.

Baring some initial challenges, adjusting to working from home has not greatly affected our productivity and we are still hard at work on Project Aftercare.

We are using this as a trial period to determine whether a permanent change could be ultimately beneficial for us as individuals and as a studio.
We are fortunate in many ways that we have lots of experience with working from home and the transition was largely smooth. What impact there has been to production is slight.
This brings us to the state of the project itself. We realise that we have been radio silent for a long time beyond some initial teases. There are many reasons for this, primarily that we want to focus all our energy into making the game, and we are fortunately in a position to do so. Here's what you need to know:
Work continues apace on Project Aftercare and the game is shaping up well.

We cannot announce anything specific right now but we hope to be sharing more news with you in the coming year.

We're continuing to expand the team with additional talent and working with new contractors to shape up various areas of the game.
We know that news on the game has been a long time coming and we thank you for your patience, we're working hard to ensure that when we can finally share more details it'll have been worth the wait!
---
Quarter 3 Community Spotlight
---
Your cultists have retrieved an incredible wealth of impressive works from across the vast archives of the underworld. This Quarter's spotlight is packed to the brim with some truly impressive accomplishments which are sure to be excellent additions to your domain.
Congratulations to all our spotlighted creators who have all earned the fabulous golden worker skin this month. Remember if you have any fan creations at all related to War for the Overworld we'd love to see them. Simply drop us a line on our Discord, Forums, Twitter or elsewhere and we'll try to include them in the spotlight!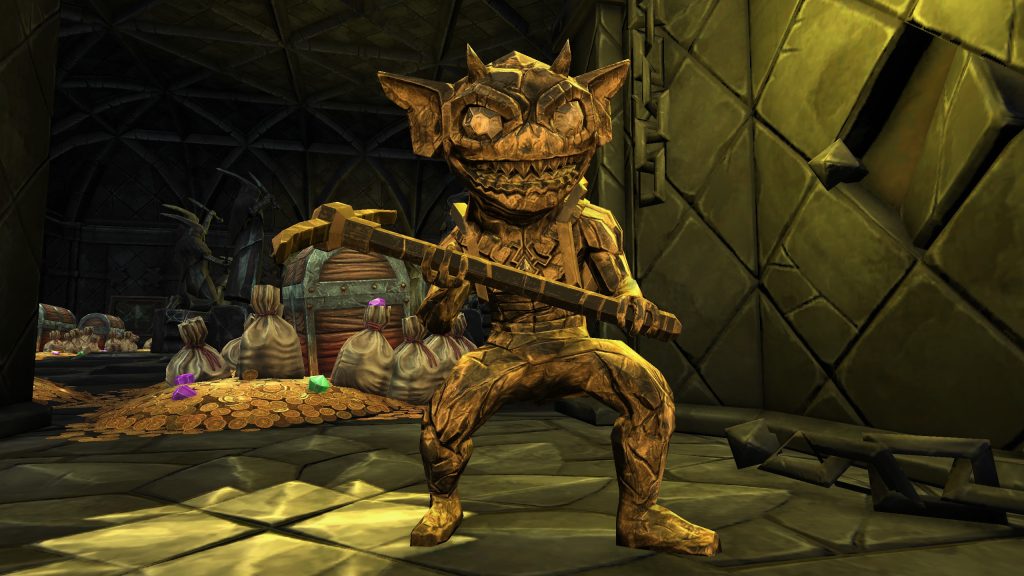 The coveted Golden Worker could be yours!
This quarter we have just under a dozen maps for you and an incredibly awesome campaign for you to try out, making this spotlight one of the largest we've ever put together.
Moreover, as you'll see from the list below some of the maps included are ingenious feats that truly demonstrate how far Mightyscript can be pushed and needless to say it's beyond our wildest expectations!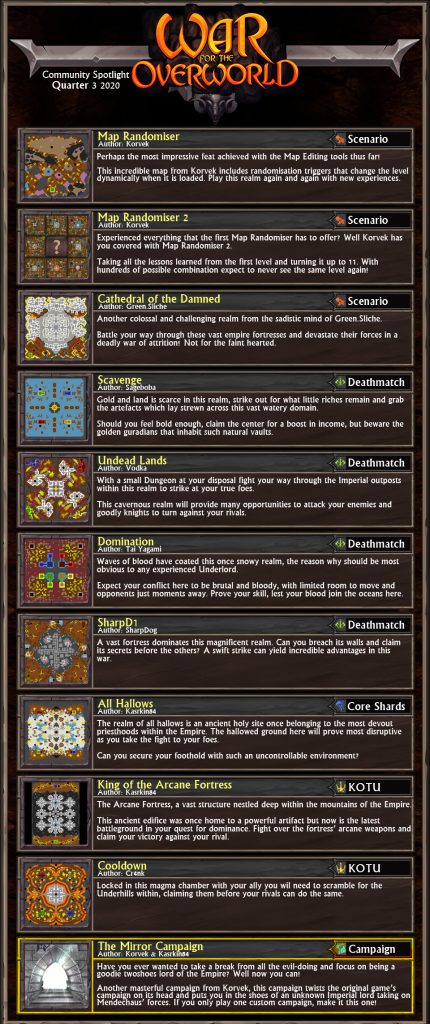 Deathmatch Levels
Core Shards Levels
King of the Underhill Levels
Scenario Levels
Custom Campaigns
If you want to get your hands on these incredible levels we've included links to download them separately or you can download them as part of our community spotlight! You can also subscribe to the meta spotlight collection which collects together all our existing spotlights in a single click download.
For our valued DRM-Free players as always you can download this spotlight and the campaigns from our Forums and in the future we'll be sure to include them in a downloaded pack straight from GOG.com!
Until next time Underlords!
– Brightrock Games Team
Click here to discuss this update on our forums
Join us on Discord and chat with us and other fans!
Never miss an update! Sign up to our newsletter!