Community Spotlight
November 2018
Darkest greetings Underlord,
We have returned once more to extoll upon you knowledge of the most interesting, well designed and/or fun content from across the community. We welcome you to the November community spotlight!
As always we'll remind you all that these updates can include anything, typically levels or campaigns created by you in our map editing tools but we welcome art, stories and more. Anything that WFTO has inspired you to create!
Creators/Authors who have their work highlighted will receive the coveted Golden Worker Skin to show-off to their fellow Underlords. So if you think you have something worthy of this not-so-noble prize then be sure to reach out either by dropping your map/campaign in our dedicated steam thread or contacting us directly via our Discord, Twitter or elsewhere!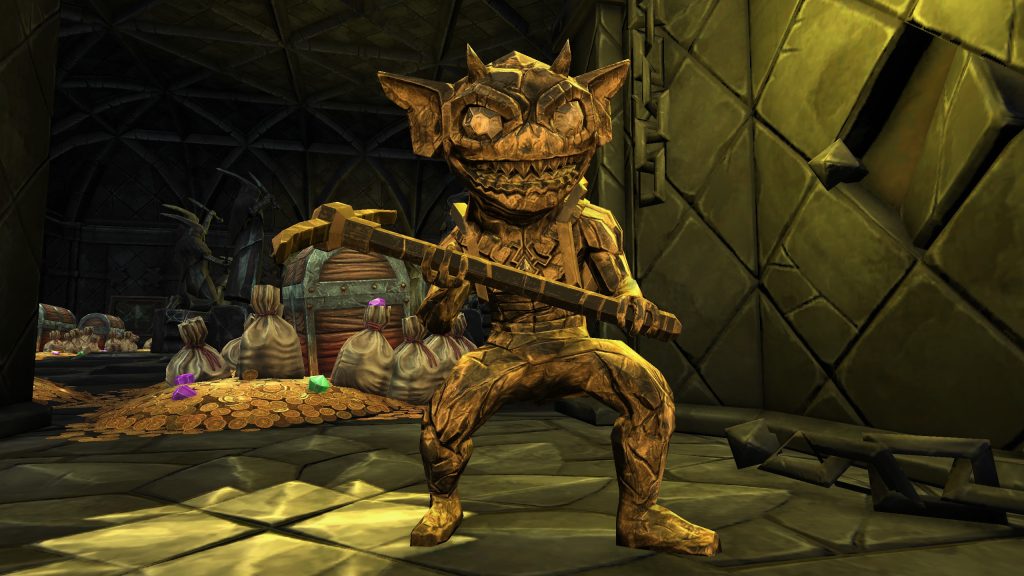 Coveted by many, owned by few. The Golden Worker Skin.
Now let us delve into the depths with the community spotlight!
Maps & Campaigns
Once more we've rifled through the vast repository of maps and campaigns held within the Steam Workshop picking out the best, most interesting and fun maps to play on.
As always we've discovered an incredible number of excellent maps and added more to our backlog of maps we'd like to include here in the future, so rest assured if your favourite map is not here it could well appear in the coming months!
We've done our best to pick out a variety of content to best represent the different ways that you experience the game. Now behold our recommendations below!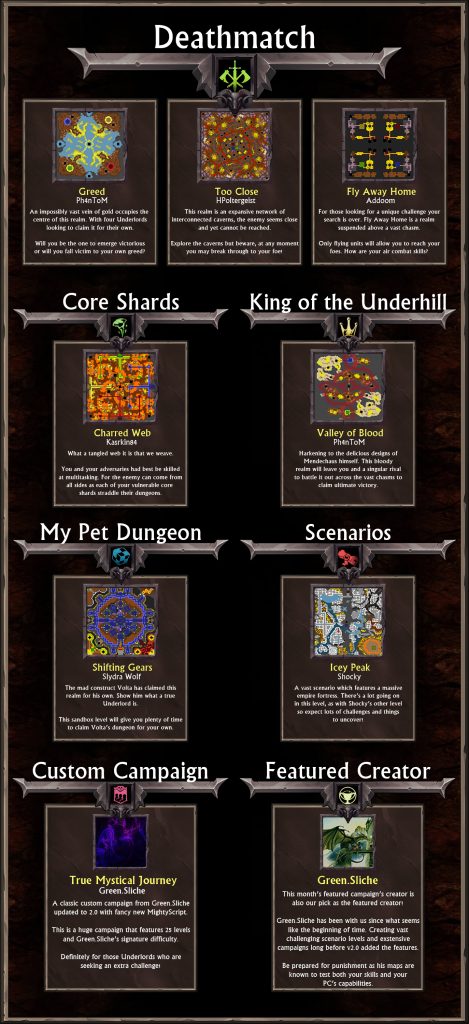 Naturally, you can download all of these maps as part of our workshop collection right here, or you can subscribe to them individually below! For our friends on GOG you can download the collection from our forums, the "True Mystical Journey" campaign is a separate download.
Deathmatch Levels
Greed – Die Gier (4 Player) by Ph4nTom
HP004 – Too Close (4 Player) by HPoltergeist
Fly Away Home (4 Player) by Addoom
King of the Underhill
Core Shards
My Pet Dungeon
Shifting Gears by Slydra Wolf
Scenario Maps
Custom Campaign
True Mystical Journey by Green.Sliche
Featured Creator
Congratulations to all of the creators who have been highlighted today! We will be reaching out to you to deliver your Golden Worker codes early next week. Usually via the private forum attached to your highlighted work. If you do not receive your code then please contact us directly and we'll be sure to sort you out!
Featured Fanart: Modern Clothing in the Underworld by Kodiak
We're always super excited to receive fan art of War for the Overworld. As creators and artists ourselves it is deeply heartwarming to see love shown by other talented artists for our work and to see the unique touch they bring to our beloved game. We're only a small team with a pretty niche game so it's always a great honour for us to see such love shown!
When we see such work, we can't help but share it so when we discover a new fanart and gain permission from the author we like to share it with you here. This month is no different!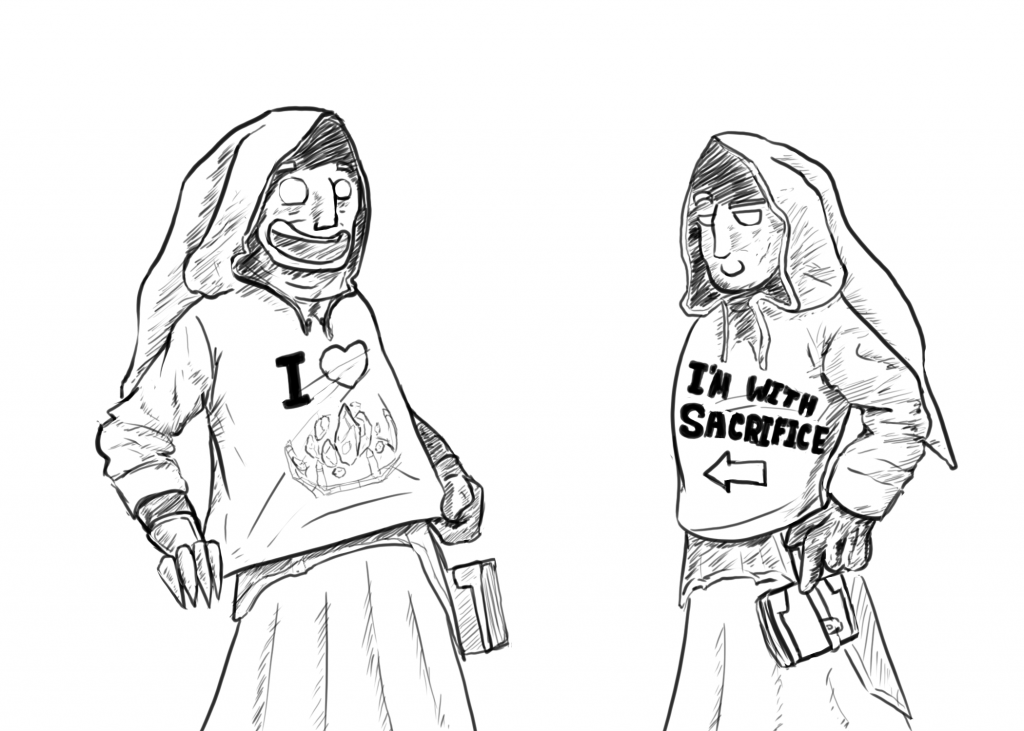 These cultists are enjoying their newly purchased modern hoodie robes
This awesome and amusing work was discovered in the Artwork section of the Steam community. It seems cultists are always well loved by the community and their cookey zealotry rarely goes unnoticed. These particular ones have decided to celebrate with some excellent hoodies, now we want some of these too!
Huge thanks to Kodiak for this awesome bit of art. It gave us a good laugh in the office!
We're always looking for more Fanart to showcase so if you're aware of any that could make the cut then please drop us a line or drop it into our Discord with the Artist's details. We award artists with the same Golden Worker skin we offer for level creators so if you've got a talent for art and you want to get an exclusive worker skin be sure to drop your art in!
That's all we have for you today Underlords, but rest assured there's plenty more to come in next months spotlight. Remember if you have levels, art, stories or anything you'd like to share then get in touch via our Discord, Twitter or Directly to us via any other means! For map creators, you can drop your levels into our Steam Thread for consideration and potential inclusion in future spotlights.
We'll see you again soon Underlords!
Cheers,
– Brightrock Games Team
Click here to discuss this update on our forums
Click here to chat about this update on our Discord
Never miss an update! Sign up to our newsletter!