Community Spotlight
May 2019
Subscribe to the Steam Collection or Download from our forums (coming soon).
You can now subscribe to all spotlights via our combined collection!
Darkest Greetings Underlord,
Welcome once more to our Community Spotlight, the moment in time where we highlight some of the best, most interesting or peculiar levels to be created by the War for the Overworld community and collect them together in a single downloadable resource for your convenience.
This month we've got some great maps for you and also some news regarding the ongoing maintenance of War for the Overworld. But before we dive right in we should address the democorn in the dungeon.
Devilish Disruptions
We set out putting together these spotlights as a monthly endeavor but for 2019 this has not been as consistent as we would like. Initially what started as a month hiatus due to staff leave in February extended beyond our initial projections. In the spirit of transparency and our commitment to doing our best we can for our community we thought we might briefly explain this.
As stated, we announced that February would be skipped as our community manager, Lee, was on vacation. We intended to go ahead with the community spotlight in March and resuming monthly spotlights after that, this didn't go according to plan and was simply a matter of resourcing limitations. As we transition away from War for the Overworld and onto "Project: Aftercare" we have to be careful where we spend our team's time; spending our time efficiently and dividing resources to critical/high-priority tasks is important to the functioning of a small team like ours. Unfortunately ancillary projects such as this community spotlight can fall by the wayside if our resources are overly stretched.
Specifically in March we were working towards a significant milestone on "Project: Aftercare", one that we knocked out of the park, but resulted in us having little time left to cover War for the Overworld. Similarly April faced some knock-on effects as we reshuffled our team's roles to further support development on the new game, and later shifted back onto maintenance efforts for War for the Overworld. Initially April's spotlight was planned to go ahead and was indeed mostly ready to go but a sudden bout of illness cost us a few days at the end of the month slipping the spotlight to today.
We're committed to supporting the War for the Overworld community as we move forwards and we want to avoid cases where we miss multiple spotlights in a row. As such, we'll be aiming to ensure that spotlights are ready for the beginning of a month instead of the end and continue monthly for as long as we are able, which will be as long as you keep creating awesome maps! Inevitably things will heat up in other development efforts and we may find time further pressed. In these cases we'll try to communicate any changes to the schedule and work to ensure we keep disruption to a minimum.
Hopefully that helps to explain the lack of recent spotlights and add some clarity to our plans moving forwards. With regards to War for the Overworld's ongoing maintenance we have further news after the community spotlight, so stick around to find out more!
Community Spotlight
Now with the democorn appropriately addressed, lets move onto the main event and your awesome creations!
But before we start we'd like to remind you that we include all sorts in our spotlights. Anything creative such as levels made with our editor, campaigns, art, videos, sound, cosplay you name it we want to share it!
If you have something that you think might fit the bill then get in touch via Discord, Twitter or our Steam, GOG or Official Forums! You might just be chosen to receive the coveted Golden Worker skin!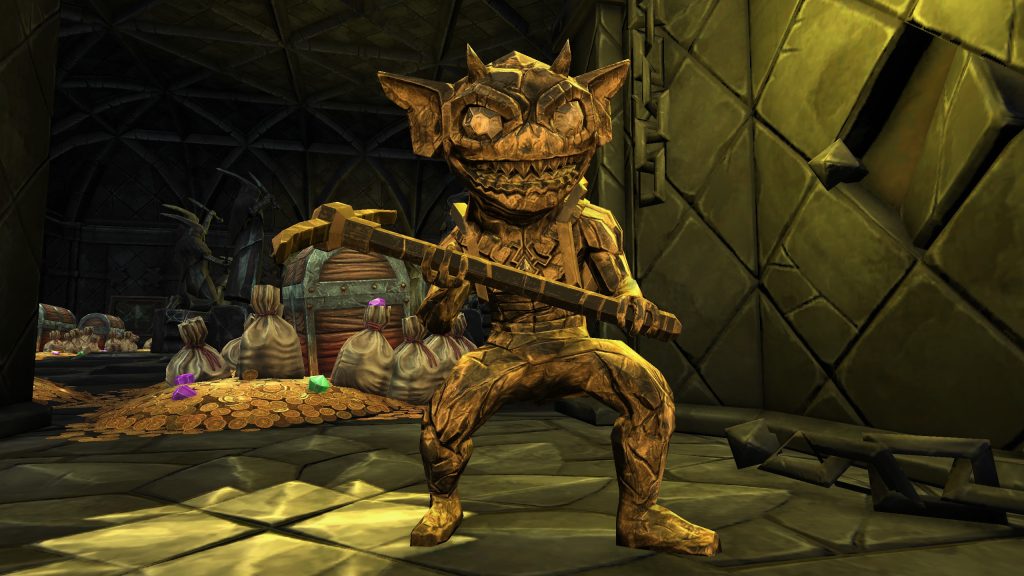 Now let us jump right in with our selection of awesome maps from across the community this month. Remember you can download all these maps individually or as part of our Steam Collection!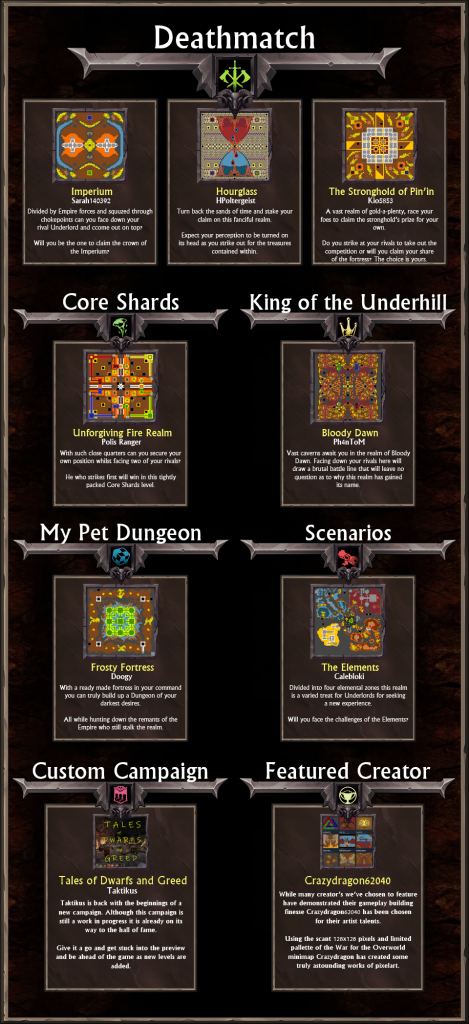 You can download all of our spotlighted content from the Steam Collection or via our website (coming soon)!
Deathmatch Levels
King of the Underhill
Core Shards
My Pet Dungeon
Scenario
Custom Campaign
Featured Creator
Congratulations to all the creators who have had their work featured today! We'll be delivering your Golden Worker codes (provided you've not had one already!) by the end of the week! Keep checking the private forum attached to your featured work for your code. If you have any questions please get in touch with us directly!
 Featured Fanart
Fanart is one of our favourite things to receive at Brightrock Games, that there are players out there who love our game enough to create something new for us to pin on our wall. It's always deeply humbling when we receive a piece of art. Just today Serioustoni shared this piece of our Official Forums.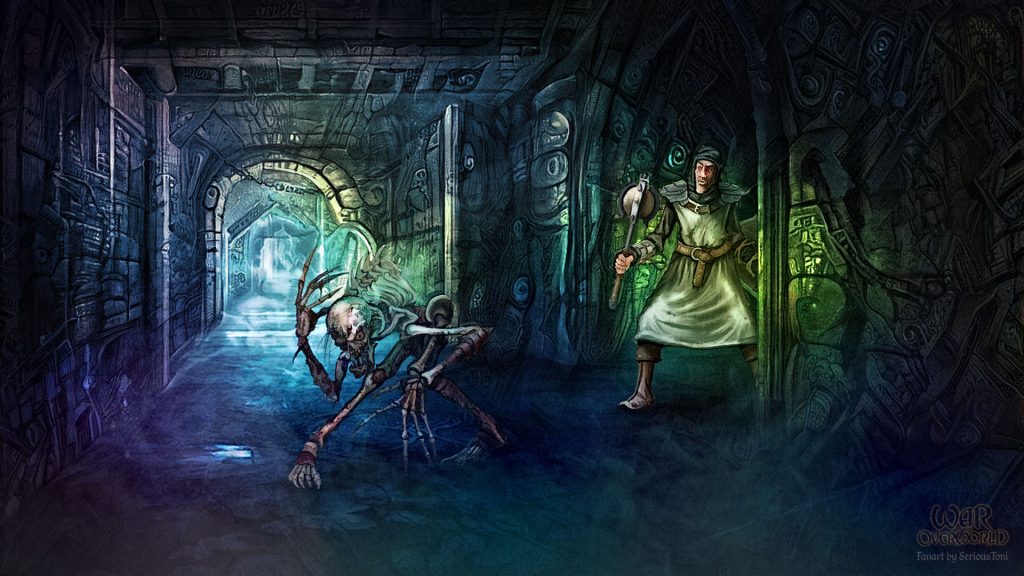 Hiding or Ambush? You decide.
Serioustoni commented about how excited they are for the upcoming Patch 2.0.7 and wanted to give something back for our continued support of War for the Overworld, it's always nice to be appreciated! Speaking of Patch 2.0.7.
Patch 2.0.7 Coming Soon
As we promised last year although we were moving away from active development on War for the Overworld we still intended to continue supporting it for some time to come. Over the course of the last month we've moved to do just that, catching up on the backlog of issues you've reported to us on our bug tracker and reviewing a number of your suggestions of where we might be able to introduce some improvements. The result of this is Patch 2.0.7 that we're preparing to deploy next week.
Although this is a maintenance patch we've tried to get as much out of our time as possible so we've fixed hundreds of issues, improved some features particularly those surrounding the Map Editor and addressed some balance issues based on feedback from our dedicated QA volunteers.
In particular one large issue we identified was a significant memory leak associated with the material management subsystem, this could result in a significantly large amount of memory being taken up by the game over time, eventually resulting in a crash when no more memory could be assigned. This would only occur in some scenarios when certain units or terrain types were present on a level I.e. the Aureate Monolith and should hopefully improve the experience for those of you who were affected by the issue. Curiously the solution for this issue actually came from Project: Aftercare as we found we could port our more robust code from that project backwards to War for the Overworld, a rare case of overlap!
We hope you'll look forward to the release next week, moving forwards we'll continue releasing maintenance patches at irregular intervals so if you encounter any problems once the Patch is out then please feel free to drop us a line on our bug tracker!
See you soon Underlords!
– Brightrock Games Team
Click here to discuss this update on our forums
Click here to chat about this update on our Discord
Never miss an update! Sign up to our newsletter!