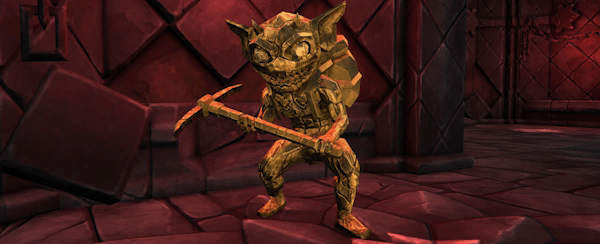 Community Spotlight
January 2019
Subscribe To Our Collections! Subscribe to the Steam Collection or Download from our forums.
Darkest Greetings Underlord,
The new year is well-underway and we here at Brightrock Games are all working fervently on our next project. Though our development imps efforts may be focused elsewhere for now, the under-caverns of Kairos continue to expand with new realms and dungeons created by you, our most devilishly evil community.
Each month we select our favourite of such creations and feature them in our spotlights for you to discover, download and play. So ready yourself Underlord to delve into the ever-expanding depths.
But before we start  we'd like to remind all our fans that we include all sorts in our monthly spotlights. Anything creative such as levels made with our editor, campaigns, art, videos, sound, cosplay you name it we want to share it!
If you have something that you think might fit the bill then get in touch via Discord, Twitter or our Steam, GOG or Official Forums! You might just be chosen to receive the coveted Golden Worker skin!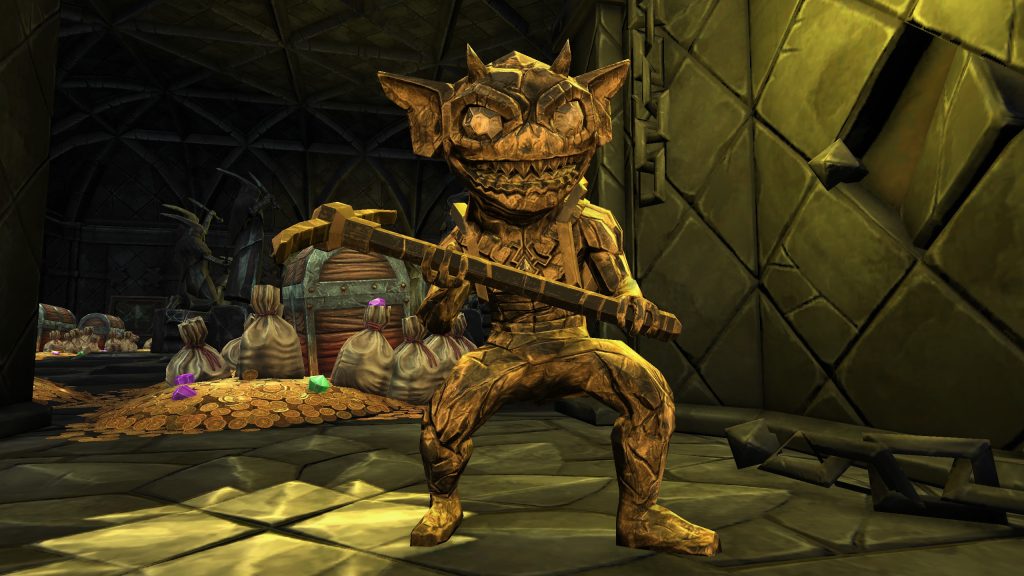 Community Spotlight
Now let us jump right in with our selection of awesome maps from across the community for this month of January. Remember you can download all these maps individually or as part of our Steam Collection!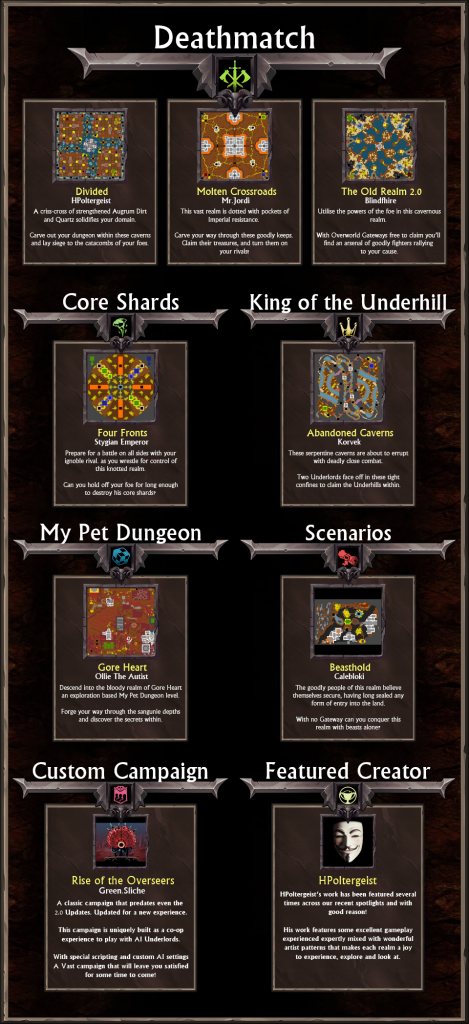 You can download all of our spotlighted content from the Steam Collection or via our website!
Deathmatch Levels
Divided by HPoltergeist

Molten Crossroads by Mr.Jordi

The Old Realm 2.0 by Blindfhire
King of the Underhill
Abandoned Caverns by Korvek
Core Shards
Four Fronts by Stygian Emperor
My Pet Dungeon
Gore Heart by Ollie the Autist
Scenario
Custom Campaign
Rise of the Overseers by Green.Sliche
Featured Creator
Congratulations to all the creators who have had their work featured today! We'll be delivering your Golden Worker codes (provided you've not had one already!) next Monday! Keep checking the private forum attached to your featured work for your code. If you have any questions please get in touch with us directly!
That concludes our spotlight for January! Unfortunately due to upcoming staff holidays we will not be able to bring you a spotlight in February but rest-assured we will be back in March with a whole new set of maps for you to enjoy!
Maintenance News
Before we go. We also have some news. We've always said that we're going to continue providing support for War for the Overworld over the coming months with updates targeted to fix issues you report to us and improve your experience.
As we've been progressing with our new project we've been looking to how we can fit continued WFTO maintenance with the demands of production on our new project. We've opted to release updates a few times a year after doing a pass through your reported tickets and our known issues each time. The first pass is due to occur in March so you can expect our first maintenance patch in the next few months. If you encounter any issues with the game be sure to drop us a report on our bug tracker!
We hope to continue doing these passes at regular intervals as and when we can afford to do them. Due to the nature of our ongoing production on Project: Aftercare we can't confirm when each will be released but rest assured we're still committed to providing you support for some time to come and do so with the same clear, transparent communication you've come to expect from us.
See you soon Underlords!
– Brightrock Games Team
Click here to discuss this update on our forums
Click here to chat about this update on our Discord
Never miss an update! Sign up to our newsletter!