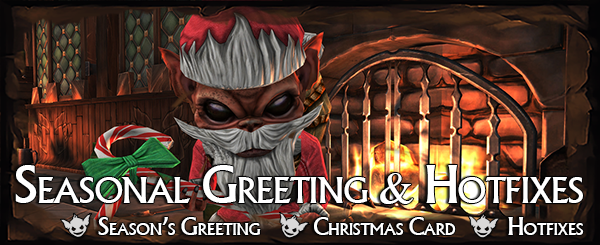 Season's greetings Underlord,
It's that time of year once more when the peasants of the Empire are tucked up all cosy and nice in their warm, safe houses, preparing great feasts while their offsprings eagerly await the daring charity of a rather portly home invader. What overbearing joy…
They can enjoy it while it lasts, for soon the plan will come to fruition and their homes will be invaded by a somewhat less charitable bunch. Not even their goodly Emperor Uther will be able to protect them from the oncoming apocalypse. But first there are preparations to be made, and I have special plans for loyal minions such as yourself. For now though you should enjoy this brief reprieve.
Season's Greetings from Brightrock
While we're at it something arrived for you through the swirling snow of the Aether, a sort of message as it were, from a team of Engineers claiming to know you personally. Does "Brightrock Games" ring a bell?
It seems they're starting their own holidays now and will be back to work in the new year. They sent you a card as well – oh, how delightful!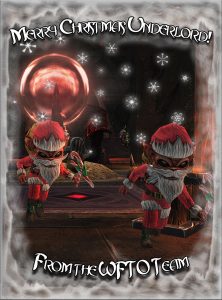 This one again? I'm not sure whether that's a compliment or an insult!
I trust you're not being too lenient on them Underlord? Charity is not a virtue you are meant to possess. In any case it seems they've not left without doing some work: they mention something about working on hotfixes, whatever that means, right up until their closure today. Here, they sent a list of everything they've achieved since their last message.
Patch 1.5 Hotfixes F6-F14 (December 14th to 21st)
Crucible
Added player high score to the Leaderboard section on Lobby and Summary screen at all times

Rejigged the order some VO lines play in

If a Boss Kill artefact cannot be picked up normally it will instead spawn at the Dungeon Core

Added a map ping when a Goldstone is being attacked
Community Translation
It is now possible to add a custom image as the workshop image to a Community Translation file

Made the way community translation works more flexible. This should not affect existing translations

Improved translation parser's tolerance to empty lines, which can occur when manually editing CSV files

Crucible map names & descriptions now have translation keys
UI Changes
Replaced Sapper Icon on Map Editor Mutators Menu with Crackpot

Introduced some updated unit portraits for a number of units

Crucible Available" arrow now has a kickass fade in
Bug Fixes
Crucible
Leaderboard now correctly shows 10 players instead of 9

Fixed an issue where your camera could become locked if you played two Crucible levels in a row

Unlockable worker skins are no longer unnlocked until you unlock them… Sorry 😉

Fixed an issue where Respite would not correctly add extra time to the wave timer

Fixed a bug where the "Earthquake" line would play constantly if the player had used replacement earth in a specific manner

Fixed an issue where the display of number of waves cleared could be corrupted (no effect on leaderboards)

Worker skins from this mode now correctly animate when mining
Community Translation
Fixed an issue where a community translation that was missing a key would report an our of range message

Fallback to primary language should always work in the event of a missing key/error

Fixed an incorrect translation key for the Crackpot Flash-Bang ability

Fixed an issue where the message "Please fix errors" would show even after a successful publish with no errors occurring
Levels
Fixed an issue where Level 7 could not be finished if the player did not research the Arena and Garrison before completing the objectives

Fixed an issue where Aetna would continue to spout drivel even after dying, thank the gods

Fixed an issue where the ending to Level 13 could freeze after killing Lucius

Added additional safeguards to try and ensure levels end even if a script issue occur
Units
Mandalf the Maroon has had his abilities re-hooked to the correct descriptions

Rats can now be imprisoned once more!

Units that are turned into a golden statues should no longer count towards population
Spells
It is no longer possible to attack and damage invulnerable objects via possession
Potions
Spirit workers spawned by the Spirit Worker potion will now correctly lose health
Mutators
Fixed an exception that  could occur when loading mutator sets

Fixed an Issue where mutators would not correctly apply to clients in Multiplayer
Map Editor
Removed a placeholder, faulty Overworld Gateway from the map editor
Multiplayer
Fixed an issue where Dungeon Cores would not take damage or be destroyed
UI
Fixed an issue where the Crucible Announce arrow would break in Russian and Spanish languages

Shaboozey Achievement now finally has its icon in game

Removed the deprecated Survival Save/Load section from the Save/Load UI

Fixed an issue where UI Text would not scale correctly, which is very important for some localized languages

Removed the unused "Load" button from the Crucible Prototype

Fixed an issue where the save menu would not open in Skirmish

Fixed mutator tooltips not showing after switching tabs

Added a missing translation key for the "Fade" Ability

Fixed a wrong translation key appearing on one of the Mutator confirm dialogs

Fixed a number of typos & missing text

Fixed an issue where the Mutators window would appear empty when reopened
Misc
Fixed some Nullrefs and exceptions which could cause issues in various places

Fixed a few errors in the German translation of the game
That about concludes our business today, Underlord. I look forward to seeing you soon.
Merry Krampus – or whatever they call it…
Mendechaus
Click here to discuss this update on our forums
Click here to chat about this update on our Discord
Never miss an update! Sign up to our newsletter!