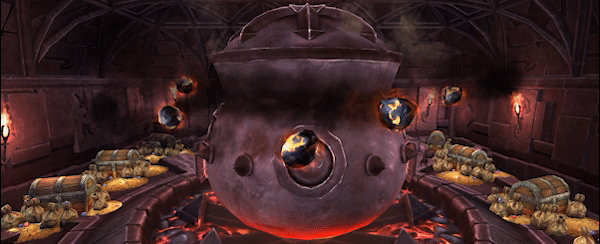 Linux Crash Fix & Patch 2.0.4 Release Notes
Darkest Greetings Underlords,
As many of our Linux users will be aware for the past few weeks (since we deployed 2.0.1) we have been wrestling with a serious show-stopping crash issue on many different Linux configurations. During this time we have been taking information from as many affected users as possible and have deployed several attempted fixes in previous patches with varying degrees of success for different players.
Today we're confident that we've finally identified the root cause, an experimental setting in the Unity rendering pipeline which was not only causing the instability on Linux but also abnormally high GPU utilisation on some setups using other operating systems.
We're deploying the fix for this in today's Patch 2.0.4 which should resolve the intermittent crashes you are experiencing.
Patch 2.0.4 on Windows & OS X
Because we have expedited the release of this Patch on Linux it will not be deployed today for Windows or OS X users. This is to allow us the appropriate time to QA test for these platforms but rest assured if all goes well Patch 2.0.4 will make its way to you before the end of the week.
This means for a short time Linux players will not be able to join multiplayer matches hosted by Windows or OS X users and vice versa until Patch 2.0.4 is made available on those platforms.
We want to thank all our affected Linux users for their patience and assistance over the last few weeks and we can only deeply apologise for the poor experience many of you have put up with.
We are confident this release will resolve your issues but if it does not or you wish to provide other feedback please do so in the lead User Echo ticket for this issue.
Thank you once again. Please find the full Patch Notes below!
War for the Overworld
v2.0.4: "Comprehensively Cleared Caverns"
Release Notes
This Patch has been deployed today for Linux as an immediate solution to critical show-stopping crashes. It is currently in testing for Windows and OS X and will be deployed later this week.
Contents:
---
Patch Higlights
---
Linux Crash & High GPU Utilisation Fix
For the past few weeks since the release of Patch 2.0.1 a number of our Linux players have been affected by spontaneous and random crashes, during this time we've been working with our player base to identify and correct the source of the problem.
We believe that we have finally uncovered the cause for these random crashes. An experimental feature in Unity's rendering pipeline which caused instability on some Linux configurations. Furthermore, this feature was also causing unusually high GPU utilisation on some setups using other Operating Systems.
We apologise for the poor experience for all affected users on both Linux and other platforms.
We're eager to hear from all our fantastic Linux customers who have been providing us with information and feedback over the course of these trying weeks to confirm that this release has indeed corrected their issue. Please report back to us in the lead topic on User Echo.
---
Gameplay/Balance Changes
---
Units
---
Archon (Titan)
Basic Attack

Damage decreased from 400 to 350

Exterminate

Damage decreasesd from 500 to 400
Behemoth (Titan)
Recuperation (Out of combat health regeneration)

Regeneration rate increased from 0.25% to 0.45% of maximum health per second

Relentless (In combat health regeneration)

Regeneration rate increased from 0.025% to 0.045% of maximum health per second
Eternal (Titan)
Time Vortex (Slowing Aura)

Now slows enemies by 50% down from 60%
---
Visual Improvements
---
The Evil Arcane theme now has its own worker. Evil dorfs arrive!
---
Audio Changes
---
Added Additional Unit VO:

Democorn

Sentinel & Stone Knight

Rat

Highguard

Thunderling

Adjusted VO
---
Miscellaneous Improvements
---
Updated Steamworks implementation on Steam versions of the game

Users on all platforms who were suffering from abnormally high GPU Utilisation should no longer suffer from this issue
---
Bug Fixes
---
Crashes & Show-stoppers
As described in the highlight section a number of graphics related Linux crashes should no longer occur
Levels / Campaigns
Fixed an issue on Level 13 of the War for the Overworld campaign where Arcane Templar's shields would appear without their texture
Miscellaneous
Fixed some minor warnings
Cheers,
– Brightrock Games Team
Click here to discuss this update on our forums
Click here to chat about this update on our Discord
Never miss an update! Sign up to our newsletter!