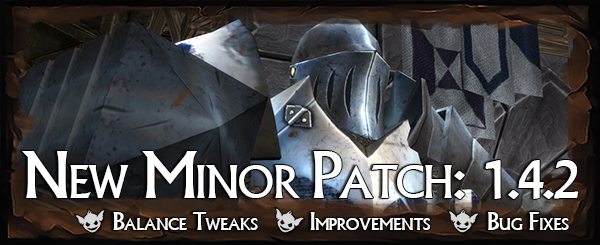 Darkest greetings Underlord,
In our last update we mentioned that patch 1.4.2 was just around the corner and that it'll include a whole bunch of changes and fixes for you.
Well the time is finally upon us and we've made quite a few changes that should bring greater balance to multiplayer games, as well as fix a few of the issues you've reported directly to us via our User Echo service. Please be sure to get in touch if you have further issues and we'll have them fixed soon. Now without further ado, read on for the notes!
Balance Changes
General Gameplay
Mana
Mana regen in Skirmish and Multiplayer decreased by 25%
Research
Research has been going too fast, combined with high level units increasing the efficiency of research. We're addressing this by increasing the cost of individuals sins.
The cost of researching Sins has increased by a flat 35%
Unit Spawning
Due to changes to the research rate we felt that units were spawning in too quickly during the early game. To bring these in line we've changed unit spawning so that the spawn rate gradually increases to current levels over time.
This should also alleviate some of the early game rushes which have been dominating multiplayer recently.
Unit spawn rates during the early game have been reduced – this spawn rate will gradually increase over time to normal levels
Units
Vampire
We felt that the Vampire was far too easy to shut down with a simple Prison. With this change it will require additional micromanagement to keep your rival's vampire out of his hands.
The Vampire now loses 3.3% health every second while in Prison – as such he will die (and respawn in his owner's possession) after 30 seconds unless regularly healed
Witch Doctor
Heal no longer takes priority above all other abilities

Basic attack cooldown increased from 2s to 5s

Basic attack damage increased from 50 to 75
Ember Demon
Health down from 3,000 to 2,250

Respawn time increased from 30s to 45s

Gold cost increased from 7,500 to 10,000
Spirit
Base bonus XP when dropped in the Spirit Chamber increased from 500 to 750

Bonus XP multiplier when dropped in the Spirit Chamber decreased from x3 to x1.5
Titans
Colossus
Movement increased from 5 (average) to 5.5

Basic attack range increased from melee to melee + 2.5m

Basic attack damage increased from 800 to 1,200
Spells
Gild
Now applies a flat happiness boost to the Sentinel when cast upon one – this should help manage the unhappiness spiral that can occur
Potions
Work-A-Lot
Work-A-Lot was a huge boon to your working minions and its effects far outweighed the costs of deploying it. As such we've increased the cost while simultaneously reducing its effects to make the reward more proportionate to the cost.
Cost increased from 750 gold to 1,500 gold

Work-A-Lot efficiency boost decreased from x5 to x3
Wisdom Juice
With the changes to levelling in patch 1.4 the value of the Wisdom Juice potion has risen considerably. However the cost has not increased in line with that. By reducing the XP granted by the potion we bring these factors back into balance without inadvertently affecting other parts of the game.
XP decreased from 2,500 to 1,250
Wormhole
Wormhole has proven rather powerful in recent matches where players walled off their Core and surrounded it with defences to pick off enemy units teleported in by the Wormhole. Now using the potion has a cost to offset its benefits and allows affected units an avenue of escape.
Wormhole now causes walls surrounding the user's Dungeon Core to explode
Defences
Well of Souls
Base damage increased from 35 to 45

Damage required to spawn each Wraith doubled
Campaign Changes
Level 4
The player can no longer place a Beast Den until they have claimed the one near their Core
Heart of Gold Level 2
Players will now be alerted that they cannot use the Construction ritual to construct Outposts in this level
Graphics Changes
The Silver Kasita theme has a new ceiling

Wisdom Juice potion VFX will now show the correct impact size

Minor tweaks to the appearance of cosmetic Fog of War
Performance Improvements
Improved load balancing of game updates, ensuring the game works accurately under high load, while still running smoothly

Simplified cosmetic Fog of War rendering now updates more efficiently

Refactored Water and Lava ambient sounds and clarified culling – this will reduce the number of sounds attached to Water and Lava tiles and aid performance slightly
Audio Improvements
Added over sixty new narrator lines for the following:

Dungeon Cores being destroyed

Minions being rallied for too long

Miscellaneous Dynamic Tutorial System lines

Artefact of Mana usage
UI Improvements
When attempting to join a multiplayer game a new dialog will appear displaying "Connecting" until the game successfully connects or encounters a connection error
AI Improvements
Units in combat would previously switch their target regularly in order to use their abilities against the most effective target, however this could cause confusion in the swirling melee.
Units will now switch their combat targets less often, preferring to prioritise their current target over others except in exceptional circumstances
Map Editor Improvements
It is now possible to change the faction of Shrines and Gateways using the Paint Faction tool
Miscellaneous
Death alerts will no longer play when disposable units perish (Wraiths, Ghouls, Frost Weavers, etc.) (

Public Ticket: 1060

)

Several small fixes to in-game text

Updated several Skirmish and Sandbox map descriptions

It is now possible to manually specify an IP address to join via Multiplayer (in the event of games not showing up due to adapter settings or if you wish to connect via tunnel you can now use this feature)
Bug Fixes
Fixed a number of issues which could cause crashes in Multiplayer

Fixed a rare issue which would cause some custom maps to be unloadable

Fixed a bug in the Prison tooltip which would cause it to incorrectly display the number of prisoners held (

Public Ticket: 1062

)

Fixed an issue where Titans would not be available in the Heart of Gold Home Realm

Sappers will no longer dramatically pause before playing their death animation, since Underlords don't appreciate amateur dramatics

Fixed an issue where the Oculus would not take damage from the Lightning spell (

Public Ticket: 1091

)

Fixed an issue where Glacial Doors which were pre-placed and locked in the Map Editor would incorrectly appear to be open, even though they were logically closed (

Public Ticket: 943

)

The Stairway to Heaven Achievement in Heart of Gold level 1 is now correctly achievable (

Public Ticket: 1042

)

Fixed an issue where locked doors on maps created in the Map Editor would would render only the lock if viewed through the initial Fog of War

Fixed an issue where a Stone Bridge on the Skirmish map "Triad" had incorrect health values and under which the ground would be black

Sappers which are turned into golden statues will no longer lock mana for the owning player (

Public Ticket: 1138

)

Fixed an issue where units which were classed as "hover" units could become stuck in Chasms

Fixed an issue in Multiplayer where the client would no longer be able to produce potions in an Alchemy Lab cauldron if they had previously cancelled a potion in that cauldron

Fixed an issue where using the Pivot mirror tool in the Map Editor could cause unusual behaviours (

Public Ticket: 1039

)

Fixed several issues with the Siege Doors on main campaign level 13, such as units becoming stuck behind them and the incorrect display of whether the door was open (

Public Ticket: 1101

)

Titan Summoning Stones will now create the correct alert when attacked

Fixed a bug where Haste potions would increase the work speed of affected units (should only affect movement speed)

Clicking the back button in a Multiplayer lobby now correctly takes you back to the game list rather than the main menu

Fixed a bug where the Blood Money spell did not work on Heart of Gold bosses in the Home Realm

Fixed a bug where the player could not dismiss a Titan in any campaign level with three slaps (Heart of Gold Level 4 still does not allow it as doing so would result in mission failure)

The Aloha Worker will now correctly make sounds for digging, walking and running

Fixed an issue with the display of the Kickstarter death animation

Dungeon Cores will now cull at the correct point off the edge of the screen

Mandalf can no longer be converted if the Torture Rack is in Execution mode (Heart of Gold level 1)

Fixed an issue where minions could die in the Arena in the Home Realm or from loaded save games

Fixed an issue where slider values in the options menu were not updated when dragged – now values will update in real time

Doors will no longer be destroyed if new "wall" blocks are placed in the opposite orientation locations

Fixed an issue where players could hear VO regarding other players' Spirit Chambers in multiplayer games

Fixed an issue for clients in multiplayer which prevented them from managing the unit pool for the Beast Den

Fixed an issue where clients in multiplayer were unable to continue researching artefacts if an artefact had previously been used on that particular prop

Fixed an issue where Workers would become trapped while mining gold if they were assigned the "Unfortify" action as a priority. This was due to their inventory being full, preventing further gold from being added, but they were still treating the "Unfortify" action as a priority.

The Silver Kasita Dungeon Theme can now be correctly selected as an Empire theme in the Map Editor

Fixed an issue where parties of Empire units could spawn on main campaign level 13 but would never act

Workers should no longer be able to blink into an Arena or Prison

The Ember Demon's passive AOE should no longer damage enemies in Prison

Fixed an issue on main campaign level 13 where the player was not correctly benefitting from all Kenos effects

Fixed an issue on main campaign level 13 where the dwarven Ironworks was not producing defences

Fixed an issue on main campaign level 13 where the announced "Disciple attack" would never arrive

Workers will no longer drop any gold they're carrying into the Tavern Spit Roast whenever they also drop pigs in

The Skirmish map "Flood" now loads again

Fixed an issue with main campaign level 7 where units would not die when reaching the Aum

Fixed an issue where unit beds would visually disappear after saving and loading

Fixed an issue where the final cutscene in Heart of Gold Level 4 could stutter

Fixed an issue where Mandalf the Gold would not spawn under the intended conditions in Heart of Gold Level 4

Bombards should now once again be able to hit units which are over or on the other side of a Chasm

Fixed an issue where the Blade Lotus would no longer attack after being toggled from a disabled state to an enabled state

Units should now always be able to engage enemy units that are extremely close to a player's Dungeon Core

Empire forces now receive basic training on the use of walls, fixing a longstanding issue where Templars could ignore the presence of a Rampart and attempt to path through it, even if no appropriate path existed, causing their demise
That covers this patch for now! Rest assured we'll be keeping our eyes on your feedback, and there's plenty more to come in the coming weeks and months!
Cheers!
– Brightrock Games Team
Click here to discuss this update on our forums
Click here to chat about this update on our Discord
Never miss an update! Sign up to our newsletter!