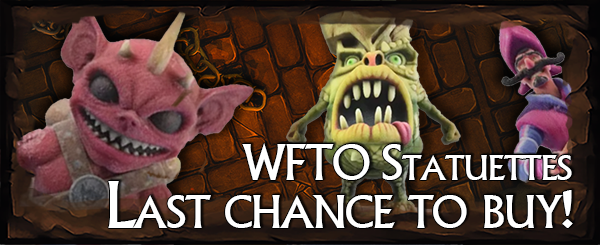 Darkest Greetings Underlord,
It is with great sadness that we have to announce Eucl3D, the supplier who produces 3D prints for a number of developers, will be closing its doors next week.
As such we're dropping you a quick line to let you know that after this weekend ( Sunday 11 / Dec / 2016 ) it will no longer be possible to redeem codes for or purchase the three WFTO Statuettes from Eucl3D.
Kickstarter backers who have not redeemed their codes should act as soon as possible. A number of you will have received discount codes, while anyone who pledged at Tier 7 and above will have received a code to redeem for a free statuette. These codes should still be valid if you have not used them and any orders made on or before Sunday will be fulfilled.
To use your code simply enter the code at checkout in the relevant area. Also please be aware that there may be a customs charge if you live outside the US, as this is where Eucl3D is based.
We're proud to have worked with Eucl3D on these figures and we're extremely pleased with how they turned out, as are many of our fans. They're a little physical manifestation of the years of hard work we put in and continue to put in to War for the Overworld, something that we can use to remind ourselves everything we achieved together and with the help of our fans.
We wish the team a Eucl3D the best of luck as they move on to new things. Please be sure to drop by their shop and also to tweet @Eucl3D with your thanks if you do own one of their products.
Cheers!
– Brightrock Games Team
Click here to discuss this update on our forums
Click here to chat about this update on our Discord
Never miss an update! Sign up to our newsletter!