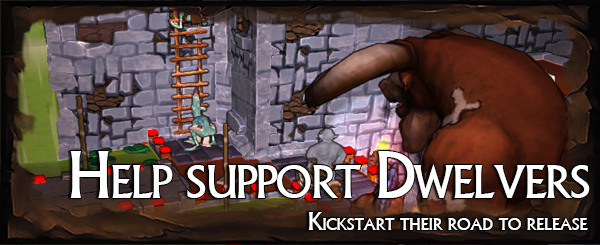 Darkest greetings Underlord,
It should come as no surprise to you that we here on the WFTO Team are huge fans of Dungeon Management. In that regard we also suspect that your presence here is also of no small coincidence.
Today we'd like to draw your attention to the Kickstarter of our friends at Dancing Devils, a new Dungeon Management Game by the name of Dwelvers, which is now headed into it's final weeks.
What is Dwelvers?
Dwelvers is a game nearly three years in the making, much of that solely in the creative hands of it's lead developer Rasmus Ljunggren. It's a real time strategy game that is inspired by the likes of 'Dungeon Keeper' and 'The Settlers' placing you in the role of an evil dungeon lord keen to expand their evil domain.
The game is a different take on Dungeon Management than what you will find in our game, with a handful of unique features that you will not find elsewhere in the genre. Rest assured the experience you'll get in Dwelvers will be quite different; with a focus on sandbox gameplay, establishing production chains, complex traps and managing your multi-layered dungeon.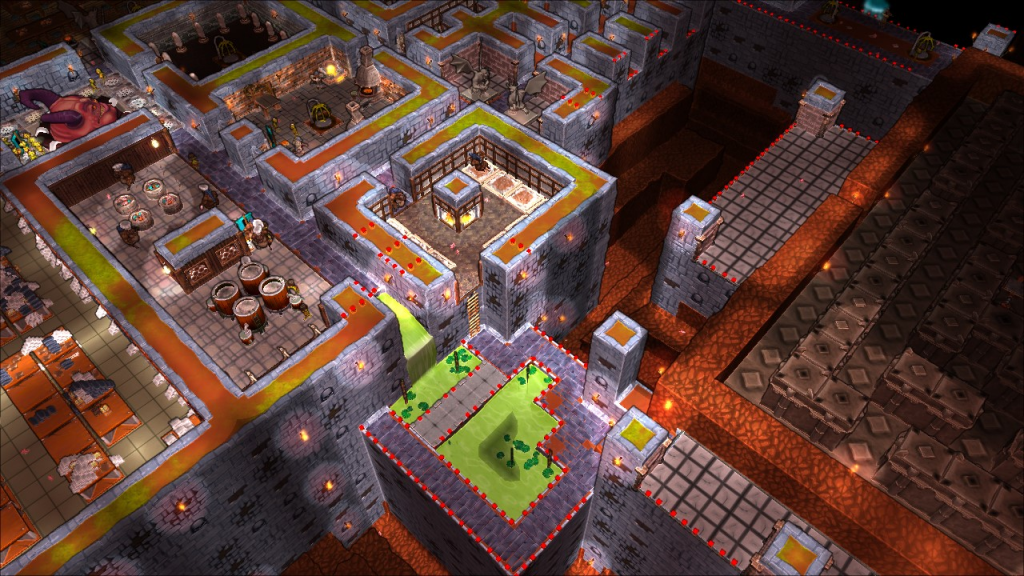 We'll let the feature list explain for itself:
Multi Layered dungeon:

The dungeons are not only scary, they are also deep!

Free form room building:

Set the size and shape of your rooms and build the inside of them. no run-of-the-mill pre designed rooms, your dungeons is uniquely yours!

Monster equipment:

Craft and equip different weapons and armours for your creatures. some of those weapons can only be found through looting enemy rooms.

Below and Above surface:

In Dwelvers, you will have the option of raiding above surface human settlements and seamlessly transit between the surface and below.

Extended production system:

Manage the production of several resources in evil efficiency

Hydraulic Systems:

 Allowing players to build elaborated traps and dynamically changing walls that are triggered by pressure plates.

Trade System:

Trade with off map settlements by capturing portals.
We're extremely excited to see how far the game has come over the past few years and we think that it's a stand out example in this underrepresented genre.
Why Kickstarter?
As you may be aware, Dwelvers has been available both via their website and Steam Early Access for quite some time. So the question is why kickstart at this stage?
These are questions that Rasmus addresses directly in his campaign, as time has worn on his financial reserves have gradually depleted, to the point where it is no longer possible for him to continue working on the game without holding another job. Ultimately this will delay release and potentially reduce the quality of the final product.
The goal of the Kickstarter is to raise funds to permit him to return to full time work on the game and bring it up to the level he'd be happy to release as version 1.0. To do this Dancing Devils are looking to raise kr320,000 (or $38,000) which based on previous years financial performances (see Kickstarter) would be enough to support him in this last stages.
If the goal is achieved they'll have raised the funds necessary to work on the game full time again and release version 1.0.
Why Support Dwelvers?
We believe that variety is the spice of life and that this genre is sorely under-represented in the current gaming market. Supporting independent developers, especially those as dedicated and talented as Rasmus and his team helps to expand the market and bring yet another great game to our beloved genre.
Having been in a similar position ourselves we'd love to see Dancing Devils succeed in this Kickstarter giving them the opportunity to work on Dwelvers full time and release v1.0 to market in a reasonable time frame. Moreover It'll hopefully secure the position of another team of independent developers and we'd be pleased to see that happen.
There are also a great selection of rewards available in the Kickstarter, even for those of you who already own Dwelvers, you can grab the full game for as little as $17 and then start adding Kickstarter exclusive DLCs for a few dollars extra.
We're confident that even if the Kickstarter fails the Dwelvers team will continue to work on it and eventually release the final version but by supporting them on Kickstarter you can help them achieve this goal sooner.
Until next time Underlord,
– WFTO Team
Click here to be taken to the Dwelvers Kickstarter