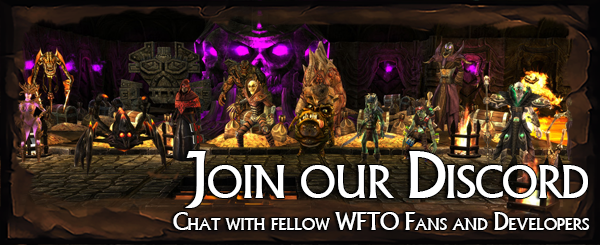 Darkest greetings Underlord,
Your cultists are always divining new ways to make life in the Underworld that bit more entertaining, in their recent studies they have found mention to an arcane method of communication known only as "Discord". If the name's anything to go by this should be quite fun Underlord.
We here at the WFTO team are eager to find new ways to reach out to the members of our community, and after a few suggestions were thrown around by community members we decided to set up our very own public Discord server.
What is Discord?
Discord is a free chat program will full voice support specifically targeted at gamers. By joining our discord you'll be able to meet and chat with other fans of WFTO, arrange games or just talk to a WFTO developer. We'll be maintaining a presence on the server during work hours so if you have any quick question you'd like to ask we'll be happy to answer them!
Discord can either be downloaded to your PC or used via the browser and once you've created your own account you can be a member of as many servers as you want! We think it's a great tool and we're hoping that this will bring us closer to our community than ever before!
How do I join?
Joining our Discord server is extremely simple, just follow this link and you will be taken to the invite page for our server. Once you've accepted the invite you'll be prompted to create a Discord account. If you already have an account you'll find our server added to your list of servers.
You may notice our new company name "Brightrock Games" at this stage (This is also present on our bug tracker). We realise this might be a little jarring at first as we've made no announcements yet. Rest assured we will be making an announcement regarding the change in the future, but you have absolutely nothing to worry about.
Any Restrictions?
There are a few restrictions in place on our Discord Server, firstly you must have a verified email registered to your Discord account, this is to help control spammers. We also expect everyone to follow our community rules and that members respect their fellows who are also using the chat, we will actively moderate the chat and hope to introduce bots to help us in this task in the near future.
If you ever have any issues with another user, please report it directly to Noontide via PM either on Discord via the Forums.
Until next time Underlord,
– WFTO Team
Click here to join our public Discord server!