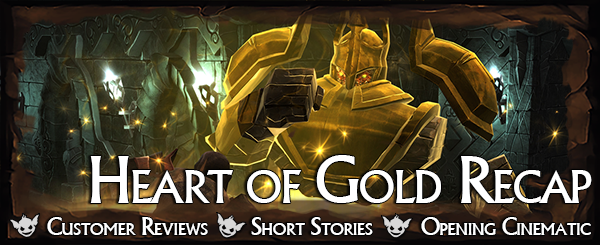 Darkest greetings Underlord,
Nearly two months have passed since we unleashed the very first expansion to War for the Overworld, Heart of Gold, alongside the staggeringly massive patch 1.4. But there was no rest for the evil, as we released hotfixes around the clock to ensure the biggest issues that cropped up were fixed as quickly as possible. We topped that off with patch 1.4.1!
Overall the reception to Heart of Gold and patch 1.4 has been overwhelmingly positive, and we're pleased that our hard work has resulted in the latest version of the game being something we can all be incredibly proud of. In this recap we're going to take a quick look into the reception so far.
We've also got a nice downloadable extra for you, as well as a link to the opening cinematic of Heart of Gold, so you can easily watch it again. Read on, Underlord!
What You're Saying About Heart of Gold and Patch 1.4
We've seen an incredible response to Heart of Gold, but perhaps that's a little too underwhelming. To truly understand how staggeringly positive the feedback we're receiving is, here are a few numbers from our Steam user review scores:
Overall score: 77.02% (Compared to 72.95% during the release of Patch 1.0, showing continued improvement)

Score since patch 1.4: 89.18% (up from 79.05% during patch 1.3)

Heart of Gold overall score: 92%
These numbers show a massive increase in how many positive reviews we've received, and this reflects just how much effort we've poured into WFTO since release last year.
But numbers are only half the story. Here are some choice extracts from a few of your reviews:
"Took a while but this is like the only Kickstarter game I backed that is actually worth playing now."
"I encourage anyone who was turned off by the initial mess to give War for the Overworld another shot. It's now a wonderful game in and of itself, but more than that the devs should be congratulated and rewarded for never giving up on their vision."
"[…] thanks to dedicated work by the developers (which continues to this day, I might add) this one has blossomed into a wonderful strategy title."
"The team at Brightrock Games further improve their craft with this carefully designed DLC, which I might add was free for backers and early adopters, though I would have paid money on day one for it anyway."
We're pleased to see that our efforts have driven such a  positive response from our community, and we can't wait to see how our upcoming content performs.
All That is Gold – Short Story Compilation
During the run-up to Heart of Gold's release we teased you with a series of short stories that revolved around a particularly stalwart dwarf and the heroes of Phaestus, during the events of the new campaign. We enjoyed having the opportunity to expand the lore of War for the Overworld, and tell a portion of the story from a different perspective.
If you missed out on these the first time around then we have a treat for you: we've compiled them into a single, collected volume, gussied them up in the style of the upcoming Dungeoneer's Guide, and uploaded them for your reading pleasure!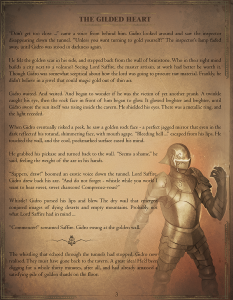 As you can see they've turned out rather well! You can view and download the collected volume here.
In addition we will be adding this compilation to the Underlord Edition of the game at the same time we add the Dungeoneer's Guide. We hope you're looking forward to that!
Reminder: Patch 1.4.1 is Out Now
In case you missed the announcement a few weeks ago, we recently released the first minor patch for War for the Overworld. This included a number of changes to both the visual stylings of the game, and mechanics such as unit spawning.
We also rolled out dozens of bug fixes and made some improvements to other areas. You can read the full release notes for patch 1.4.1 here.
This isn't it for support in the wake of patch 1.4. Patch 1.4.2 is due out in the coming days so please keep your eyes open for it!
Watch the Heart of Gold Cinematic Opening
For Heart of Gold we looked to deliver a more solid and compelling story, and part of that was setting the scene for the war spilling over into the dukedom of Phaestus. We developed the opening cinematic to set the scene, and we've had a great response from it. As such we've opted to upload the full video to YouTube for your enjoyment!
Cheers!
– Brightrock Games Team
Click here to discuss this update on our forums
Click here to chat about this update on our Discord
Never miss an update! Sign up to our newsletter!