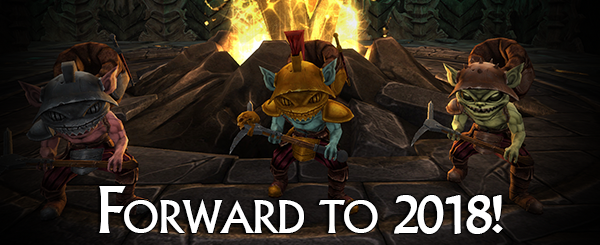 Darkest greetings Underlord,
The hoar frost has settled across the once verdant fields of the Overworld, coating the land in the icy fingers of encroaching death. In the caverns below the fires of the foundry lie extinguished for the first days in months as the development Imps close up shop to spend time with loved ones and family.
While we lock up the office and make our way out of the door until 2018 we wanted to reach out and extend our festive greetings to all our fans and customers and wish you all the very best of times. We thought we'd also use this opportunity to share a few messages, thoughts and previews of things that were, things that are and some things that have not yet come to pass.
So please Underlords before you indulge in the season's graces read on!
Steam Awards 2017 – Thank You for Your Support!
In the Steam Autumn sale, we humbly put forward our bid to become a nominee for the Labour of Love award, the award in the 2017 Steam Awards that we felt the best fit the five-year journey since first leaving Kickstarter!
If you missed it we hastily put together a small infographic on the journey thus far which you can see below and we also shared our thoughts and feelings as to that journey in our Labour of Love and Message of Thanks posts.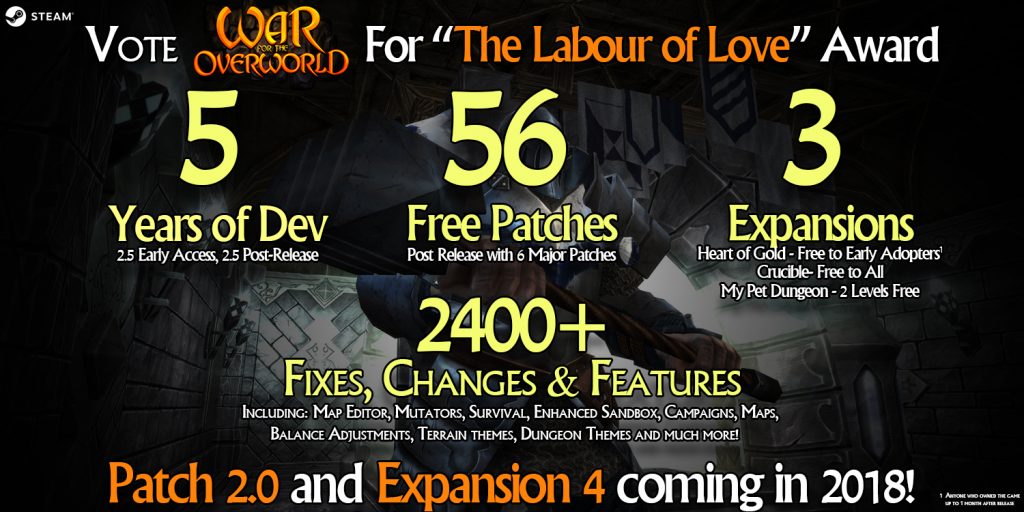 Five years of sweat and toil summed up in a handy image!
It is with a tang regret that we must announce that we have not made it as one of the nominations for this award despite the best efforts of ourselves and the community.
This result was not entirely unexpected, we knew it would be an uphill battle to top many of other great games out there with incredible teams and we have to congratulate all the nominees for every Steam Award and we'd like to thank all our fans who took the time to vote for us and encourage you to now vote for the games you'd most like to see win the Awards!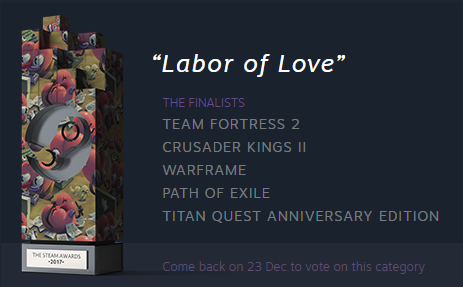 Warm congratulations to the nominees, there's a lot of great games on display!
Even though we did not make the cut we were deeply humbled by the response we saw to our bid. You came out in force to support us and showed us just how much you love WFTO in its current state. You showed us that our game is something we could be proud in a way we never thought possible by raising our review score a whole percentage point overall and up to a staggering 98% recently!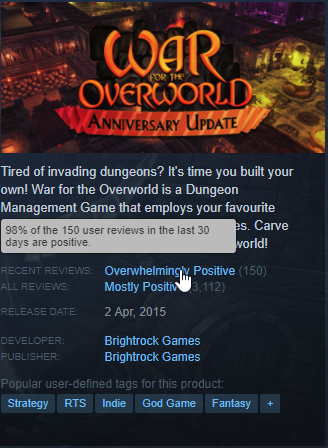 Unmanly tears were shed upon reading this figure
Time and time again we've leant on the support of the community as we've gone through hard times, we've faced delays, difficult releases, countless bugs and issues and even the spectre of bankruptcy together and as always we cannot thank you enough. Together we've made WFTO into something great and the best is yet to come, inspired by your support we're confident 2018 will bring the best version of WFTO yet!
War for the Overworld in 2018
We can't deny that next year is going to be a bittersweet one for War for the Overworld, with Patch 2.0 and Expansion 4 travelling down the tunnels of the internet to usher in the final form of War for the Overworld in Q1-Q2 2018.
This collective update will be the largest, most involved and significant in War for the Overworlds and is likely to touch nearly every corner of War for the Overworld, shifting the game into high gear and hopefully delivering what will be the ultimate version of our first and most loved game.
Sadly we're still quite some ways away from a release so we're not quite ready to spill to beans on everything that will be coming, and a few of you will already know the features revealed so far but for the benefit of those not yet in the know here's some of what's coming:
New Singleplayer Campaign

– Focussing on the Underlords and replayability factor

New Underlord AI

– Built from the ground up to be more flexible, intelligent and challenging

New Veins of Evil Aspects

– New units, defences, spells and more make their debut

New Dungeon Themes

– New Underlords come with their own new themes, including Dungeon Hands!

More Map Editor Features

– Get creative with new features in the Map Editor including My Pet Dungeon support and more!
We've also released a few teaser concepts in our previous posts as a thank you for all your support and to give you some idea of what's coming. So we couldn't well go without showing you something new today!
While our previous previews have focussed entirely on what is new today we'll show off some things that are changing to make the game better. In particular, a number of swanky new animations coming to the game to inject some additional personality into some units whilst they work!
Please note that all previews below are very early Work in Progress versions and there's still plenty of work to be done!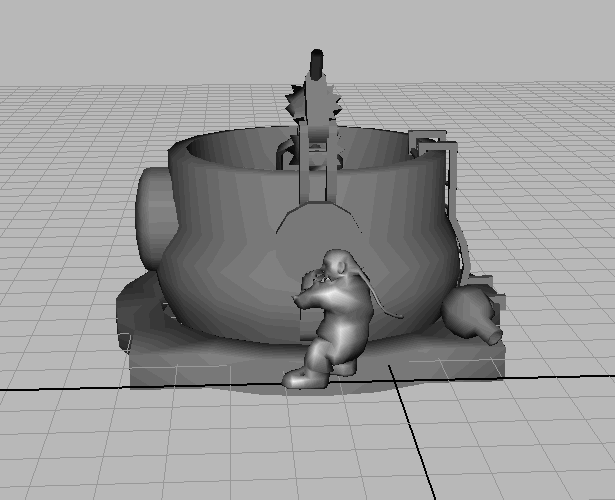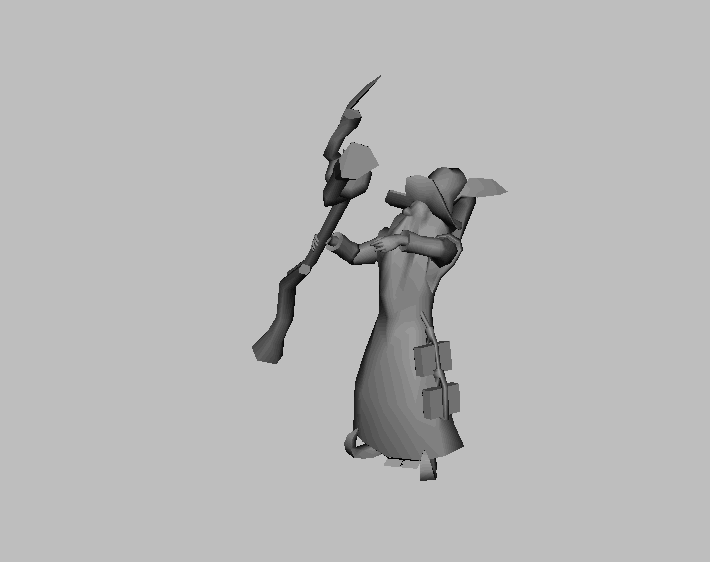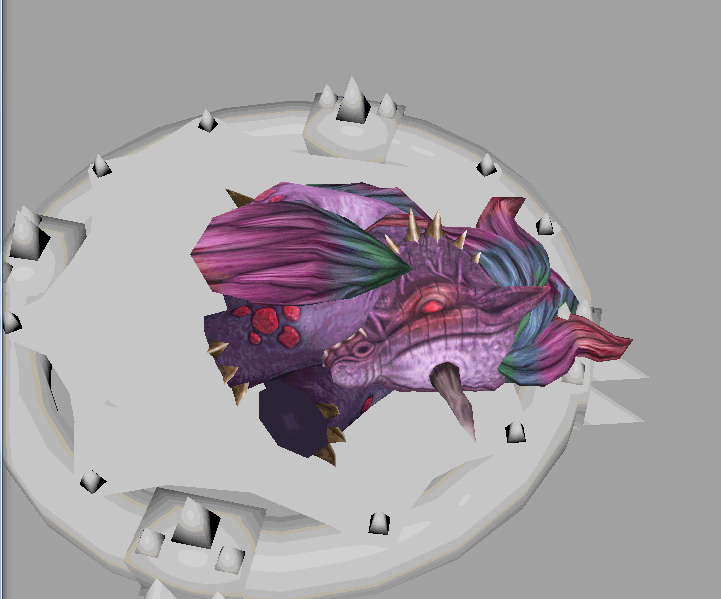 And it's not just units getting some love, this defence, in particular, has been needing a touch up for a while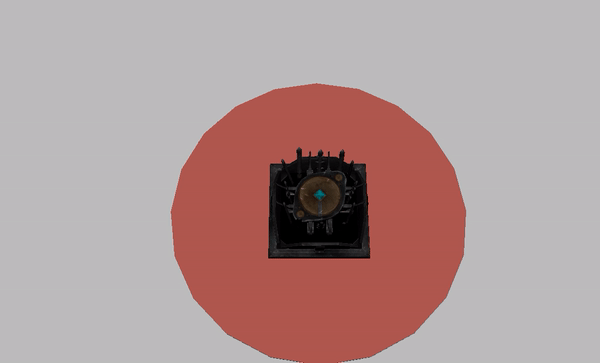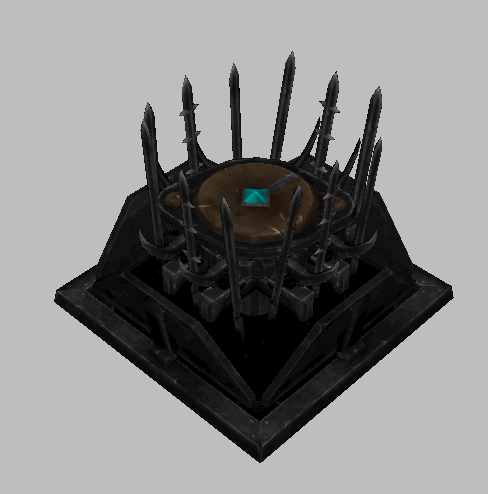 We can't wait to get all this in your hands, but alas we're not quite ready yet. Rest assured that in the new year we'll be able to share so much more as our final update is realised.
After that, we'll keep our eyes on WFTO and arrange to make some passes on supporting existing features but we'll also be moving our team fully onto our new project, which we'll likely share some details on later in 2018!
Happy Holidays from Brightrock Games
All that remains to be said now is from all of us at Brightrock Games we wish you all happy holidays, merry Christmas and happy new year regardless of who, what or how you celebrate and we hope that the new year will bring you all joy and happiness.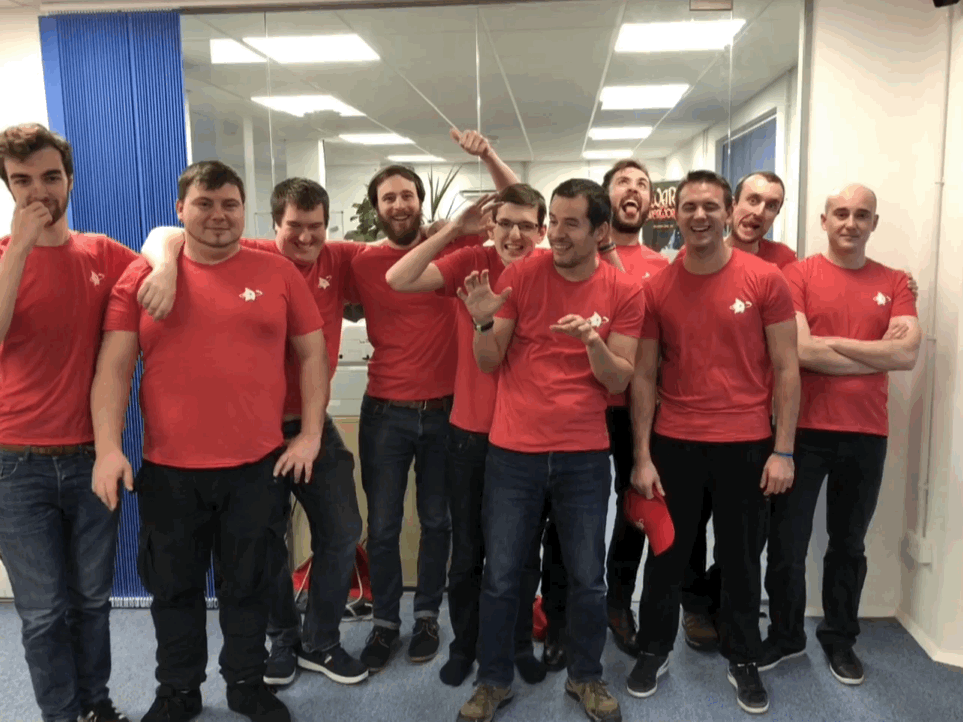 It remains to be said that until the new year our office will be closed but some of us will continue patrolling our forums and support infrastructure to answer questions or help if needed, but response times will be slower.
That's it for now Underlords, we'll see you in 2018!
Oh and don't forget that for the duration of the Winter Sale WFTO products are up to 72% off !
Cheers,
– Brightrock Games Team
Click here to discuss this update on our forums
Click here to chat about this update on our Discord
Never miss an update! Sign up to our newsletter!