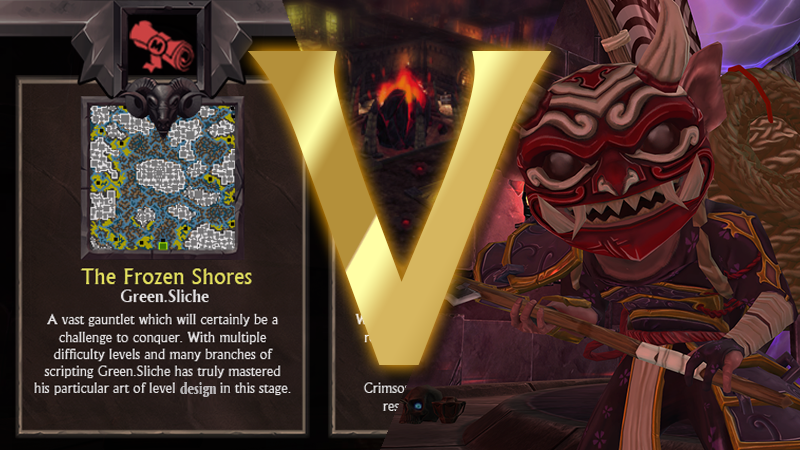 Darkest Greetings Underlords,
We hope you enjoyed our April Fool's yesterday! It's always a pleasure to work on something totally out there for a few days. Today we're coming to you with different news entirely and a whole lot more genuine!
As some of you may know, War for the Overworld launched from early access on April 2nd, 2015. That means that today is officially War for the Overworld's fifth birthday! Incredible isn't it? Five years ago we launched a game that was already three years in the making (or well over a decade, depending on who you ask!). But what that basically means is that WFTO has been around one helluva long time!
That journey has been a transformative one for us here at Brightrock. So much of our lives have been defined by War for the Overworld for so long that many of us forgot what the surface world actually looked like.
Here's what we're doing to mark the occasion!
---
Fifth Birthday Sale!
---
In celebration of War for the Overworld hitting its first major milestone, we're working with our partners at Steam, GOG and Humble (as well as on our own site) to put the game and DLC on its biggest sale yet for a whole week!
That's right! We're bringing the game down deeper than even any Underlord's home realm, to numbers never before seen! If you've still not completed your collection, or you know someone that would make a great Underlord, then now is the time to check it out via the links above.
Here are the all-important numbers:
War for the Overworld –

85% off

Underlord Edition –

85% off

Ultimate Edition –

73% off

Heart of Gold Expansion –

75% off

My Pet Dungeon Expansion –

50% off

The Under Games Expansion –

25% off

Seasonal Worker Skins –

50% off
We probably won't see numbers like this again for a while so be sure to grab them while they're lava-hot!
---
Spring Community Spotlight
---
Every quarter we bring together our favourite maps from across the War for the Overworld community, and we thought that tying this into the anniversary would only make things more convenient for you.
This quarter's spotlight contains a cavalcade of content ready for your twisted exploration: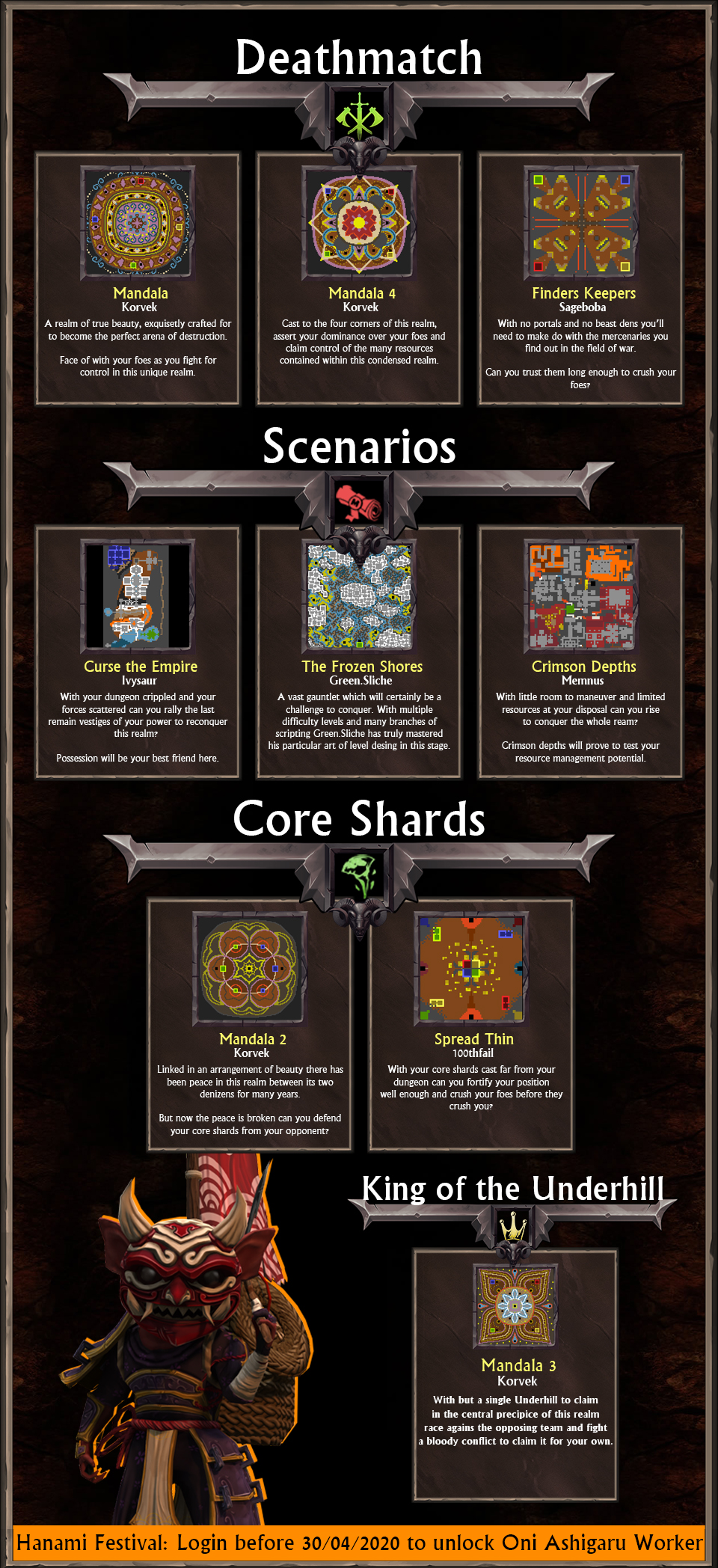 Deathmatch Levels
Core Shards Levels
King of the Underhill Levels
Scenario Levels
As always you can download the content by subscribing to our community spotlights on the Steam Workshop, either individually or collectively! We also host the spotlights on our own website to download.
And now for the first time ever, all our spotlights are available as one HUGE map pack download for our GOG customers! You'll find them right there on the extras menu in GOG.
Finally, as a reminder if you would like to see your art or map featured in a future spotlight, be sure to send it across to us via our forums (Steam or GOG), Twitter or Facebook!
---
Oni Ashigaru Worker Returns!
---
As the sakura petals bloom marking the arrival of Hanami to Japan, the Oni Ashigaru worker has returned from his ronin adventures. He now stands ready to carve a path through the earth and anyone that stands in the way of his new master – if you can secure his fealty.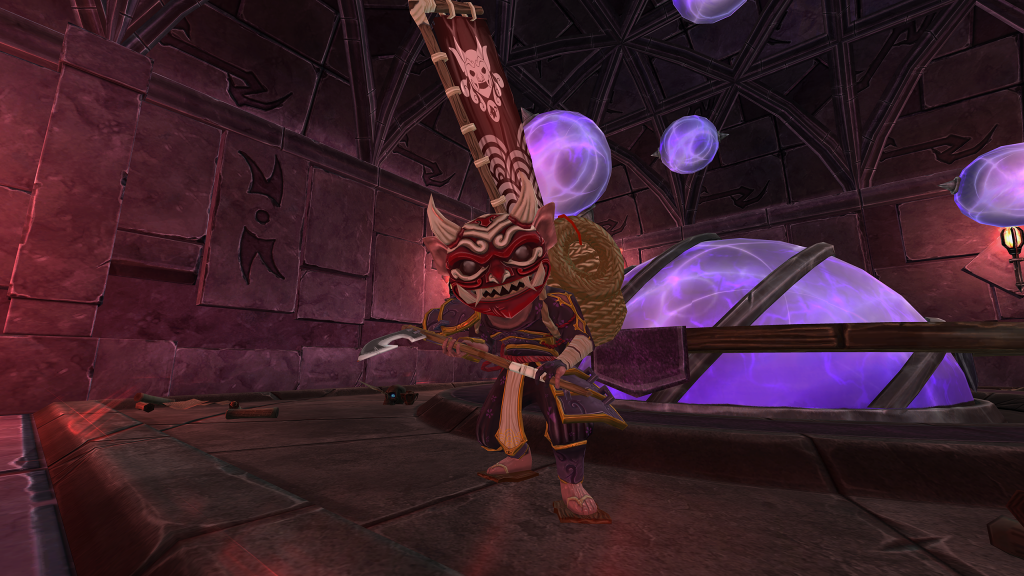 Remaining from now until the end of April, this exclusive time-limited worker skin will be available to all players for free if you launch the game during this time. Once you have him, he will remain with you in perpetuity, such is his sworn loyalty.
Act fast however, because if you miss the arrival of this wandering warrior, then come the end of April he will be gone for another year!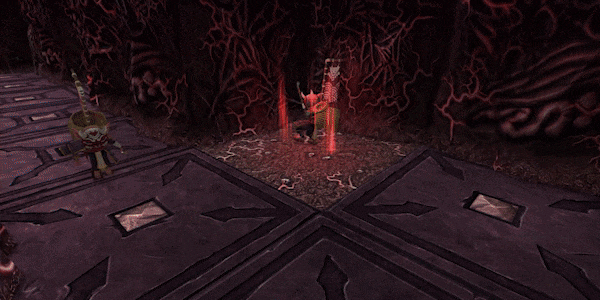 That concludes all of the festivities! Thank you all for your support over the last five years, and from even before then as well! Please look out for further announcements from Brightrock in 2020!
And to all of you, please stay safe throughout the Covid-19 outbreak. Team Brightrock have returned to our roots and gone fully remote for the time being, so we can all work from home. Be sure to follow the recommended advice from your government, and we'll see you all on the other side!
Until next time Underlords!
– Brightrock Games Team
Click here to discuss this update on our forums
Join us on Discord and chat with us and other fans!
Never miss an update! Sign up to our newsletter!