Darkest greetings Underlord,
The wait is over! Through the broiling, discordant mass of the Aether the end is in sight and the prize within our grasp. Kairos lies ahead, unprotected but for a smattering of would-be heroes and the ever elusive deity Kira. The conquest of new realms is your raison d'être but you know what they say: Practise makes perfect Underlord!
This time there can be no mistakes, no failures, and Kira will not escape your wrath yet again. To that end we must prepare. Now answer this call-to-arms: join The Under Games, and prove yourself the greatest of the Underlords! But beware: the rules of war have changed with the gargantuan free Patch 2.0, and there is much for you to learn. And don't look now, but the Ultimate Edition is casting its monstrous shadow across the Overworld as well!
Read on Underlord!
Launch Stream with MemoriesIn8Bit going live now!
We're pleased to announce that in celebration of the launch of The Under Games expansion and Patch 2.0, which combined are the largest updates in War for the Overworld history we'll be hosting a stream with MemoriesIn8Bit, War for the Overworld superfan and regular member of the GOG.com StreamTeam!
Josh and Lee from the Brightrock Team will be participating in the Stream and we'll all be happy to answer your questions whilst showing off the new content & updates. Be sure to drop by!
Watch live video from WFTOGame on www.twitch.tv
The Under Games Expansion (£7.59, $9.99, €9.99)
The Under Games is underway and it awaits a new champion to claim the title of strongest Underlord! The reward will be exquisite: leading the charge into the pathetic realm of Kairos! Will you take the mantle in this new fully-featured expansion? Available now on Steam, GOG.com, Humble Store and the new Brightrock Store (which also has physical copies of the game and other goodies)! We're also putting the game and all DLC on sale with up to 75% off for the next 48 hours, so grab them while you can!
The Under Games represents a distinct departure and challenge from any experience we've released before. Its focus is on Underlord vs Underlord combat in a Skirmish-like campaign, set across a variety of game modes – two of which are brand new! Choose your champion, realise their unique powers, then carve your bloody path through your kin to reach the final.
Key Features
An all-new 7-level campaign

Choose your Underlord and participate in a deadly tournament, set across a series of scenarios that call back to classic Dungeon Management gameplay!

Each of the 4 playable Underlords has a unique playstyle, driven by their powerful traits and exclusive minions and Aspects.

Each Underlord has their own path through The Under Games, meeting distinct opponents en route and experiencing their own story!

A completely overhauled AI awaits with 5 difficulty levels and a multitude of personalities to put you through your paces.

Conquer arenas with distinctive layouts and a variety of visual themes, including the new blood-soaked Sanguine theme.

2 new games modes

Race to capture and hold key positions in

King of the Underhill

, which will then blast your opponent's Dungeon Core from distance.

Mount a multipronged attack against your opponent's

Core Shards

, then watch as their dungeon crumbles.

3 new Underlords

with their own unique unlockable Dungeon Themes.

9 new Aspects

expand your Veins of Evil, with new defences, constructs, potions and spells!

New terrain features and shrines

await in

the Underworld, such as the ultra-hard Quartz and Moongate teleportation shrine.
As War for the Overworld's final expansion we wanted to deliver an experience unlike any other so far, filled to the brim with new concepts and content to ensure that each time you play you get a different experience.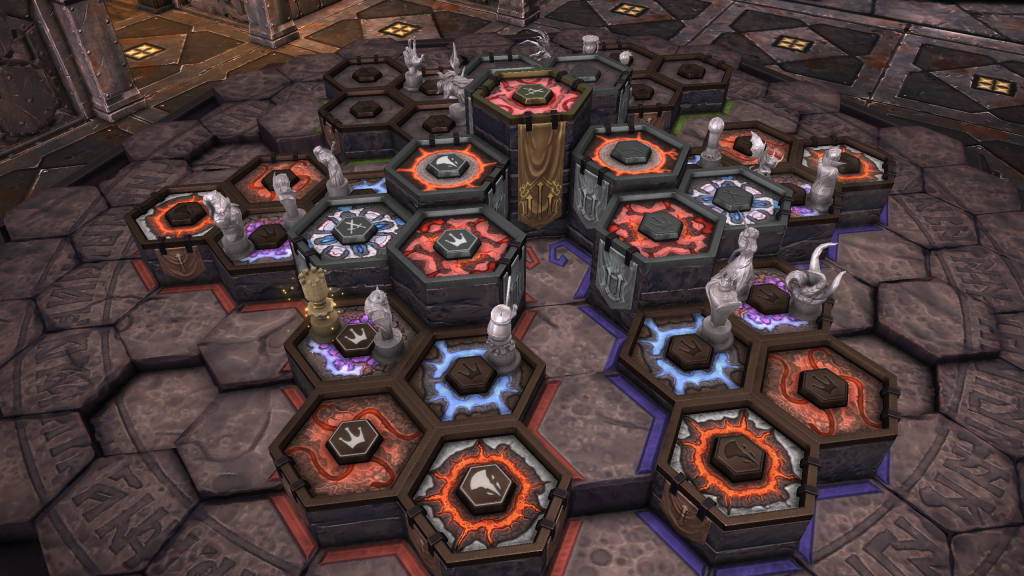 This is a game of strategy
Want to know more? Take a deep dive into each of the new Underlords and their new Aspects:
Free Patch 2.0: Untold Depths
Alongside The Under Games we're unleashing the truly gargantuan free Patch 2.0 upon the unsuspecting Underworld, packed to the brim with features, content and improvements. It's the largest single update ever released for War for the Overworld!
In fact it's so big that we couldn't compile all the release notes in time. So instead we've compiled a list of the major features and improvements, as well as details on the huge balance update. Even with just that focus the list is longer than any other update we've ever released; but rest assured that there are many more fixes and minor improvements in there as well.
You can read our release notes here (English only).
If you'd rather dive right in then here are the headlining changes:
Remastered Main Campaign

including new cinematic cutscenes, new terrain themes, rebalanced levels, and improved tutorials.

Vastly expanded Map Editor features

as long-requested by our fans: build maps for nearly any mode, including My Pet Dungeon, and use the new

Mighty Script Editor

to trigger complex events. Now you can truly create the levels you've always wanted to, and even chain them together to make narrative campaigns!

More types of content on the Steam Workshop

, with scripted custom scenarios and campaigns arriving when our industrious community get their hands on the new tools. The best will be curated by us, so you won't miss a beat.
New game modes

to use in Skirmish, Multiplayer and the Map Editor: claim key positions in King of the Underhill, or destroy fragments of your opponents in Core Shards.

Devastating New Underlord AI

,

rebuilt from the foundations to challenge even the most scheming players. Our new AI can use all the tools and tricks you've come to rely on – can you rise to the challenge?

Sanguine and Snowy terrain themes

now available in the enhanced Map Editor,

which recast levels in either blood red or ice white.

New Sacrifice ritual

calls back to the origins of the Dungeon Management genre: drop different combinations of minions onto your Sanctuary Altar, and if the dark god Mendechaus is feeling generous, you might get something exciting in return!

Polished to a shine!

You'll find countless new animations, gameplay improvements, balance adjustments, significant performance optimisations, and other changes and fixes – as you've come to expect from us in our quest to create the ultimate Dungeon Management experience.
As you can see we've really dug deep on this release, and there's barely a part of the game that hasn't been touched up in some way. And thanks in no small part to the efforts of our volunteer QA testers, the enhanced Map Editor is sure to excite and deliver some incredible opportunities for User Generated Content. We hope you have fun exploring its untold depths!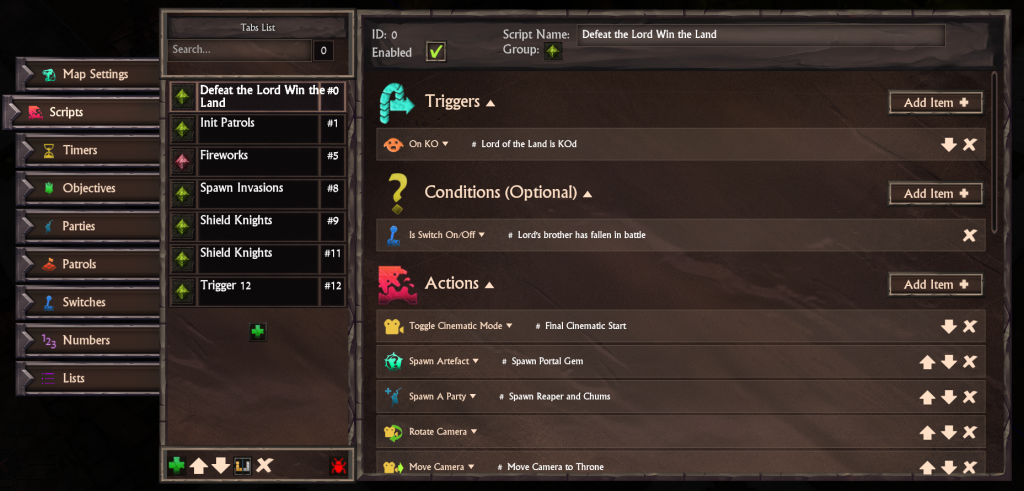 We can't wait to see what you build when you get your Hand of Evil on the new tools!
With that in mind we've overhauled both the Steam Workshop and our own Foundry forum to help with sharing this content. In the coming weeks and months we also plan to start spotlighting the work of our industrious content authors in a new series of Community Spotlights. There will be rewards!
The Ultimate Edition ($24.40, £17.89, €23.29 for the next 48 hours, or $59.99, £43.99, €56.99 normally)
To bring the complete experience of War for the Overworld together as we round off the game, we're launching the Ultimate Edition! This includes everything you need to get the most out of the game – and it's all wrapped up in a package with a permanent 10% discount! Kasita can barely keep her Hand of Avarice off of it!
War for the Overworld Base Game & Free Crucible Expansion

Heart of Gold Expansion

My Pet Dungeon Expansion

The Under Games Expansion

Underlord Edition Extras (dungeon theme, soundtrack, lore books)
You can grab The Ultimate Edition from Steam, GOG, Humble and our very own store! And whilst the huge sale is on you can grab all this with a whopping 63% off! ($24.40, £17.89, €23.29.)

Where to Next?
As always we'll be continuing to monitor the release; if you run into any issues please let us know through our usual support channels. For our future plans regarding War for the Overworld, we're still trying to determine exactly what small updates may be coming and when. At the very least we'll likely be rolling out one more minor patch with a few small features, such as custom voice-over to support map creators; so if you have any suggestions please let us know!
We'll also be discussing in the coming weeks exactly what future support for WFTO will look like. So please be patient with us and expect an announcement soon.
Beyond that we're not quite ready to announce anything else just yet. Watch this space.
But for now, don your Hand of Evil, get ready to run the gauntlet, and seize your copy of The Under Games from Steam, GOG, Humble, or our very own store. It's time to make your move!
And remember: If you're yet to experience the wonders of running your own dungeon, there's never been a better time to be bad than with the new and heavily-discounted Ultimate Edition! Claim it now on Steam, GOG, Humble or our store!
We'll see you underground.
Cheers,
– Brightrock Games Team
Click here to discuss this update on our forums
Click here to chat about this update on our Discord
Never miss an update! Sign up to our newsletter!